The global market for juicers will most likely grow at a breakneck pace of 9.2% per annum from 2021-26. As new models emerge onto the market constantly, particularly in the budget range of juicers, I'm going to take a look at the more robust Tribest Greenstar Elite range.
If you are a juice connoisseur, Tribest will be a brand you know. In this article, I will give you my Tribest Greenstar Elite Juicer review. The Green Star Elite claims to be the "most complete masticating juicer" in the market; I will look at this claim in greater detail.
The Tribest Greenstar Elite (GSE) Juicer range consists of three models:
Tribest GSE 5000 (the original white color)
Tribest GSE 5010 (the black version)
Tribest GSE 5050 (the chrome juicer – slightly more expensive, but very pretty!)
If you are wondering what the difference is between these three twin gear juicers, the only difference is the color.
Images of the Tribest Greenstar Juicer
The Tribest GSE 5000 is white, the 5010 is black, and the 5050 is chrome-colored. For those who are looking for a very brief overview of the juicer, here are the pros and cons:
Pros
Highest mineral content of juice produced against other types of masticating juicers
Works great for harder vegetables like carrots as well as leafy greens and celery
Long, 12-year warranty for home use
Lots of accessories included and optional extras to purchase
Very versatile
Less clogging
Powerful
Low Noise
Cons
Slower in comparison to centrifugal and other masticating juicers (but the juice yield is worth it)
Slightly longer cleaning time than standard masticating juicers, as there are more parts
Tribest Green Star Elite Juicer: Features And Benefits
Tribest Greenstar are Twin Gear Juicers
All three models of the Tribest juicers have an advanced twin gear system. These gears are made from high-quality stainless steel. Due to their stainless steel construction, you will find them resistant to rust and corrosion even though they come in daily contact with liquid and moisture.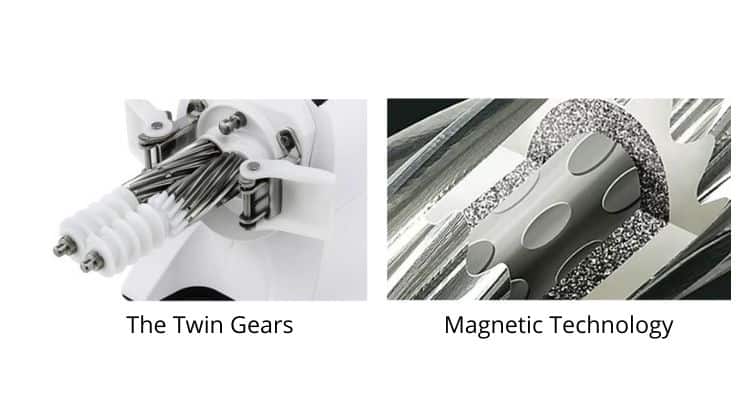 The number of rotations or spins made per minute by these twin gears is low and slow at a rate of 110 rpm. Whist this may seem like it's on the higher end of the scale in comparison to masticating juicers with augers, if you consider the size of the twin gears vs auger the number of revolutions per minute is relative.
Due to the slow and less number of spins, these Tribest juicers create less heat while juicing. This process helps preserve maximum nutrition in your ingredients. The GSE-5000, 5010, and 5050 possess magnetic capabilities as they are made from bioceramic technology.
Maximum Juice and Nutrient Extraction
This bioceramic technology enables these twin gears to produce a fresh juice that can remain preserved for longer than regular juice. You will even find the number of precious vitamins and enzymes higher than in juicers made with other juicing machines.
Independent Laboratory Testing
Tribest have had their juicers independently tested by Anabol Laboratories in ON for both mineral content and juice volume. The Greenstar juicer had both the highest juice yield and mineral content when tested against masticating juicers, hydraulic press juicers and masticating press juicers.
What is Included with the Tribest Greenstar Juicer?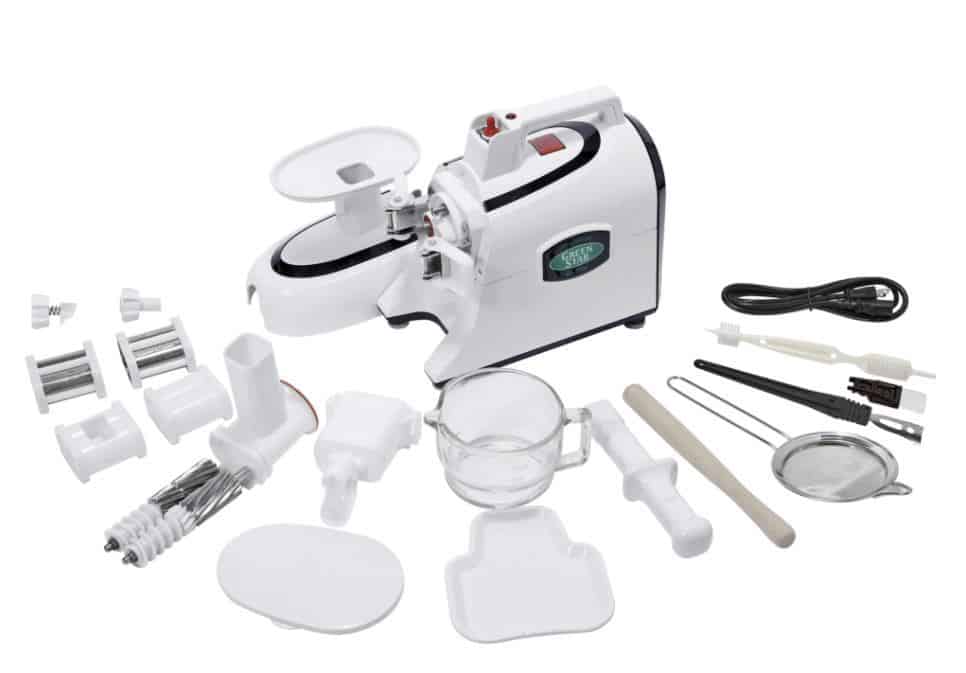 There are a few additional accessories that you are going to get with this juicer. These are:
Multiple screens – fine, coarse and blank screens to make pulp free juice, pulpy juice or sorbet. There is also a breadstick maker screen included.
A juicing knob and breadstick knob. If you like to juice soft fruits regularly, I'd recommend also purchasing the soft fruit knob (available separately here).

To measure your juice's exact quantity, you will also get a glass pitcher along with this juicer. This glass pitcher has well-defined markings on its side.

For better cleaning of the juicer, you also receive a wide variety of cleaning tools and brushes, including the special stainless steel scraper for cleaning pulp and residue from the cleaning screens. As we all know – this is the hardest part of the juicer to clean!
Like the wooden plunger, an additional plastic plunger helps push down softer ingredients inside the chamber. In contrast, the wooden plunger is ideal for pushing down the hard produce or ingredients.
Finally, Tribest even include a stainless steel fine mesh strainer, to catch any extra bits of pulp for super smooth juice. This fits on top of the jug underneath the juicer, or you can use it over the top of your glass and pour the juice through.
Take a look at the Greenstar Elite juicer in action in this short video:
Tribest Juicer Reviews – What Consumers Have to Say
Here is just a few of the 70+ reviews for the greenstar elite juicers with the jumbo twin gears. Most tribest juicer reviews are 5 stars and consumers rave over the Tribest juicers.
This machine is heavy duty and the juicing gears are amazing at extracting every drop of juice from hard ginger to soft watermelon. I'm very happy with it.

Verified Tribest Review
Works great, it's worth every penny, you get more juice then cheaper models

Verified Tribest Review
…a friend told me she juices celery every day with hers and never has a problem. I bought it and I am glad I did! There are only a few parts to clean and it's super easy. Carrots and celery are a breeze.

Verified Tribest Review
What Additional Accessories are Available?
The following additional accessories are available to purchase separately from Tribest. These help to turn your juicer into a multifunction kitchen tool. Available accessories are:
Tribest Greenstar Specifications
The dimensions for the three models of the Green Star Elite juicer range have the exact dimensions and weight. The juicers' dimensions are 18.6 x 6.8 x 12.4 inches with a total weight of 17.2 pounds.
As these juicers are made from a mixture of bioceramic and stainless steel, you will find them very durable and resistant to wear and tear. You can easily fit these juicers in tight spaces due to their compact size.
The juicer motor is a strong 200 watts. Apart from this, there is also an added reverse function available. You can utilize this function when you feel that juicing cyber is clogged or stuck. You will be able to reverse or alter the twin gears' rotation and remove the obstructing substance.
Where are Tribest Juicers Made?
Tribest juicers are made in South Korea. The Greenstar Elite juicer comes with a fantastic 12 YEAR warranty.
Where to Buy a Tribest Juicer
I only recommend purchasing a Tribest juicer direct from Tribest. Tribest are very particular about their 12 year domestic warranty and even have a list of unauthorized sellers on their website (including Amazon warehouse and Amazon renewed).
Buying direct from Tribest will ensure you are receiving a genuine Tribest juicer backed by this outstanding warranty. You'll also get free shipping with Tribest for orders over $150.
Once you have purchased your Tribest Greenstar Elite juicer, please return to the Tribest website and register your product to ensure you have the best warranty protection.
Tribest Juicer Warranty
The Tribest Green Star Elite juicer range has a 12 year warranty period. The Tribest company would replace or change any faulty part of the juicer during this time. The long warranty duration on these juicers is also an essential factor that makes these juicers highly appealable.
To check the list of unauthorized sellers and merchants, you can visit their website. This warranty is not transferable to other products, and the Tribest warranty service is only available in the North American continent.
Contacting Tribest
To lodge a service or a warranty complaint, you can email [email protected].
The toll-free contact number available for contacting inside America is 1-888-254-7336.
The international service number is 1-714-879-7150.
The hours of operation for this Tribest office are from 9:00 am-5:00 pm PST.
If for any reason you need to return a Tribest Juicer, the mailing address is 1143 N Patt Street Anaheim, CA 92801.
Tribest Juicer Replacement Parts
I love it when juicer manufacturers make replacement parts for their juicers. In my opinion, it shows that they believe in the longevity of the juicer. You see this mostly with the higher end juicers, such as Tribest, Omega, Hurom and Kuvings.
If you wish to purchase or replace your Tribest juicer parts, you can visit their website. Here, you will find the replacement parts to your Tribest Green Star Elite juicer range at the best prices.
You can purchase every conceivable part for a Tribest juicer – from an o-ring and cleaning utensils, to replacement screens, gears and safety hood assembly.
How the Tribest Complete Masticating System Works
The three models, Tribest Green Star Elite GSE-5000, 5010, and 5050 models, are masticating twin gear juicers (also known as slow or cold press juicers).
If you are wondering what mastication means – it's just a technical word for chewing! Chewing has three stages – taking the food in, breaking it down with your teeth, and then swallowing it down.
Similarly, Masticating juicers, use a slowly rotating screw or auger to squeeze the juice out of your ingredients. The augur presses or pushes the elements against the screen present in the juicer, eventually crushing them and extracting the juice.
As these masticating juicers operate or rotate slowly, you can extract a high quantity of juice yield from the same amount of ingredients. This increased quantity yield is because although masticating juicers are slow, they are also quite powerful.
These juicers are further divided into three categories that are:-
Horizontal Masticating Juicers
Vertical Masticating Juicers
For further reading on the different types of juicers, see this post here.
The Tribest GSE-5000, 5010, and 5050 juicers can have a full masticating effect on your juice as the twin gears in these juicers are specially designed to imitate human teeth' design. The stainless steel twin gears have unique cutting points, and pocket recesses on them carved.
The pocket recesses present on these gears are responsible for slicing the long and hard food ingredients such as carrots, radish, etc. These pocket recesses are just like the incisors that cut the food present inside our mouths. These pockets make the food ready for slicing during the initial grinding process of the food.
The fruits, vegetables and herbs that you put inside the juicer will have a sharper edge at this stage. Due to which the motor of the juicer will experience less pressure and strain while processing hard ingredients.
These twin gears also have unique cutting points. The primary purpose of these cutting points is to cut the string cellulose from the ingredients. These cutting points on the gears are similar to the canines in the human body as the canines are responsible for cutting chewy or hard ingredients.
These gears are carved on the gears to extract a higher quantity of juice from the ingredients too effortlessly. Another significant advantage of these cutting points or edges is that the elements will not clog or tangle inside the tray.
These gears' base has a unique design suitable for crushing your juice ingredients, similar to the molar teeth inside our mouth. This masticating juicer will similarly produce the juice as we chew our food while eating.
There is further a mixing stage after the slicing, cutting, and crushing stage. In this stage, the mixture of the juicer ingredients is mixed perfectly so that its nutritional value increases.
Tribest Bioceramic And Magnetic Technology
The bioceramic elements in the gears create a rotating electromagnetic field. This magnetic field activates the water present inside the juicer. Due to this activation, the water droplets latch on to the essential minerals and vitamins. This makes your juice very healthy and nutrient-rich.
The bioceramic technology in this juicer takes advantage of the kinetic energy produced by the twin gears' rotating motion. This technology uses kinetic energy to make and release far-infrared wavelength signals. Far-infrared radiation has several health benefits and is used in the treatment of various conditions.
All the water particles start naturally oscillating along with all the organic compounds present inside the juicer at this infrared wavelength. Due to this natural oscillation, the juice will undergo a stabilizing effect that delays oxidation.
As the juice will experience delayed oxidation, it will not go stale quickly; you can keep the juice made from this juicer fresh up to 72 hours upon refrigerating with minimal loss of vitamins and nutrients.
Pressure Adjusting Mechanism
Another common feature among these different juicer models is that they all have unique pressure adjusting mechanisms. You require a proper pressure adjusting quality in your juicer as other ingredients require various forces and strain to eject the juice out of the elements.
You will experience less frequent jamming and clogging of the juicer if you constantly set the pressure inside the juicer chamber according to the products inside. The distinct feature that makes this Tribest juicer different from other juicers is that with this juicer, you can change the pressure of the chamber anytime without stopping the juicer.
Other Uses for Your Tribest Juicer
You can even use these juicers to make various drinks and beverages due to the versatility in designing this product. You can create delicious sorbets, smoothies, pate, baby food, nut milks and butters with this juicer.
Tribest Juicer Review Conclusion
So, is the Tribest Greenstar Elite juicer the most complete masticating juicer as advertised? I'd have to say yes.
This juicer is comparable to an Omega, and costs less than a Super Angel twin gear juicer.
The upgraded "Elite" juicer has jumbo twin gears, is easier to clean than the older Tribest models and extracts an amazing amount of juice from fruits and vegetables, leaving the pulp bone dry.
I hope you have enjoyed this Tribest Juicer review. For other Tribest Juicer reviews see the following posts:
Tribest Slowstar Review
Tribest Solostar Review