This slim and stylish juicer by Whall is a new release masticating juicer for 2023.
In this review, we're going to take a closer look at the WHALL Slow Juicer, and see how it compares to other budget juicers on the market.
Product Summary
The WHALL Slow Juicer is a budget, entry level masticating juicer that offers quiet operation, easy cleaning, and versatile uses. Its features, such as the reverse function and dedicated cleaning brush, make it a user-friendly option for anyone looking to incorporate fresh juices into their lifestyle.
Product Specifications
To get a better understanding of the WHALL Slow Juicer, let's take a look at its specifications:
| Specification | Details |
| --- | --- |
| Model | WHALL Slow Juicer |
| Color | Grey |
| Power | 150 Watts |
| Speed | 60 RPM |
| Dimensions | 13.78 x 7.48x 12.6 inches |
| Weight | 8.11 pounds |
| Warranty | 1 years |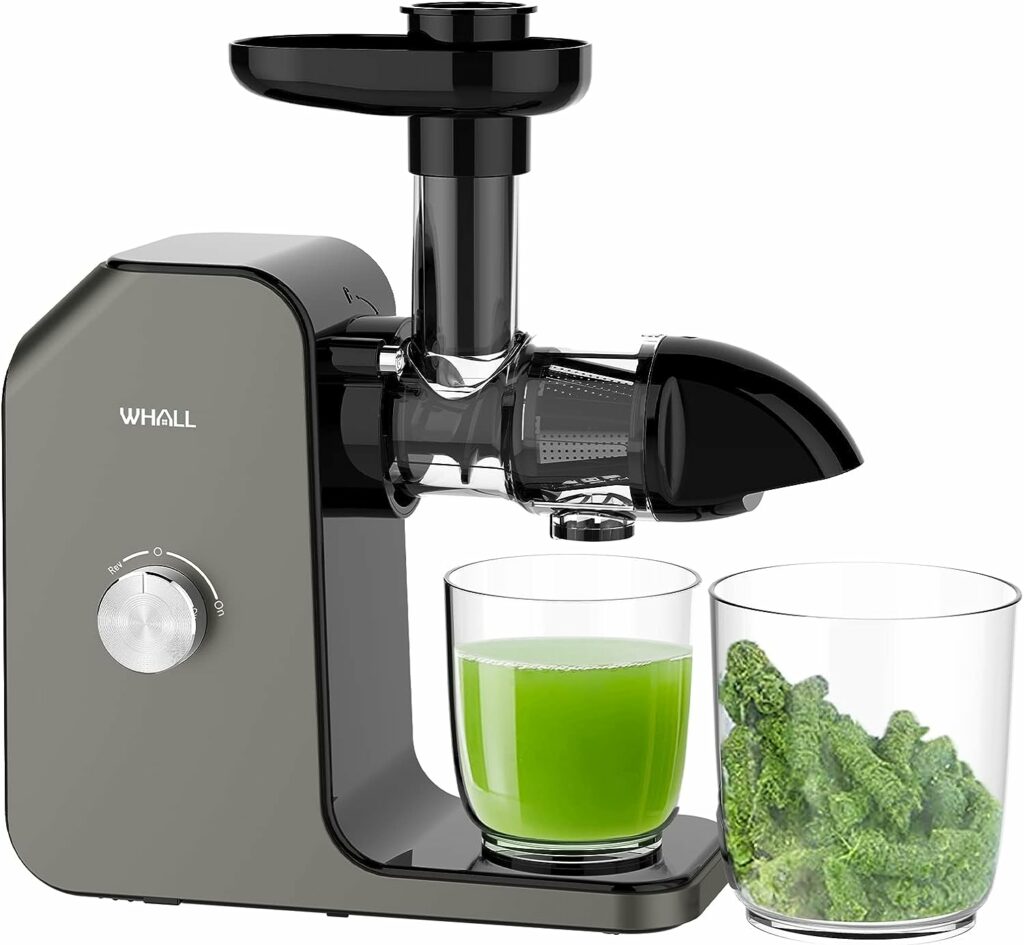 How the Whall Slow Juicer Works
The WHALL Slow Juicer is an innovative and efficient kitchen appliance that allows you to extract juice from various fruits and vegetables. Its masticating juicer technology ensures that you get the most nutrients and vitamins out of your produce, creating healthier and tastier juices. This high-quality juicer is designed to make your juicing experience convenient, easy, and quiet.
Single Juice Setting
With a single juice setting, you don't need to worry about changing the speed for hard fruits and softer fruits. Everything is processed at the same speed. You just turn it on and get on with juicing.
Quiet Motor
One of the standout features of the WHALL Slow Juicer is its quiet motor. Unlike traditional juicers that can be noisy and disruptive, this juicer operates with minimal noise. You can enjoy juicing early in the morning or late at night without disturbing anyone in your household.
Reverse Function
Another noteworthy feature of the WHALL Slow Juicer is its reverse function. Sometimes, fruits or vegetables can get stuck during the juicing process, causing the machine to clog. With the reverse function, you can easily unclog the machine and continue juicing without any inconvenience. This feature ensures smooth operation and minimizes any potential hiccups in the juicing process.
Easy to Clean with Brush
Cleaning a juicer can be a tedious and time-consuming task, but the WHALL Slow Juicer takes the hassle out of cleaning. It comes with a brush specifically designed to clean every nook and cranny of the juicer, ensuring thorough cleaning and hygiene. The detachable parts are also dishwasher-safe, making cleanup a breeze. With this juicer, you can focus on enjoying your juice without worrying about the cleanup afterwards.
WHALL Slow Juicer Uses
The WHALL Slow Juicer has a range of uses that can help you embrace a healthier lifestyle. Here are some examples:
Product Use: Making Fresh Fruit Juices for Breakfast
Start your mornings off right with freshly squeezed fruit juices. The WHALL Slow Juicer efficiently extracts juice from your favorite fruits, preserving all the essential vitamins and minerals. Whether you prefer orange juice, apple juice, or a mixed fruit blend, this juicer can provide you with a refreshing and nutritious start to your day.
Product Use: Juicing Vegetables for Nutrient-Packed Beverages
If you struggle to eat your daily recommended servings of vegetables, the WHALL Slow Juicer can be a game-changer. By juicing vegetables like spinach, kale, and celery, you can create delicious and nutrient-packed beverages that are easy to consume. This is a great way to ensure you're getting all the vital nutrients your body needs.

Who Is WHALL Slow Juicer For
The WHALL Slow Juicer is suitable for a wide range of individuals who want to incorporate fresh and healthy juices into their daily routine. Here are some examples of who can benefit from this product:
Health-conscious individuals looking to boost their nutrient intake
Busy professionals who want a quick and convenient way to get their daily dose of fruits and vegetables
Anyone looking for a quiet and efficient juicer for their kitchen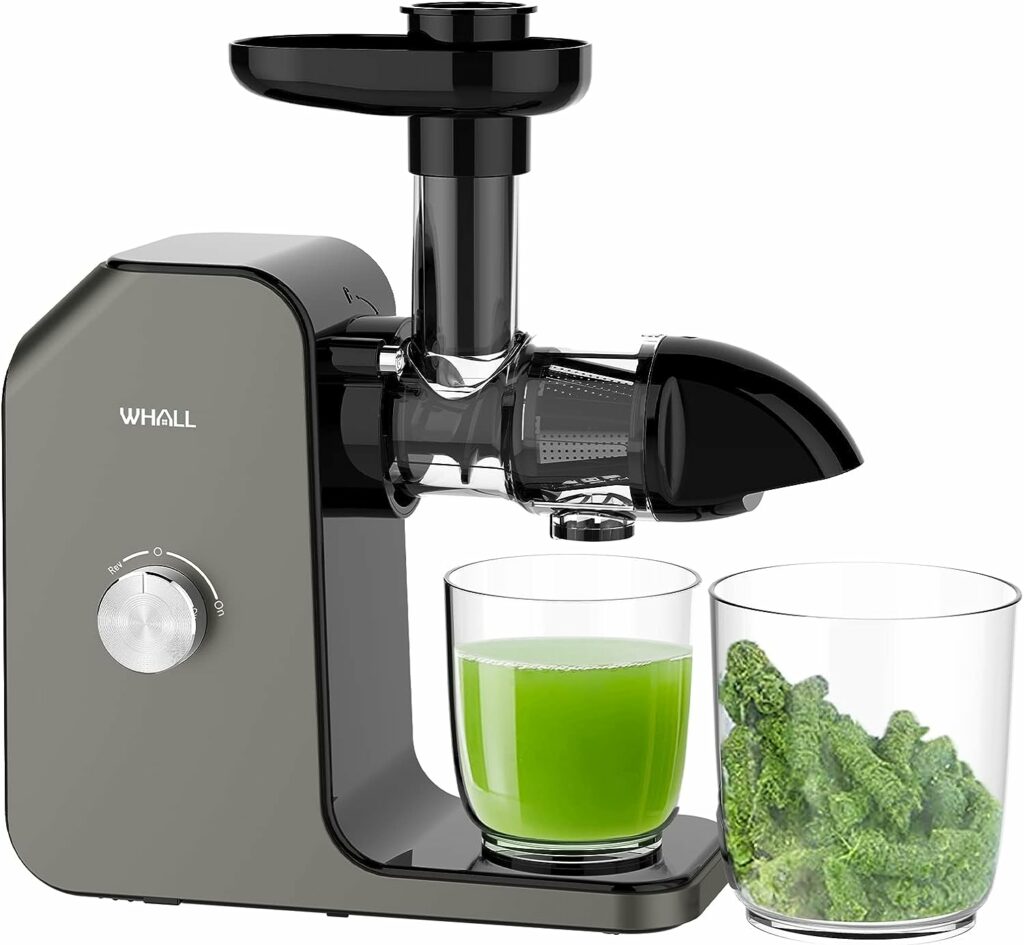 Pros and Cons
Having discussed the features and uses of the WHALL Slow Juicer, let's summarize the pros and cons:
Pros:
Small footprint
Reverse function
Easy clean up
Quiet motor
Cons:
The black model and orange model are much more expensive
Only 1 juicing speed – some other juicers offer two speeds for soft and hard fruits and vegetables
No way to seal off the juice underneath – juice may drip when emptying the cup
Not an established brand, no replacement parts or accessories available to buy
Frequently Asked Questions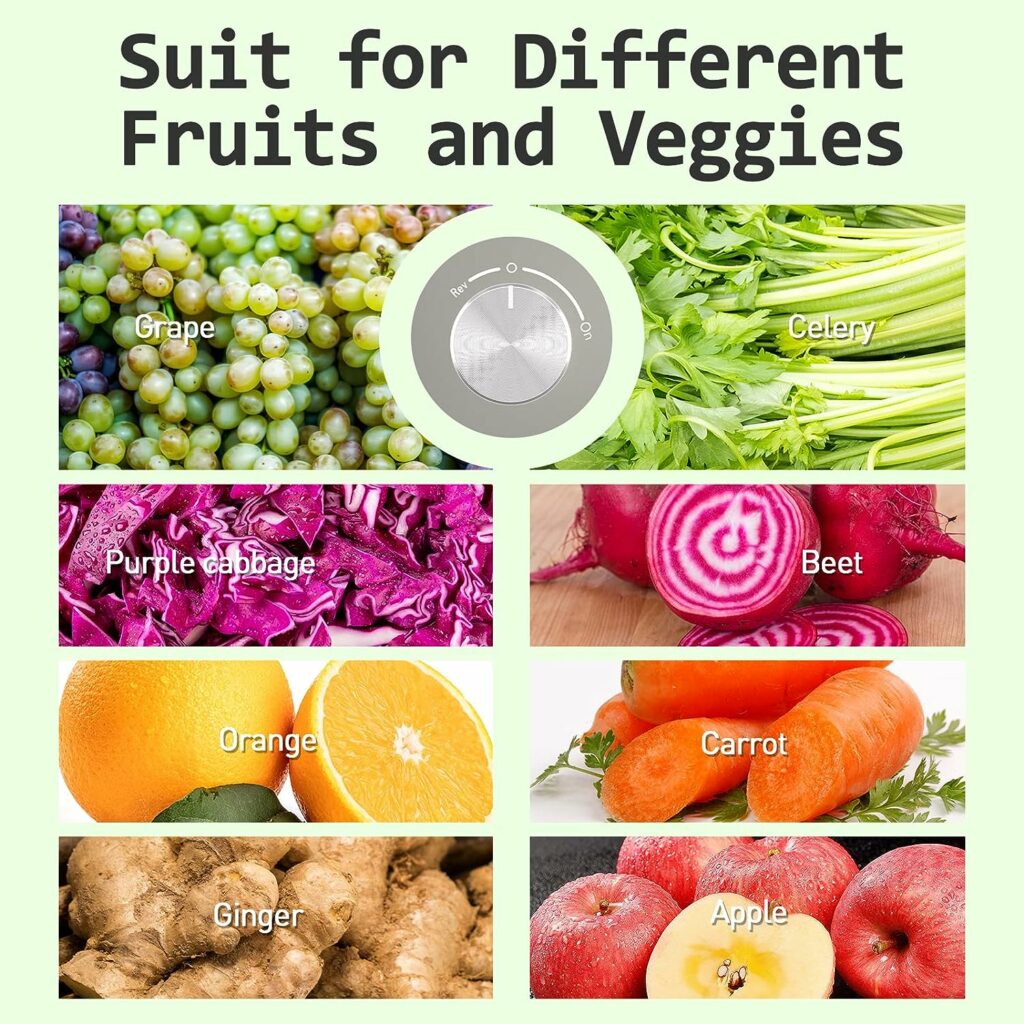 Is the Whall Slow Juicer suitable for juicing leafy greens?
The Whall slow juicer is suitable for juicing leafy greens such as spinach and kale. Follow with a harder fruit or vegetable to help push them through.
Can I juice hard fruits like apples and pears?
The Whall Slow Juicer can juice hard fruits like apples and pears. Cut your fruits into small pieces and feed them into the chute slowly.
Which juicer is best for home?
If you're new to juicing, take a look at our list of the best juicers under $200. These juicers are affordable and great for beginner juicing at home.
What Customers Say About WHALL Slow Juicer
Customers who have purchased and used the WHALL Slow Juicer have expressed high levels of satisfaction. They appreciate its quiet operation, easy cleaning, and ability to produce nutrient-rich juices.
One customer mentioned, "I was impressed by how quiet this juicer is. I can now juice early in the morning without waking up the entire household. The juice it produces is fresh and delicious."
Overall Value
The WHALL Slow Juicer offers excellent value for its price. With its convenient features, high-quality construction, and versatile uses, it provides a superior juicing experience. Whether you're a health enthusiast, a busy professional, or a parent, this juicer can enhance your daily routine and help you maintain a nutritious lifestyle.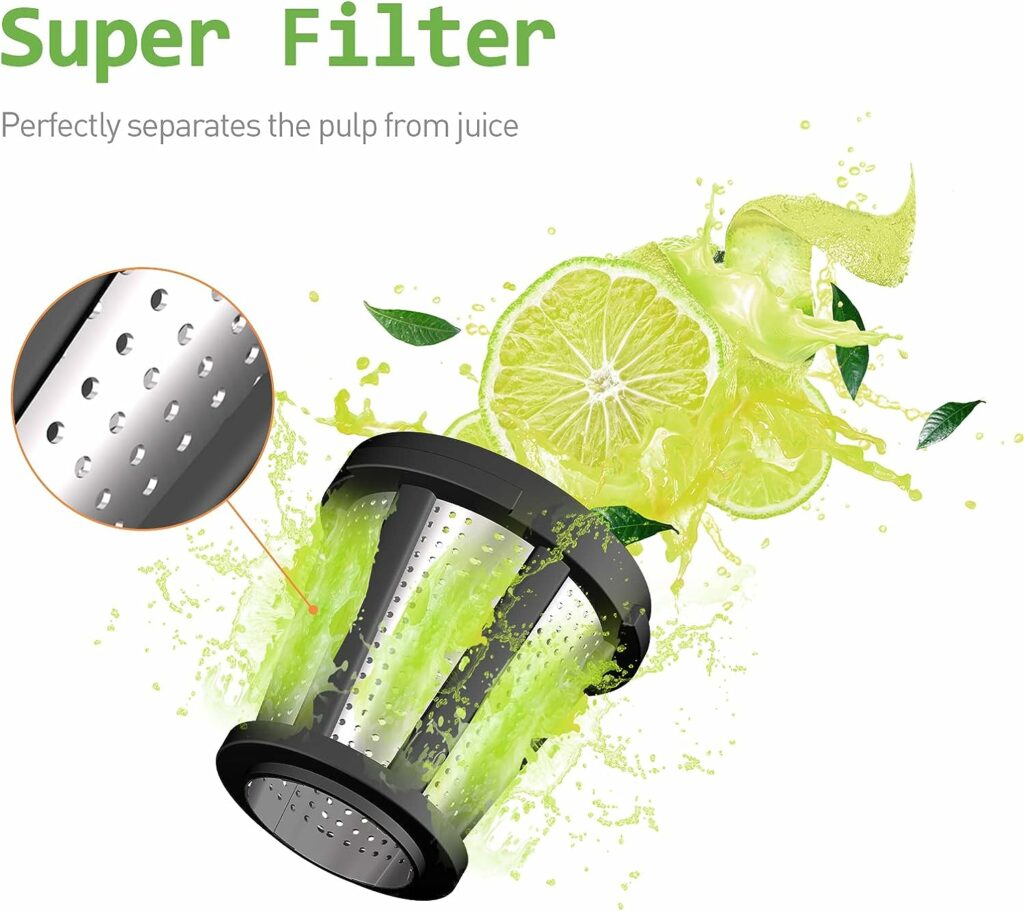 Tips and Tricks For Best Results
To get the best results with your WHALL Slow Juicer, keep these tips in mind:
Ensure that all fruits and vegetables are properly washed before juicing.
Cut larger fruits and vegetables into smaller pieces to facilitate juicing.
Alternate between different types of produce to ensure a balanced juice blend.
Use the reverse function if the juicer gets clogged for seamless operation.
Conclusion
In conclusion, the WHALL Slow Juicer is a basic entry level juicer that's good for beginners. With its quiet motor, versatile uses, and easy cleaning, it proves to be an excellent addition to any kitchen. Whether you're a juice enthusiast looking for a budget buy, or just starting your juicing journey, the WHALL Slow Juicer seems to be a worthwhile investment that will help you create delicious and nutritious beverages for yourself and your loved ones.
Final Recommendation
If you're in the market for a reliable and efficient juicer, the WHALL Slow Juicer should be at the top of your list. Its excellent value, convenient features, and positive customer feedback make it a standout choice. Don't miss out on the opportunity to enjoy fresh and nutritious juices with ease.