Juicers have been specifically designed to extract juice from fruits and vegetables for maximum nutrients and smooth juice.
Other home appliances such as blenders and food processors can be used for juicing for those who don't have a masticating or centrifugal juicer at home.
There is a little more work required to create smooth juice through blending, which I will explain below…
What Is The Difference Between a Juicer and a Blender?
Both blenders and juicers can produce refreshing drinks from fruits and vegetables. But they differ in how they work and in the quality of the finished product.
Juicers extract the juice from fruits and vegetables, thus removing most of the fibrous pulp. The end result is a thin and uniform liquid. The most commercially available types of juicers are the centrifugal juicer and masticating juicer.
A centrifugal juicer works faster by shredding the fruit via metal blades and spinning the produce at a fast speed to separate the juice from the pulp.
The masticating juicer, on the other hand, involves slow crushing and grinding of the fruit to draw the extracts out. Both centrifugal and masticating juicers separate the juice from the pulp.
Masticating juicers are usually more suitable for celery and leafy greens, centrifugal juicers work well for oranges, carrots and apples. The slower process of masticating juicers generally leave the pulp drier.
With blenders, you process the whole fruit or vegetable, including the fibrous pulp. Blenders operate through a motor that is connected to a couple of blades by a shaft.
The blades spin at a very high speed, creating a vortex and grinding the material fed to it into minute pieces.
As a result, you get a thicker consistency of the drink, and you retain the beneficial fiber. There is no separation between the juice and the pulp.
Blenders are more suitable for soft fruits such as strawberries, mango, blueberries, raspberries, blackberries, peaches and nectarines.
Is It Better To Use a Juicer Or a Blender?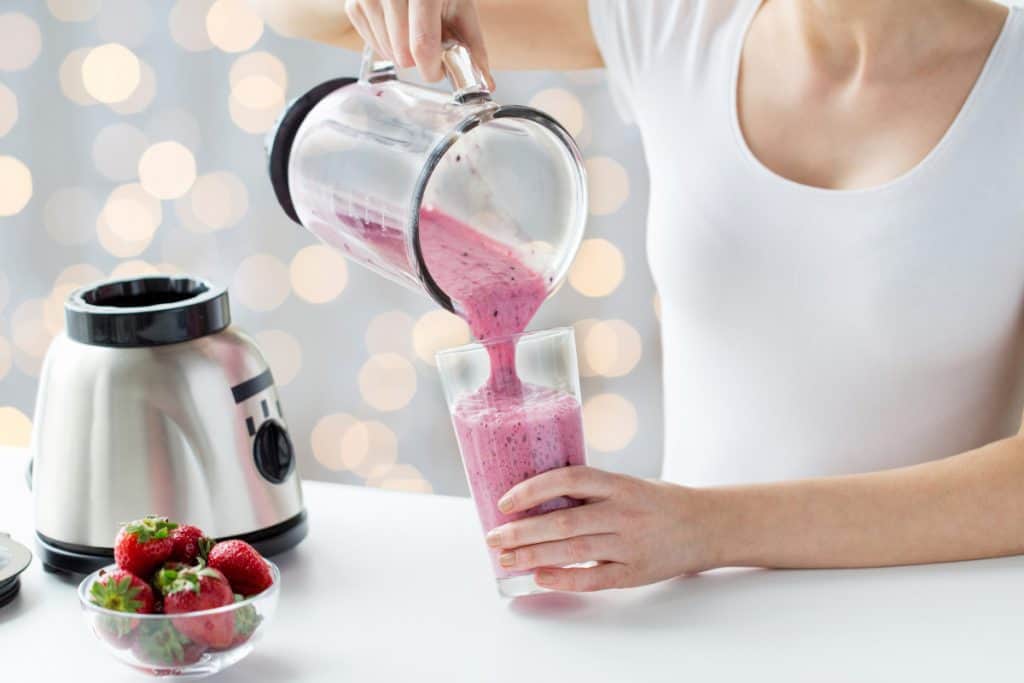 The choice about which juicing appliance to use depends on your preference. The availability of the machine and the quality of the juice that each one produces should be considered.
Juicers create either pulp-less juices, or juice with minimal pulp included (some have settings to vary the amount of pulp included). This means that in general, freshly made juice is low in indigestible fiber.
This is not a bad thing however. Consider freshly made juices as a glass full of extracted nutrients which will be quickly absorbed by your body, as your body does not have to work to break down the fiber.
With juicing, you will need more produce to make a glass of juice without the pulp, in comparison to blending. If you're on a low fiber diet, the juicer is the better choice.
With blending, you can either consume the juice and fiber blended together, or use a cheesecloth or other thin material to strain the juice from the pulp.
Consuming the juice and fiber blended together will make for a thicker drink. Manually separating the pulp from the juice will create a smoother juice, more comparable to using a juicer.
There are pros and cons to both juicing and blending and certainly something to consider when using a blender as a juicer. Leaving the fiber in the juice helps to remove toxins in the body.
Fiber also helps to create a satiating effect, making you feel full and eat less. Those who are encouraged to consume more fiber for their diet plan may want to use a blender as a juicer and include some, if not all of the fiber.
The benefit of juicing however, is the dense nutrient content in the smooth pure juice which your body can readily absorb.
What Is The Best Juicer Blender Combo?
If you are trying to decide between buying a centrifugal juicer or a blender, a juicer blender combo is ideal.
This innovation is a single appliance that could carry out both juicing and blending processes.
It usually costs more than a blender or a centrifugal juicer, but if you combine the costs of the two, you can save money by buying the combination model.
There is also the benefit of a dual-purpose machine that saves you space.
Cuisinart and Breville are two options for a juicer blender combo – Breville being the better buy in my opinion.
Cuisinart CFP-800 Blender, Juicer & Food Processor
The Cuisinart CFP-800 is a combination centrifugal juicer, blender and food processor. Most consumers have found the juicer function to be adequate.
There are complaints about the blender not being able to crush ice for smoothies.
Cuisinart CFP-800 Kitchen Central with Blender, Juicer and Food Processor
CAPACITY: 8-cup food processor unit

VERSATILE: Perform multiple food prep tasks in less counter space with the Cuisinart Kitchen Center

POWERFUL MACHINE: Interchangeable food processor, blender and continuous juice extractor bowls are all powered by the 350-watt base

DISHWASHER-SAFE: The Removable parts are dishwasher-safe

CUISINART AUTHORIZED DEALER: Includes USA Manufacturer Guarantee
Prices pulled from the Amazon Product Advertising API on:
Product prices and availability are accurate as of the date/time indicated and are subject to change. Any price and availability information displayed on [relevant Amazon Site(s), as applicable] at the time of purchase will apply to the purchase of this product.
Breville Juicer Blender Combo
Breville have introduced a centrifugal juicer and blender combo. As shown in the image above, you can juice directly into the blender, then swap out the juicing component for the blender.
This is handy if you are creating green juices and smoothies that aren't suited to being made in a centrifugal juicer.
For example, you could juice your apples, cucumber and celery (to some extent) in the centrifugal juicer, then swap over to the blender to add in kale, spinach or wheatgrass.
Whilst you can't see it in the photograph, there is also a separate pulp container at the back of the unit, unlike the Cuisinart combo unit above, which collects the pulp inside of the juicer.
I've not found the Breville Juicer Blender Combo (aptly named by Breville as the Bluicer™) on Amazon, but you can pick this versatile combo up at Bed Bath and Beyond.
Is Nutribullet a Juicer?
In 2020, Nutribullet are better known for their high powered blenders, but Nutribullet also make a centrifugal juicer.
It is an 800 watt juicer, slightly less power than the 1000 watt Breville juicer blender combo above, but far more powerful than the Cuisinart combo with its mediocre 350 watt motor.
It doesn't have any blending functions however, this is just a centrifugal juicer. This type of juicer is best for carrots, beetroot, apples and citrus fruits.
Check it out below:
NutriBullet NBJ50200 Juicer Pro, Silver, 2 L
The NutriBullet Juicer Pro is designed for ultimate efficiency, and engineered to produce smooth, flavorful and delicious juice with a high-torque motor and the power of turbo speed.

Three precision speeds help you get the most out of every ingredient. A no-drip spout ensures you don't miss a drop.

The 27 oz. sealing juice pitcher allows you to juice and store fresh juice for up to 48 hours for make-ahead, grab-and-go convenience.

A 3" feed chute and dual-size food pusher lets you choose between wide and narrow feed chutes to accommodate fruit and veggies of different sizes.

It's also equipped with freezer trays and to-go glass bottles to streamline your juice routine.

Lift off our self-contained pulp basin and bring it right to your sink. The sieve, pulp basin, juice pitcher, to-go bottles, and freezer trays are all dishwasher-safe.

Includes: (1) 1000W Motor Base, (1) 2L Pulp Basin with 3" wide feed chute, (1) Stainless Steel Sieve, (1) 27oz Juice Pitcher (1) Sealing pitcher lid with froth separator, (1) Dual-size Food Pusher, (2) Glass To-Go Bottles, (1) 2 oz Freezer Tray, (1) 4 oz Freezer Tray, (1) Cleaning Brush and User and Recipe Guides.

The sieve is made from stainless steel. The Pulp Basin and Juicer Pitcher are made from durable, BPA-Free Plastic. To-Go Bottles are made from glass and Freezer Trays are made from silicone. Unit Dims – 9.3" L x 10.3" W x 16" H

Product built to North American & Canadian Electrical Standa
Prices pulled from the Amazon Product Advertising API on:
Product prices and availability are accurate as of the date/time indicated and are subject to change. Any price and availability information displayed on [relevant Amazon Site(s), as applicable] at the time of purchase will apply to the purchase of this product.
The Nutribullet Blender Combo
Don't be confused by the name – the Nutribullet Blender Combo simply means that the blender comes with multiple sized cups and jug that are all interchangeable on the base.
In other words, you can blend using the large jug and make a bulk smoothie for the whole family, or blend in a personal size cup, place on the lid and be on your way.
There is no actual combination juicing and blending function, just blending. It is quite a powerful blender – operating at 1200 watts, this will handle crushing ice and making nut butters.
If you were looking to use this blender as a juicer you could. You would simply need to strain the juice afterwards through a cheesecloth.
NutriBullet ZNBF30500Z Blender Combo 1200 Watt, 1200W, Dark Gray
NutriBullet blender combo will take your nutrition extraction to the next level with the versatility of both a multi-serving pitcher and a single serve cup.

Three precision speeds, A pulse function and the extract program offer full control at the Press of a button. 1200 watts of power let you make an endless array of smoothies, soups, sauces, nut butters and beyond.

Includes: (1) 1200W motor base, (1) 64 oz blender with lid and vented lid cap, (1) Tamper, (1) 32 oz cup, (1) 24 oz cup, (2) to-go lids, (1) easy-twist Extractor blade, and recipe book

The easy-twist Extractor blade is made of powerful stainless steel and designed with cyclonic action. Our super-durable BPA-free pitcher and cups are made of high-performance plastic.

Hassle-free cleaning - simply place pitcher and cups in the dishwasher and rinse The easy twist Extractor blades with soap and water.

Unit dimensions: 8.07 L x 7.75 W x 16.97 H

This item includes a 1 year Limited warranty.

Note: Refer to user manual before use

Product built to North American & Canadian Electrical standa
Prices pulled from the Amazon Product Advertising API on:
Product prices and availability are accurate as of the date/time indicated and are subject to change. Any price and availability information displayed on [relevant Amazon Site(s), as applicable] at the time of purchase will apply to the purchase of this product.
Can The Ninja Be Used As A Juicer?
Most blenders can be used as juicers including the Ninja blender. There is generally a difference in quality between juicing vs blending, with the blended juice needing to be strained.
One blender model that is often used in juicing is the Ninja blender. Because of its high power, the Ninja could create an impressively smooth and consistently mixed juice with more fiber in it.
Can You Use Vitamix As A Juicer?
A Vitamix blender can also function as a juicer. However, in juicing, you'd have to run the blended product through a filter to obtain only the juice.
You may have to add water for a smoother process and end result. This is the same with other types of blenders. Straining should be done if you don't want pulp in your juice.
We have a full article on how to juice with your Vitamix here.
Magic Bullet Juicer vs NutriBullet
Magic Bullet is a blender not a juicer. The Nutribullet is a blender. Nutribullet also make a centrifugal juicer.
The term bullet comes from their physical form and from how fast they complete the blending process. Both can make smoothies in a couple of seconds.
Can I Use A Food Processor as a Juicer?
Not having a juicer doesn't mean you can't make homemade juice from fresh fruits at all.
Food processors typically have quite strong engines and sharper blades that liquefy fruits or vegetables through continuous slicing.
This is why food processors are the best automatic appliance for mincing and chopping fruits, vegetables, nuts, and herbs.
But when it comes to juicing, food processors don't readily produce the same consistency as the one made from real juicers. The continuous slicing of the food will create a puree-like texture, and not really a homogeneous liquid juice.
You will need to strain the pulp from the juice after using a food processor to obtain a product that is more liquid and can easily be sipped.
If you don't want to filter it, you may add water to make it drinkable. It won't eliminate the small chunks, which is actually beneficial if you're up for the fiber.
Also, the liquids tend to slosh around the bowl during the process, so you'd have to manually collect them as you transfer it to a container before or while straining.
The higher spin speed of food processors could also increase heat production and oxidation within the juice, thus removing some of the nutrients.
Juicer vs Blender vs Food Processor
Juice Quality
Juicers produce a thinner and more consistent juice that has less to no pulp.
This reduces the amount of fiber but maximizes the vitamins and minerals you get from your drink.
Blenders and food processors both create a puree-like consistency. They're not designed to extract the juice. Instead, they crush everything you put in it to the point of liquefying the whole thing.
Therefore, you need to strain the product if you only want the pure juice with no skin or pulp.
If you prefer pulp-free juice and maximum nutrient extraction, a juicer is your go to. If you enjoy munching the pulps to obtain more fiber, then choose a blender or food processor.
Flexibility
Juicers are primarily made to extract the juice. Some soft fruits such as bananas, berries, avocadoes aren't suitable for juicing and is best made into a smoothie in a blender.
When it comes to a multi-purpose machine, the food processor offers the most versatility, but isn't the best choice for making juice.
Slow Juicer vs. Vacuum Blender
A slow juicer performs the extraction by slowly crushing and pressing the fruit to draw out the juice. It may take time, but there's no heating or oxidation during the process, which makes for fresher, longer lasting juice with the most amount of enzymes and nutrients.
Blenders operate at high speeds, allowing oxidation to occur. A vacuum blender works in the same way as the regular blender, but it first removes the air from the ingredients in the jug before blending.
This will add a little to the total processing time. The end result is said to be full-flavored and more vibrant in color compared to those made through the regular blenders, with more retained nutrients.
If you are concerned about the heat generated and loss of nutrients when using a blender as a juicer, you may be better off switching to a masticating, cold press or twin gear juicer instead.
Alternatively, check out a vacuum blender on Amazon below:
Klarstein Airakles Vacuum Blender • Blender • 800W • 26000 RPM • 1.5 Liter Glass Jug• Vacuum Function • 7 Programs • 6 Power Levels • Pulse • Stainless Steel Mechanism • 6 Blades • Black
Power: This vacuum blender has 800 watts of power and is able to maintain speeds of up to 26,000 rotations per minute with a 1.5-liter glass jug.

Elegant: The blender has a touch-sensitive control panel with 7 programs, a robust housing, and an additional cup.

Vacuum:The vacuum function (80 kPa) removes air from the glass jug before use which prevents vitamin oxidation- removing air before use creates a creamier and healthier blend.

Capacity: The blenders stainless steel cross blades are perfect for pureeing, grinding, or crushing. While its generous capacity of 1,5 litres makes it perfect for creating anything - from smoothies, soups, to purees.

Easy Clean: A tight-fitting rubber lid prevents leaks or spills. And the removable pitcher allow easy cleani
Prices pulled from the Amazon Product Advertising API on:
Product prices and availability are accurate as of the date/time indicated and are subject to change. Any price and availability information displayed on [relevant Amazon Site(s), as applicable] at the time of purchase will apply to the purchase of this product.
Conclusion
Choose a blender if:
You want more fibrous pulps in your drink.
You're on a high-fiber diet.
You need a satiating refreshment.
You want to add protein powders etc.
You dislike food wastage.
Choose a juicer if:
You're on a low-fiber diet.
You want a thinner consistency of your juice.
You don't like fruit skins or pulps in your juice.
Maximizing the vitamins and minerals in one glass is your priority.
You want fast absorption of nutrients.
Choose a food processor if:
You prefer a multi-purpose machine that can uphold various processes.
You want a high-fiber and satiating drink.
Juicer and blender are not available.