Orfeld are makers of vacuums and home appliances and have recently expanded to add juicers into their product offering.
The latest Orfeld juicer for 2020 is a horizontal masticating juicer with a wide chute. The Orfeld slow masticating juicer has a retro vintage design and is available in two colours, red and green.
As you can see from the image below, this is a compact but attractive looking juicer. It is a budget Chinese made juicer, priced around $110 in the USA.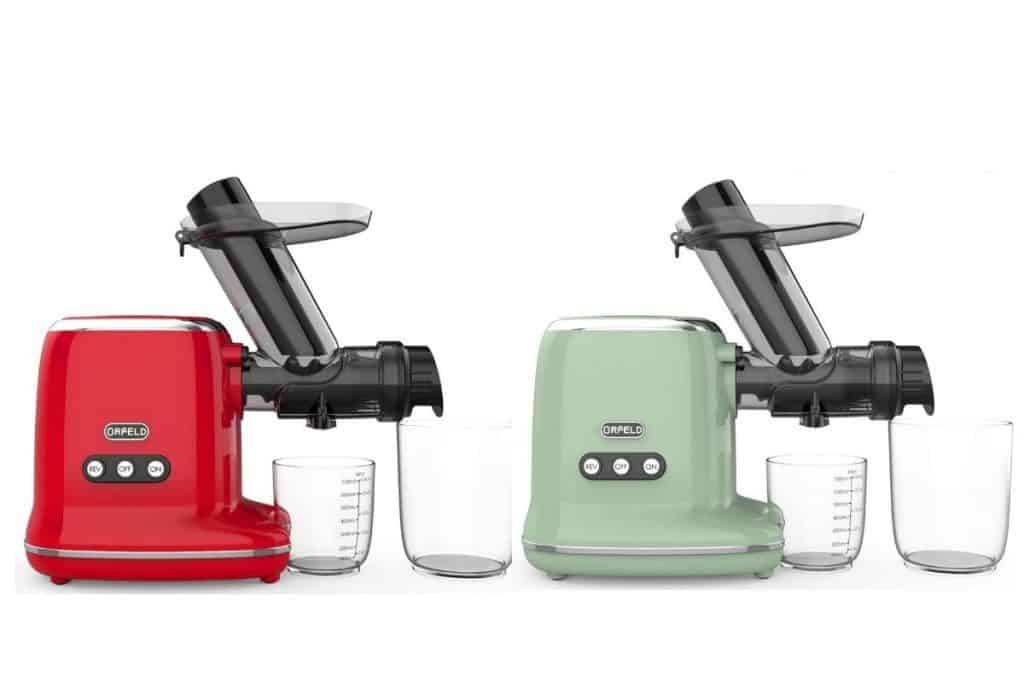 The Orfeld Slow Masticating Juicer
The Orfeld juicer has a slightly different chute and auger design. The slanted 3 inch wide feed chute allows for larger pieces of fruits and vegetables to be fed into the juicer.
With the different chute design comes a slightly different auger design also, with a larger gap between the spirals to accommodate larger pieces of food.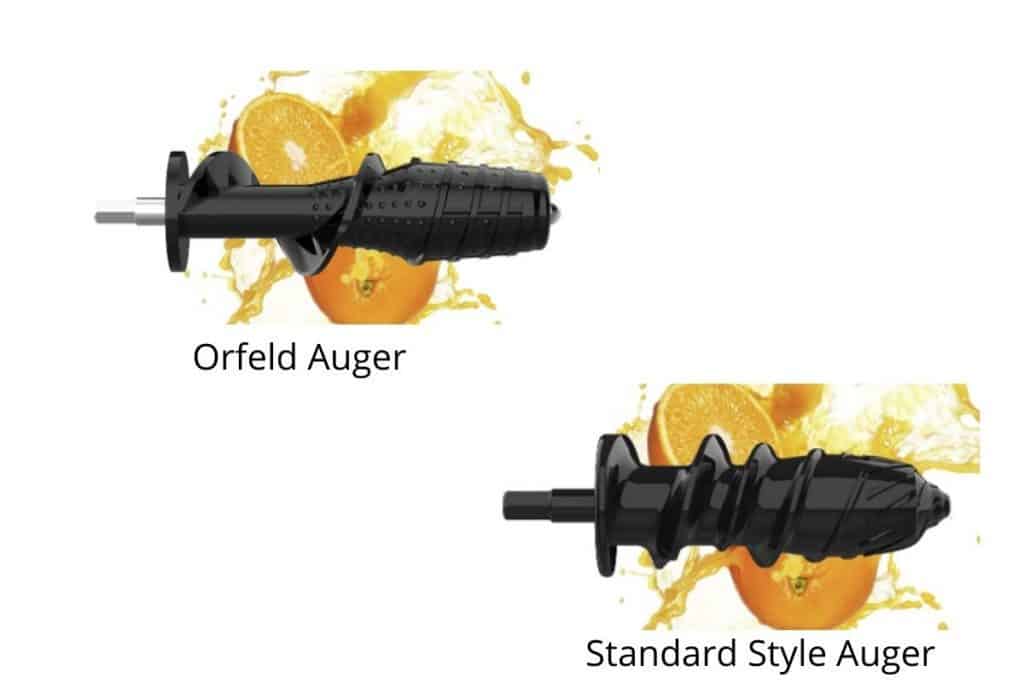 Orfeld promote that their slow masticating juicers will extract up to 95% of juice from fruits and vegetables. This claim is probably in comparison to centrifugal juicers.
Orfeld Juicer Spin Speed
The Orfeld Masticating juicer has a spin speed of 95 revolutions per minute (RPM). This is slightly higher than most horizontal masticating juicers (which generally operate around 80 RPM).
Looking at the image above however, the Orfeld auger looks slightly thinner in design than the standard style augers. It is only natural that a thinner auger would need to turn more times per minute, hence the slightly higher spin speed.
This is also why vertical masticating juicers have a lower spin speed than horizontal masticating juicers.
Orfeld Juicer Technical Specifications
Spin Speed 95 revolutions per minute
Operating Noise 60 decibels
Reverse Function
Power 150 watt
Voltage 120V
Warranty 1 year
BPA free parts
Auto Power Off after 20 minutes of juicing
Size 14.72 inches x 7.13 inches x 17 inches
The Orfeld Juicer for Beginners
Orfeld Slow Masticating Juicer – Red
Patented auger with added ridges to extract up to 95% of juice yield from fruits and vegetables.

Auto shutdown protection chip - to protect your juicer and the quality of your juice.

Wide 3 inch feed chute

Single Speed, One Button Disassembly and Reverse Function

BPA free materials
Prices pulled from the Amazon Product Advertising API on:
Product prices and availability are accurate as of the date/time indicated and are subject to change. Any price and availability information displayed on [relevant Amazon Site(s), as applicable] at the time of purchase will apply to the purchase of this product.
The Orfeld juicer has a low price point, retailing for around $110 in the USA.
If you are new to juicing and looking to test out juicers at the lower end of the market, the Orfeld juicer is a great choice.
The reason you are only able to use the juicer for 20 minutes at a time is because it will heat up, and in turn heat up your juice, destroying nutrients and causing oxidation.
A 20 minute run time is fairly common across masticating juicers at the lower end of the market. After 20 minutes of use, you will need to let the juicer cool for at least 10 minutes before juicing again.
Cleaning the Orfeld Juicer
One of the features of the Orfeld slow masticating juicer is the one button push to disassemble the juicing parts from the motor of the machine.
There are 8 parts to wash on this juicer, including the plastic juice cup and plastic pulp collector. When you first receive the juicer, these parts come preassembled to quickly connect to the motor.
After you have removed the washable parts from the juicer, hand wash in warm water. Alternatively, you can place the removable components in the top rack of your dishwasher.
Orfeld include a cleaning brush to assist removing pulp from the juicing screen.
Orfeld Juicer Replacement Parts
Unfortunately, there are no replacement parts available for the Orfeld juicer at this stage. Orfeld do make replacement parts for their vacuum cleaners, so I'm hoping juicer parts may be available in the future.
At this stage however, once the 12 month warranty has expired, if the juicer stops working, you will likely need to purchase another juicer.
If purchasing via Amazon.com you can add on 3 and 4 year protection plans. I would highly recommend spending the extra $20-$30 for added protection given the short warranty and no replacement parts.
Whilst the reviews of this juicer have been very positive so far, this is a new release juicer for 2020 and how it holds up over time is yet to be seen.
Contacting Orfeld Customer Service
Orfeld have a designated website and facebook page for inquiries.
The best way to get in touch with Orfeld Customer Service is to email support@orfeldtech.com.
If you contact Orfeld via their Facebook page, you will get a standard message response, complete with poor English grammar and spelling errors, which didn't leave me feeling reassured I was going to hear back:
Thank you for reach out.

1> For warranty extension, please send your amazon order number to extend additiona 90 days warranty.

2> For products complain, pls kindly send me the order number. we'd appreciate if you can send photos or video for Check . I will back to you at my earliest convenience.

our offical customer service email : support@orfeldtech.com Miss Sofia

Orfeld Facebook Inquiry
Where to Buy an Orfeld Juicer
You can purchase Orfeld juicers on Amazon.com and also via the Orfeld official site www.orfeldtech.com. Here are the links:
If purchasing on the Orfeld Tech website, shipping is only available to the following countries:
United States
Austria
Belgium
Cyprus
Czech Republic
France
Germany
Ireland
Italy
Luxembourg
Slovenia
Spain
Sweden
Unfortunately, shipping is not available to Canada, United Kingdom, Singapore, Australia and New Zealand via the Orfeld website.
There is also no additional protection plans available when purchasing via the Orfeld website. At the time of writing (November 2020), Orfeld were offering an additional 3 months warranty on their appliances.
Would I Buy The Orfeld Slow Masticating Juicer?
I would. In fact, I'm adding this juicer to the list of best masticating juicers under $200.
The pulp appears very dry and juice extraction appears good. I like the different auger design with the little bumps on the auger, to help extract more juice.
The red and green juicers are very appealing in color and I'm trying very hard not to use this as a deciding factor – after all, the color of the juicer doesn't impact juice yield – but they are so pretty!
This juicer does an excellent job of juicing pomegranate, as you can see in the image below: