Omega introduced its first vertical slow-speed juicer in 2005 and claimed that it reduced oxidation and provided fresh juice that you can store for up to 72 hours. These claims remain constant till date and are backed up by the brand and its consumers.
Today, let us discuss and compare four of these Omega vertical low-speed Juicers.
Omega VSJ843Q
This Omega vertical slow juicer produces fresh fruit and vegetable juice at 150-watt energy consumption and 43 revolutions per minute.
This is the latest design in vertical masticating juicers from Omega, first launched in 2014.
It comes in a compact, stylish design with a red or silver exterior. It features a dual-edge single auger with high yield performance.
It provides a tighter fit tolerance and strains more juice. It breaks fiber down to a palatable level resulting in a liquid with a smooth texture packed with nutrition. The juice spout comes with a no-drip tap, which can be closed while operating the machine. There is also a reverse function on this juicer.
Furthermore, the Omega vertical slow juicer has a gentle squeezing mechanism which prevents the destruction of healthy enzymes in the fruits and vegetables. This feature lowers the buildup of heat and prolongs the oxidation process. It also features automatic pulp ejection so that you don't have to stop juicing midway.
What you can use it for: you can use this juicer to make celery juice, fruit juice, leafy green juice, vegetable juice, wheatgrass juice, nut milk, and citrus juice. You can use this juicer continuously for 30 minutes before giving it a rest.
Consumer Reviews:
For its convenient features and stylish design, customers have given this product 4.4 out of 5 stars. Overall, the consumer experience has been up to the mark.
Cleaning: You can either hand wash the Omega vertical slow masticating juicer parts or place them in the top rack of the dishwasher.
Warranty: 15 years
Additional parts: the juicer comes with a juicing screen, a juice bowl with a plastic lid, a plastic pulp bowl, auto cleaner, and a cleaning brush. You can also purchase replacement parts for the juicer via the Omega website.
Pros:
The gentle squeezing mechanism of this Omega vertical slow juicer ensures a longer shelf life of the juice.
The design is compact so it takes up less space on the counter.
The exterior is aesthetically pleasing and stylish for a kitchen setup.
The low speed and fewer revolutions per minute produce the optimal efficiency of the product.
The automatic pulp ejection mechanism makes your juicing experience smoother and faster.
Cons:
Tough fruits and vegetables, such as carrots and beets, can sometimes create a mess inside the pulp filter and make it hard to clean.
There are different shapes available in the VSJ843 models. You may find the juicers advertised as VSJ843R or VSJ843Q. The only difference is the shape. The R models are a rounder shape, the Q models are a squared shape. The parts and motors are identical.
The VSJ843Q (square) model has the on/off switch to the right, whereas the on/off switch is at the back of the unit on the VSJ843RS (round model). The model numbers are:
VSJ843RR – round, red – currently out of stock
VSJ843RS – round, silver – currently out of stock
Omega VRT400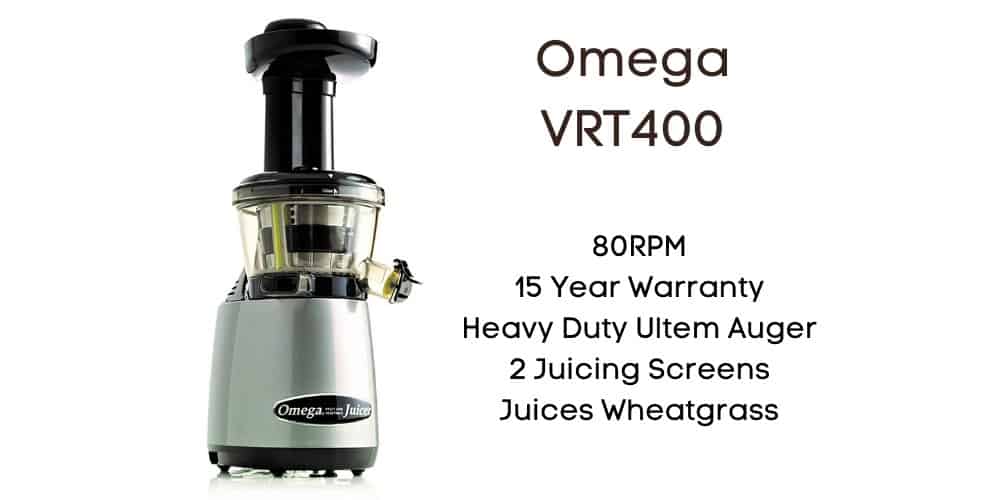 This Omega vertical slow juicer features a motor that runs on 80 revolutions per minute and a single auger.
This slow speed prevents the buildup of heat and delays the process of oxidation in the juice. This feature increases your product's shelf life so you can store it for up to 72 hours.
This Omega vertical slow juicer allows heavy-duty work and includes two juicing screens. The coarse screen will enable you to create more pulp. On the other hand, you can use a fine screen to produce lesser, smaller pulp.
The juice tap features a no-drip mechanism that allows a mess-free experience and enables you to make different recipes by easy rinsing.
The VRT400HDS features a powerful motor for more torque generation and an automatic pulp ejection. This feature allows you to make juice out of fruits and vegetables such as pomegranates, leafy greens, wheatgrass cherries, and many others. You will still need to remove the pips (seeds) from the cherries before juicing.
The slow-speed working mechanism of the Omega VRT400HDS juicer maintains the fresh scent and the vibrant color of the juice while preserving nutrition and flavor.
Overall, the juicer weighs a total of 18 lbs and works on a 150 Watts motor. The dimensions are 7 inches x 8.5 inches x 15.5 inches.
What can you use it for:
This Omega vertical slow juicer makes celery juice, fruit juice, nut milk, vegetable juice, citrus juice, leafy green juice, and wheat grass juice. This is a good range of functions as these juice types are consumed commonly by many people.
Consumer Reviews: this juicer is rated 3.9 out of 5 stars. While the overall customer experience is up to the mark, some people have problems with the noise mechanism. According to them, the quiet motor is not as quiet as they would like it to be.
Warranty: 15 years
Additional parts: this premium Omega vertical slow juicer comes with a fine juicing screen plus coarse juicing screen, an auto cleaner, a cleaning brush, a plastic bowl for pulp, a strainer for sieve, and a plastic juice jug.
Key Features:
Quiet operation – you can easily hold a conversation whilst the juicer is running.
Automatic pulp ejection makes the juicing process fast.
It also ensures easy cleaning and maintenance.
The stylish compact design takes up less space on the counter
Solid and heavy duty unit.
Here is a short video of the VRT400HDS in action. You can hear the noise of the juicer and also see how dry the pulp is when extracted.
Omega Mega Mouth Vertical Juicer
The Omega MMV700S juicer operates at 60 revolutions per minute and is very similar in design to the Kuvings C7000 juicer. It even includes an identical cleaning tool, same 10 year warranty and same spin speed.
While running on 60 revolutions per minute and a single auger, Megamouth vertical low-speed juicer prevents heat buildup and delays oxidation.
It has a wide 3-inch feed chute, which reduces the prep time involved in cutting fruits and vegetables before putting them in. The juice tap features a no-drip mechanism, which avoids spills and a messy counter.
It also features a mixing function and automatic pulp ejection. The motor is powerful and produces proper torque. The stock allows it to properly process more robust ingredients such as beets, cherries, and other fruits and vegetables.
Overall, the machine weighs about 21 lbs and works on a 240 Watts motor. The dimensions are 6.5 inches x 9.6 inches x 17.8 inches.
You can use this Omega vertical slow juicer to make baby food, nut milk, fruit juice, celery juice, nut butter, wheatgrass juice, citrus juice, vegetable juice, and leafy greens juice.
There are many similarities between the Omega mega mouth juicer and the Kuvings C7000 juicer. Take a look at the comparative image below and you will see the juicers are very similar in design and include many of the same attachments. Both offer a 10 year warranty (whereas Omega usually offer 15 years, but not for the mega mouth juicer).
Both juicers also offer spare parts and are also very similar in price. If you were looking at purchasing the Omega mega mouth juicer and it was unavailable the Kuvings c7000 is virtually identical.
Having said that neither the Omega mega mouth juicer or Kuvings C7000 are our first choice for a vertical masticating juicer.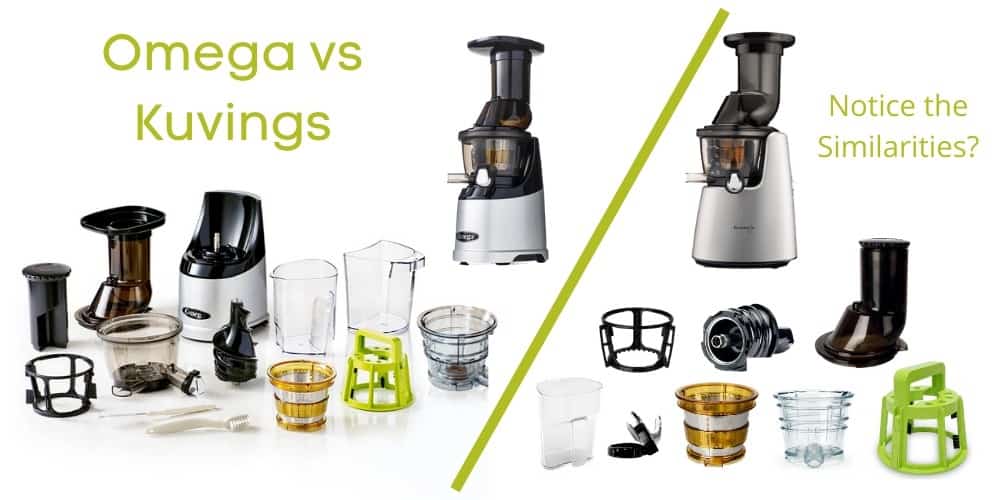 Is Omega Vertical Slow Juicer Cold Press?
Yes, all vertical slow juicers featured in this article are cold press juicers by Omega.
Omega Vertical Slow Juicer Replacement Parts
All Omega juicers featured in this article offer replacement parts. They can be purchased via the Omega juicer website.
How to Contact Omega Customer Service
Omega make it easy to contact their customer service department. Here are the details:
Telephone: 1-888-610-0498 Monday to Friday 9am to 4pm EST. Closed on weekends and holidays.
Email: support@omegajuicers.zendesk.com or customercare@omegajuicers.com
When you are emailing Omega, be sure to send them a photograph of the damaged part. You will also need the model number of your juicer and the manufacturing date code. You will find both of these on the bottom of your juicer.
If Omega determine the failed part is covered under warranty, they will send you a replacement part at no charge. If the part is not covered under warranty, shipping charges will apply. These vary between $9.95 (USA) to $12.95 (Canada) to $14.95 (Alaska and Hawaii).
Social Media:
Twitter: @OmegaAppliances or @OmegaJuicing
Facebook: @OmegaJuicers
Instagram: @omegajuicing
Which Omega Vertical Slow Juicer is the Best?
In our opinion, the Omega VSJ843Q is the best buy Omega vertical slow juicer. Here's why:
This is the latest model vertical slow juicer from Omega. With later models comes better technology and usually better juice extraction.
It has the lowest spin speed of 43RPM
It is covered by Omegas 15 year warranty
Works well for juicing wheatgrass
Cheaper price than Hurom, although the very similar Hurom juicer offers more features. Read our Hurom review here.