Hurom are the original creators of the vertical slow juicer and are leaders in juicing technology. Since 2010 Hurom have sold over 8 million juicing machines.
Made in Korea, not China, Hurom juicers also manufacture juicers for other leading brands such as Smeg and Omega.
If you are wondering which is the best Hurom juicer to buy, they're all pretty good.
We have reviewed the following Hurom slow juicers to help you determine which is the best Hurom juicer:
Hurom HP Slow Juicer
Hurom HH Elite Slow Juicer
Hurom H101 Easy Clean Slow Juicer
Hurom H-AA Slow Juicer
Hurom HZ Slow Juicer
Hurom Limited Edition Juicers (H-AE & H-AF Models)
Let's jump right in to the reviews…
Hurom HP Slow Juicer
The Hurom HP slow juicer
is from the Hurom Personal Series juicers. Designed as a more compact juicer, the Hurom HP slow juicer comes with a sleek design and powerful second generation technology, but also an affordable price tag. It is the least expensive of all Hurom juicers, at just under $300.
The 3 colors are a nice color change from the usual silver colored or stainless steel bodies found on many juicers.
The Hurom HP slow juicer has a spin speed of just 43 RPM. We really like the inner chamber silicone brush that operates during juicing to help keep the strainer and inner chamber from building up with pulp.
Like the Kuvings juicers, Hurom also use the heavy duty Ultem plastics in their auger and on some parts of the stainless steel strainer. Ultem is 8 times stronger than regular plastics and used in aircraft and medical uses also.
Hurom proudly display their juicers are BPA free, however, there is a Di-Phthalate warning on this juicer, which means the plastic parts contain Phthalates. Here is a resource
discussing the differences between BPA and phthalates. I'm no expert on plastics, but it seems BPA is the most harmful to humans.
You can use the Hurom HP slow juicer for up to 20 minutes at a time before the motor needs to rest. This is more than sufficient time to create delicious juice. If you need to use the juicer for a longer period of time, you only need to rest it for 5 minutes, before using the juicer for 20 minutes again.
It is important however, to cut your fruit and vegetables into small pieces to effectively use this juicer. 1 inch pieces are recommended. The chute size is 2 inches wide.
The HP slow juicer measures 7.6 inches x 6.9 inches x 15.5 inches, making it quite compact for storage either on your countertop or in a cupboard. The juicer weighs 9.5 pounds.
This is the smallest juicer offered by Hurom, holding 11.8 fluid ounces of juice in the chamber. All parts of the juicer are covered by a 2 year warranty, the motor is covered by a 10 year warranty.
Hurom HH Elite Slow Juicer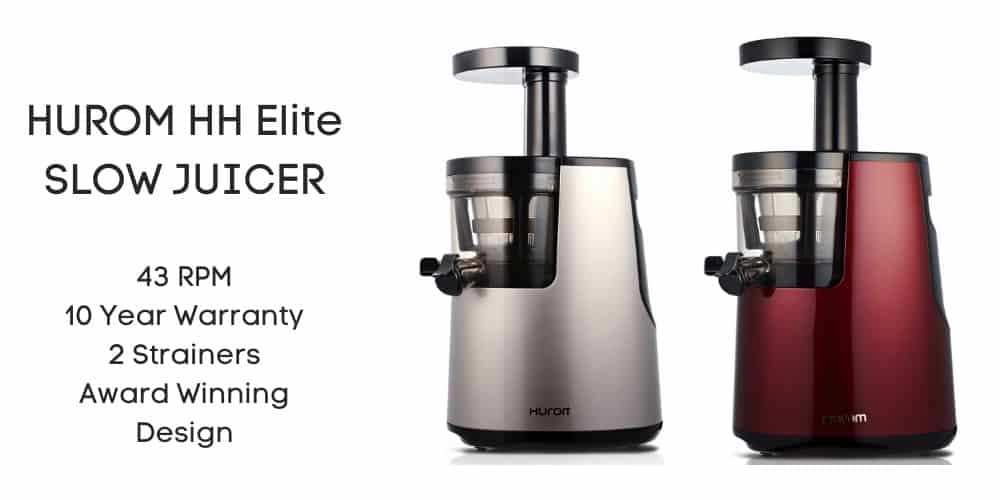 The Hurom HH Elite Slow Juicer
is from Hurom's Classic Slow Juicer range. It has won awards for design and is definitely a very solid juicer, weighing 20 pounds.
The Hurom Elite juicer comes with two strainers – a fine strainer (for less pulp in your juice) and a coarse strainer (for more pulp).
Larger than the HP juicer, the elite juicer holds just under 17 fl oz of juice. The chute opening is 2 inches wide, the same size as the HP juicer.
Like the HP juicer, the Hurom Elite is BPA free. There is a Di-Phthalate warning however, which means the plastic parts contain Phthalates. You can read more about the differences between BPA and Phthalates here
.
This model also contains the silicone spinning brush to help clear pulp from the strainer and chamber during juicing. This helps to prevent clogging and yield more juice.
This juicer can be used up to 30 minutes continuously. After this you will need to rest the juicer for 5 minutes before juicing again.
The size of the juicer is 9.8 inches x 6.7 inches x 15.7 inches.
In comparison with the HP juicer, it is around $100 more expensive. For this you get a much more solid unit (twice the weight and larger in size), an additional strainer and a larger juicing chamber. It also has a control lever, which helps to control the pressure inside the chamber to push out the pulp. It is more useful for soft fruits or small seeds such as kiwi fruit or grapes.
Hurom H101 Juicer
The Hurom H101 juicer
is Hurom's answer to consumers looking for an easy to clean juicer. It does not have a stainless steel mesh strainer, instead, two grooved strainers. One for juicing and one for smoothie making. There is also a blank screen for frozen fruit ice creams and sorbets.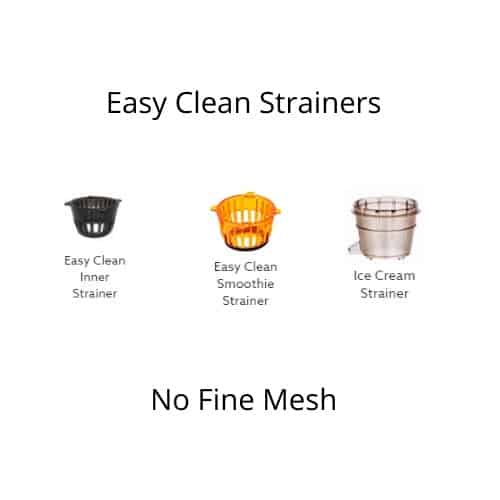 The image shows what the strainers look like.
There are mixed opinions on how dry the pulp is and how well the juice is extracted from the juicing machine given there are no mesh sieves.
If you're the type of person who enjoys smooth, pulp free juice, this is probably not the juicer for you.
Like the other Hurom juicers mentioned, this juicer auger spins at 43 RPM for true slow juicing.
The dimensions are 6 inches x 6 inches x 18 inches, which makes it more compact in size than the Hurom HP juicer, just a little taller.
The chute opening is also 2 inches, and the whole juicer weighs just over 18 pounds. The Di-Phthalate warning applies with this juicer also.
Priced around $500 this feels like an expensive juicer for what it is. The only standout feature is the different strainer design.
Whilst they are very easy to clean, the juicer parts are not dishwasher safe. You still need to handwash the parts.
The juicer has a reverse function and holds just under 17 fluid ounces of juice, just like the Hurom HH Elite juicer.
Hurom H-AA Slow Juicer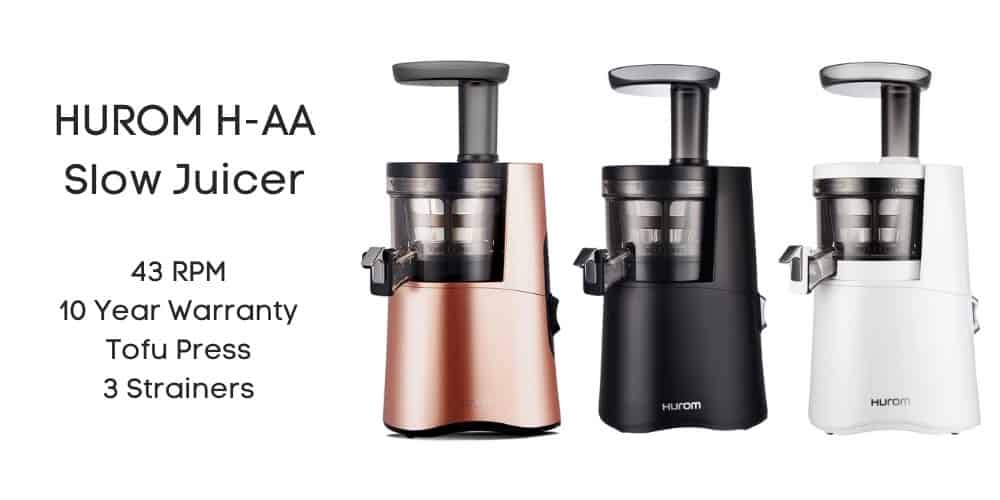 The Hurom H-AA Slow Juicer is from Hurom's Alpha Juicer range. Alpha Juicer means that Hurom are using the latest technology or 3rd generation within the juicer.
This Hurom Slow Juicer is incredibly versatile. It is a true slow juicer with a spin speed of 43 RPM. Included are three strainers – a coarse strainer, fine strainer, ice cream/sorbet strainer and a tofu mould and press. This Hurom juicer is also capable of making nut milk.
If you are juicing in bulk, this juicer will run for 30 minutes continuously before needing a break. Hurom recommend a 5 minute break between 30 minute juicing intervals. This is great! Some juicers need to be rested for much longer and can only juice for shorter period of time. The motor is also covered by a 10 year warranty.
You also don't need to pull apart the juicer to rinse in between different juices. Simply run water through the juicer to rinse, then continue on with your next type of juice. Like the other Hurom juicers we have featured, there is also the inner spinning brush which helps to keep the juicer chamber and screens free of pulp during juicing.
The dimensions of the Hurom H-AA juicer are 8.8 inches x 7.8 inches x 16 inches. It weighs 18.2 pounds. The chamber holds just under 17 fluid ounces of juice. There is also a reverse function if anything gets stuck.
This juicer has great feedback from consumers both on Amazon and the Hurom website. It's a little pricey, but you are paying for the Hurom brand, a quality juicer and a 10 year warranty. The price ranges from $400 to $459 depending on the color chosen.
Click here
to download the Hurom H-AA Instruction Manual.
Hurom HZ Slow Juicer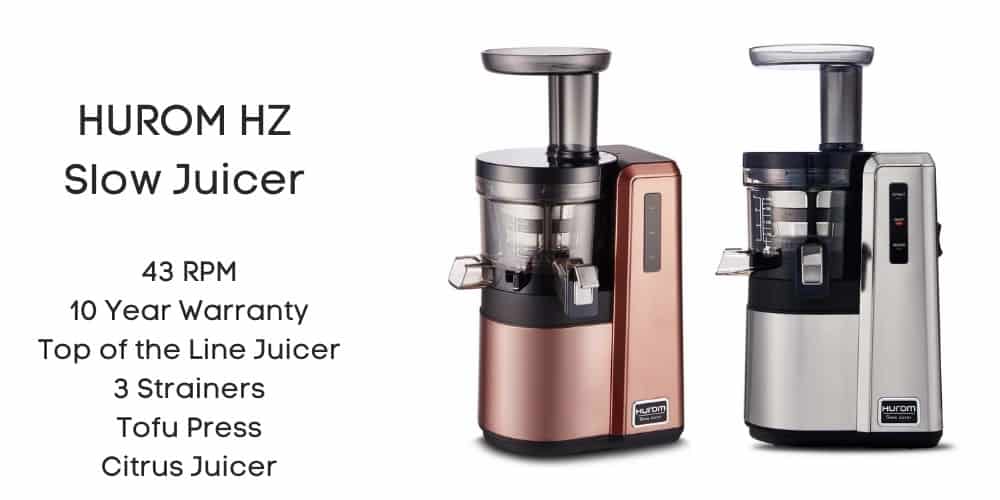 The biggest difference between the Hurom HZ Slow juicer and the other hurom juicers is the stainless steel body, carrying handle built in to the juicer, LED indicators on the juicer and an included citrus juicing attachment.
This juicer is heavy duty. It weighs 21 pounds and measures 8.1 inches x 9.3 inches x 16 inches. Like the other Hurom juicers, it spins at 43 revolutions per minute.
The plastic parts of the strainer and the auger are crafted from heavy duty Ultem, which is 8 times stronger than traditional plastic.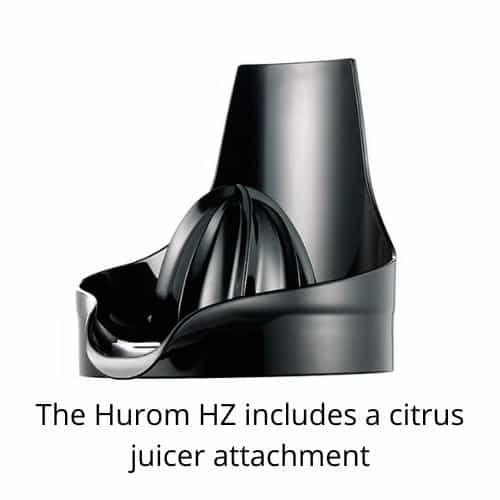 There is a reverse function on the juicer as well as multiple screens for juicing with minimal pulp, more pulp or smoothie and baby food making, sorbet and ice cream making as well as a tofu press. Like the other Hurom juicers, the chute is 2 inches wide.
Here is everything that is included with the the Hurom HZ slow juicer: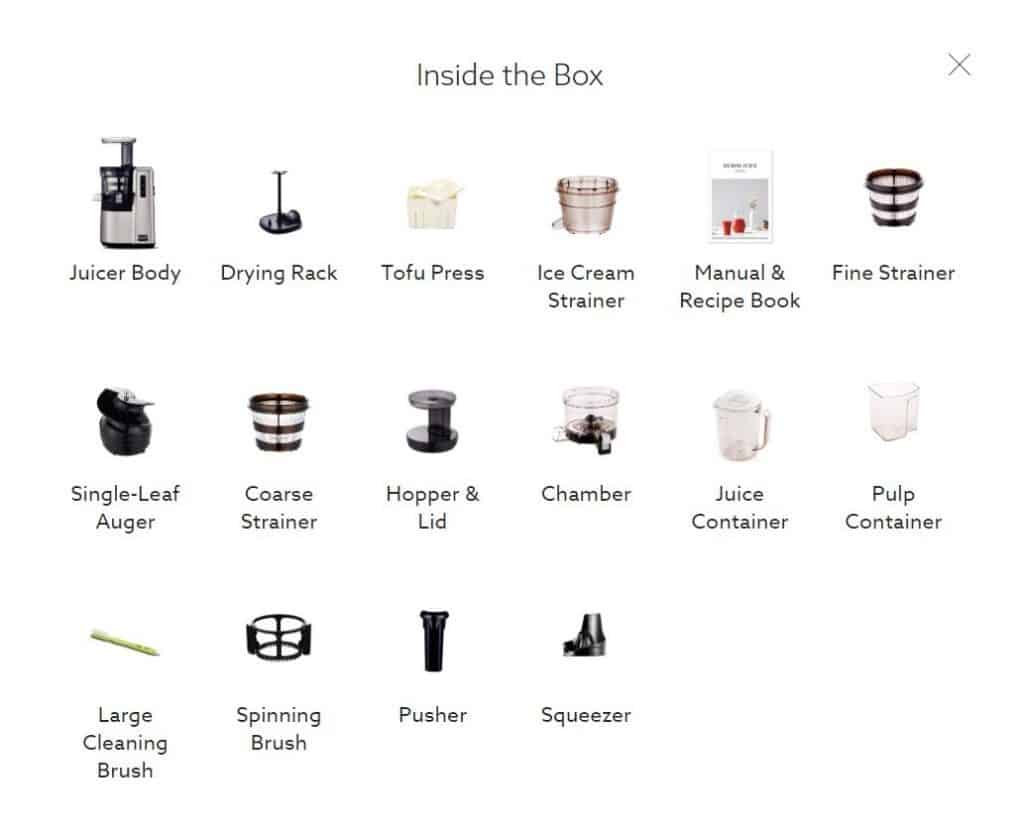 The squeezer above is actually a citrus juicing attachment. No more peeling citrus fruits before juicing!
Here is a short video of the Hurom HZ juicer being assembled:
The Hurom juicers are all very quiet. The motors run at just 150 watts, so making your morning celery juice won't wake up the entire household.
If you're juicing in bulk, the machine can be run for up to 30 minutes continuously, like the other Hurom slow juicers. The HZ juicer also only requires a 5 minute break after 30 minutes of continued juicing.
The HZ juicer is on the pricey side. But again, you are paying for brand, quality and warranty.
Limited Edition Hurom Juicers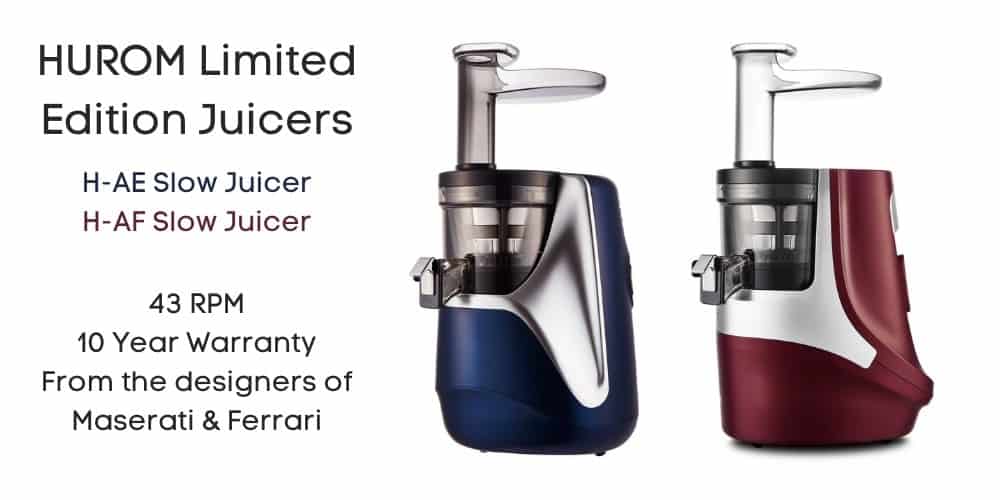 The H-AE Slow Juicer and H-AF Slow juicer have the same technical components as each other, and also as the other Hurom juicers when it comes to spin speed, chute size, pulp control etc. The difference is the design.
Here's a quick breakdown of the technical specs which are the same between both juicers:
Spin Speed 43 revolutions per minute
Fine and Coarse strainers + sorbet, frozen fruit ice cream strainer
Tofu mould and press included
Citrus juicer attachment included
Reverse function
Chute Opening – 2 inches
Chamber capacity – 16.9 fluid ounces
Juicer Dimensions – 10.6 inches x 7.1 inches x 16.9 inches
Juicer Weight – 14.3 pounds
If you like European sports cars, this is the juicer for you. The outer case was designed by the Guigiaro Design unit of Italdesign. Italdesign are the makers of production and concepts cars for Maserati, Lamborghini and Ferrari, just to name a few.
This juicer is super stylish and will certainly be a masterpiece on your countertop. But having said that, all the Hurom juicers are.
We were pleased to see these limited edition juicers also include the citrus juicer attachment that is found on the HZ juicer model.
They are covered by a 10 year warranty on the motor and 2 year warranty on parts.
Which is the Best Hurom Juicer to Buy?
There is so much choice when it comes to Hurom juicers and honestly, this is a tough choice! Our overall best choice is the Hurom HZ Slow Juicer
.
We have chosen this juicer because it includes the citrus juicing attachment and is around $100 less expensive than the limited edition models which have the same features. If you have a larger budget, the limited edition juicers
are sleek, stylish and sure to be a talking point in your kitchen.
We'll quickly cover again what is standard on ALL Hurom juicers:
43 revolutions per minute spin speed
Quiet 150 watt motor
10 year motor warranty on motor
2 year warranty on parts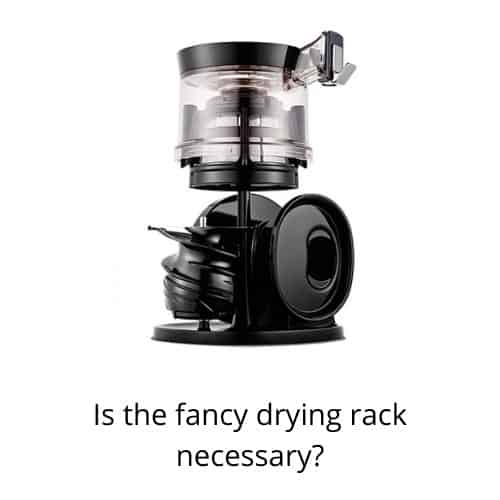 Juicing Chamber – The HP Slow Juicer and HH Elite Slow Juicer both use second generation chambers. This means that they have been upgraded from now discontinued Hurom juicers. The Alpha juicers are third generation technology, which is all other juicers featured in this post.
Run Time – The HP slow juicer can be used for 20 minutes continuously. All other juicers can be used for 30 minutes.
Citrus Juicer – Only the HZ Juicer and Limited Edition juicers include the citrus juicer.
Juice Capacity – All juicers hold up to 500ml (16.9 floz) of juice in the chamber, except the HP Slow Juicer which holds 350ml (11.8 fl oz).
Tofu Press – This is available on the HZ juicer, H-AA juicer and limited edition juicers.
Drying Rack – Yes, the HZ, H-AA and limited edition models come with a drying rack to position the juicer parts to drain and air dry.
Hurom Juicer Parts
Whilst Hurom do have additional parts for their juicers, they are only obtainable in the USA by contacting Hurom customer service. They are not readily available to purchase on Amazon or via the Hurom website.
Australian Customers – Hurom sell replacement parts on the Australian Hurom Website
. UK Customers – replacement parts are also available on the Hurom UK website
.
How to Contact Hurom Customer Service
You can reach Hurom customer service (within the USA) on 1-800-253-2140. You can text or call this number. Hours of operation are 9am to 6:30pm Monday to Friday EST.
If you are unable to get through to Hurom customer service by phone, try sending an email to support@hurom.com
.
Which is Better – Hurom or Kuvings?
Tough choice! Both offer 10 year warranties on their juicers. Both are top brands made in Korea, not China.
Kuvings readily sell replacement parts whereas Hurom don't.
Hurom juicers have more functionality with the tofu press and citrus attachment.
Both have low spin speeds at 43 RPM for Hurom and 50 RPM for our recommended Kuvings juicer.
Both juicers use Ultem technology in their augers for durability.
The biggest complaint about Hurom isn't the juicers themselves, it's Hurom customer service. Consumer feedback has shown it has been difficult to get in touch with Hurom or get a response to messages within a timely manner. More recent feedback has shown this seems to be improving.
We're leaning towards Kuvings over Hurom as they have parts available and better consumer feedback. This was a hard choice! You can read our Kuvings juicer reviews here.
Also Consider Omega Vertical Slow Juicer
For those of you that don't know, Hurom started out as an original equipment manufacturer. This means that Hurom designed the juicing machines, which were then branded and sold by other companies, such as Omega.
We can see similarities between the Hurom vertical juicers and Omega vertical juicers. Omega aren't offering any of the additional screens and attachments that come with the Hurom juicer, but in return, offer a vertical juicer at a more affordable price point.
Here's where we believe the similarities lie: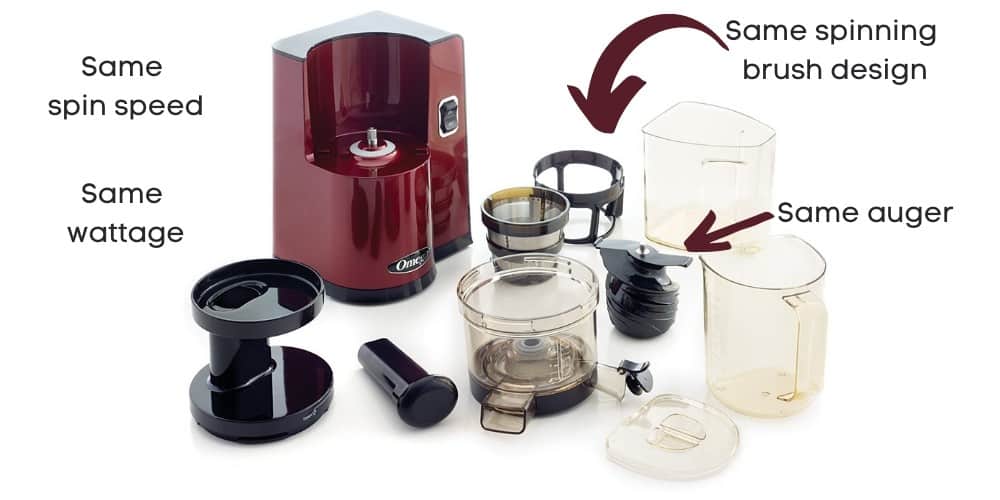 Whilst we didn't point it out, the juicer jug looks identical also, but that is bound to be common across juicers.
This juicer retails between $400 to $450. It is worthwhile also considering the Omega vertical juicer if you are looking for a juicer with a strong 15 year warranty and some very similar (quite possibly the same) features as the Hurom juicers.
You can read more about Hurom's history here.
We'll follow up with a full review of the Omega vertical juicer shortly.
We hope that we've helped you determine which is the best Hurom juicer to buy if you are considering purchasing this brand. The latest reports about customer service at Hurom seem to be improving and we can only hope that this continues on into the future.
Recent Content
link to The Ultimate Guide to Juicing Beetroot
Beetroots are large and fleshy root vegetables that come from Amaranthaceae family. They appear in a palette of red-tone colors. Some are purplish pink, while others are reddish-orange or brown....
link to The Pros & Cons of Juice Cleansing
Juice cleansing (also referred to as juice fasting) is often a controversial topic. Some are for it, some are against it, particularly when looking at sustainability over time and with longer juice...