Champion Juicers have been around since 1955. If you're planning on making a solid investment into a juicer and juicing for decades to come, The Champion Juicer is a top notch choice.
We constantly see comments about how long Champion juicers have lasted. It is common to hear that Champion juicers have been passed down from parents to children, or Champion juicer models that were purchased some 20 years ago still going strong today.
Champion Juicers are made in the USA. Naturally, they are higher priced than overseas made juicers, however, on par price wise with other leading brands such as Omega and Tribest.
Let's take a look at the available Champion juicer models to determine which is the best buy Champion juicer for 2020.
Champion Juicer 2000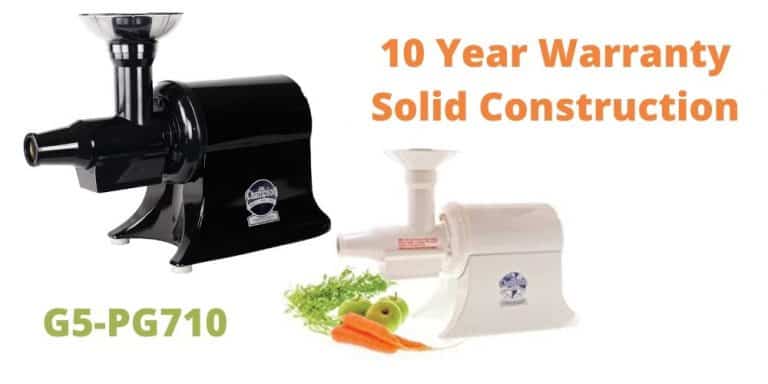 This is the original and classic Champion juicer. It is sometimes known as the Champion Classic 2000 Commercial, or the Champion Classic 2000.
The Champion juicer 2000 is available in Black or White.
The first important point you need to be aware of about this Champion juicer is the spin speed.
Champion advertise this juicer as a masticating juicer with a single auger.
This is correct, this juicer does fall into the masticating juicer category because of the auger to crush and chew the fruits and vegetables rather than using blades to chop and shred.
The problem however, is the auger spins at 1725rpm.
For anyone who has been looking in to masticating juicers, you will know that they generally spin at 40 to 80 revolutions (or rotations) per minute (rpm).
The spin speed on the Champion 2000 juicer is 21.5 times as fast as most masticating juicers.
There has been mixed consumer feedback regarding the temperature of the juice, particularly when it comes to juicing hard vegetables like carrots.
Most who commented on the temperature felt the juice was a little warm, which could possibly be caused by the higher spin speed.
Other feedback on the Champion 2000 juicer is it doesn't handle leafy greens very well. I could imagine at such a high spin speed it wouldn't.
Champion have introduced an additional attachment for juicing leafy greens. More specifically, this attachment is designed to juice wheatgrass
, but will juice swiss chard and kale as well.
Unfortunately, you have to purchase the leafy green attachment separately. At the time of writing, this was around $80 on the Champion juicer website.
For a juicer that retails for $385 (as per the Champion website at the time of writing), adding on another $80 or so for an attachment for leafy greens, makes for one expensive juicer.
At this price, a better buy would be the Tribest Greenstar Elite GSE-5000
, which spins at 110rpm and offers a better warranty of 15 years.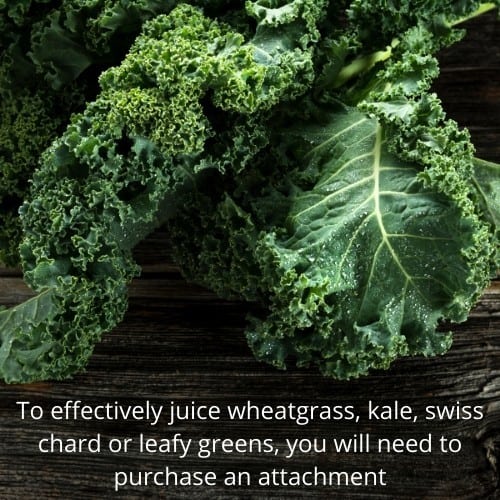 Speaking of attachments, you can also purchase a grain mill attachment for the Champion 2000 juicer.
The grain mill attachment grinds whole dried grains into flours and meals using steel cutting plates.
Using this attachment, you can also make flour from oats, rice or wheat. The grain mill attachment will also grind coffee beans.
Having said that, the grain mill attachment isn't included with the Champion juicer, this will set you back another $80 or so on top of the purchase price.
In contrast, juicers like Omega and Tribest
can grind coffee beans without having to purchase any additional attachments.
There are some great qualities to the Champion 2000 juicer. Durability is the main factor, Champion juicers are built like a tank and have proven to stand the test of time.
Stainless steel
workings are another important part, and plentiful within Champion juicers. The plastic bits that tend to wear out and break are far less likely to happen with the Champion juicer due to the stainless steel construction.
Champion also stock replacement parts, if ever needed. This is great to see, as far too many inexpensive juicers do not offer replacement parts. If something wears out or breaks the juicer is tossed to landfill. That's not the case with Champion juicers.
Overall Impression of the Champion 2000 Juicer
At first glance the Champion 2000 juicer looks promising. With consumer feedback singing the praises of this juicer for quality workmanship and durability.
Cleanup is more efficient than juicers like the Greenstar Elite, with most consumers stating clean up was easy.
We felt the price let the juicer down a little. Particularly because you require additional attachments to juice leafy greens or grind coffee. These features are standard on other high end juicers.
As such the price of the Champion 2000 juicer can be up to $160 more expensive than it appears, if purchasing the extra attachments.
Check the latest price on Amazon or via the Champion juicer website.
Champion 3000 Legacy Juicer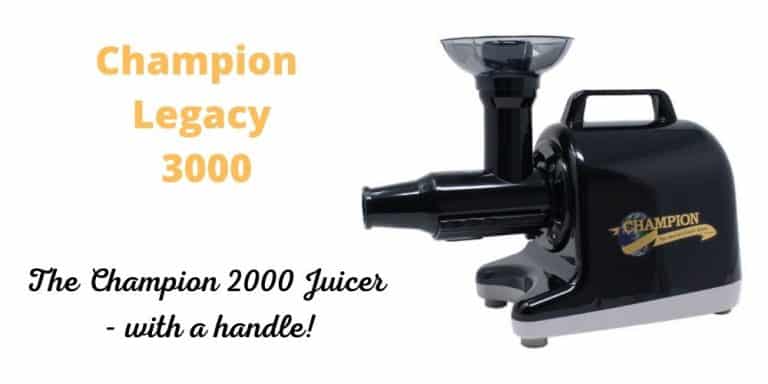 That's right. Champion Juicers themselves, have said the Champion Legacy 3000 Juicer is the same as the Champion 2000 juicer – with a more modern appearance.
We love the inclusion of a brilliant cherry red version, such a stunning color! And the handle on top would make moving this juicer easier.
At the time of writing, the Champion Legacy 3000 juicer was not available to purchase on Amazon, however, is available on the Champion Juicer website, along with different sized screens for more pulpier juice and a specific screen for juicing tomatoes.
Champion Professional 5000 Juicer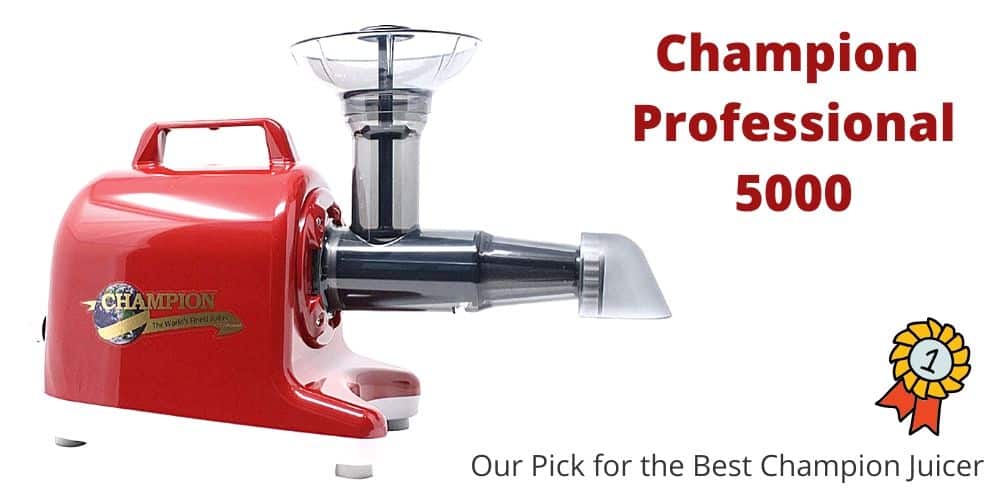 With the upgraded model comes a slightly less bulky unit.
This is partly because newer technology is smaller and also because the unit itself is crafted from a poly carbonate plastic, making it more lightweight.
The benefit of poly carbonate is it will not chip or fade.
The Champion Professional 5000 still packs a punch in terms of motor. The 1/3 horse power direct current motor has a stainless steel motor shaft for less wear and corrosion.
You really get the best of both worlds when you purchase the Champion Professional 5000 juicer.
First of all, this Champion Juicer has dual augers – that is, two augers instead of one.
With two augers, the Champion Professional 5000 juicer also operates variable speeds. There are 10 speed settings in total, ranging from 350rpm to 1750rpm.
The slower speeds are better for juicing leafy greens, and with an auger designed for greens, you can achieve a much better yield from your leafy green vegetables than with previous Champion models.
The other auger grinds harder fruits and vegetables
to push them through quickly at higher speeds. I see no reason however, why you couldn't use the greens auger and slower speed for all your fruits and vegetables.
There are no additional attachments to buy for this Champion juicer, everything is included to make frozen fruit smoothies, soups, sauces, nut butters as well as juicing everyday fruits and vegetables.
I was quite intrigued when I read the specifications for the Champion 5000 Professional Juicer. It said you could use this juicer to shred any type of vegetable for salads.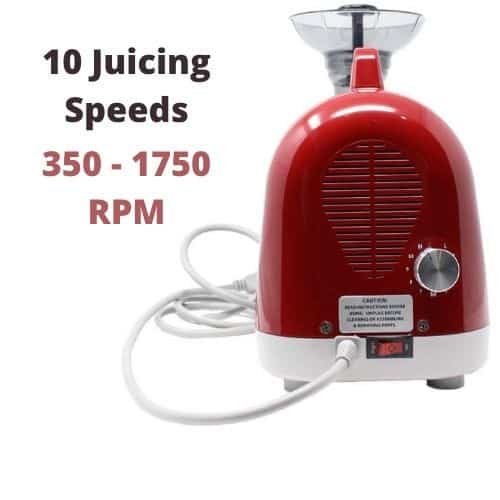 A juicer that shreds vegetables? Absolutely. Watch this juicer shred carrots in seconds, as well as making peanut butter, green juice, carrot apple juice and frozen strawberry sorbet in the video below.
Overall Impression of the Champion 5000 Professional Juicer
I was really quite impressed with the Champion 5000 Professional Juicer.
Whilst I expect the Champion Juicer to live up to it's predecessors, I gave it 4 out of 5 stars for durability, given the parts are made from heavy duty plastic.
You can see in the video how easy to assemble and disassemble the Champion 5000 juicer is.
In contrast, the Champion 2000 Juicer has more pieces to slot together prior to juicing. You can see this in the video below, during set up of the Champion 2000 juicer.
With the dual augers of the Champion 5000 juicer, there is no need to purchase any additional parts for the juicer to be able to juice leafy greens effectively.
This is why I've given the Champion 5000 Professional Juicer 5 stars for price.
If you were to purchase the Champion 2000 Juicer, then buy the additional greens attachment, it is basically the same price as the 5000 model. The Champion 5000 really does seems to be an improvement on the previous model.
Champion Juicer Frequently Asked Questions
Here is a list of the most common questions about Champion Juicers. If you have a questions and we haven't answered it, please leave us a comment below and we will find the answer for you.
Are Champion Juicers Cold Pressed?
Technically yes. Because of the masticating auger design and slower spin speeds than centrifugal juicers the Champion juicers do fit into the category of cold pressed juicers.
Where are Champion Juicers Manufactured?
Champion Juicers are manufactured in the USA. Champion Juicers are manufactured by Plastaket Manufacturing, which is a family owned business for 3 generations.
How Much Does a Champion Juicer Weigh?
The Champion Juicer 5000 Professional weighs 21.5 pounds.
The Champion Juicer 2000 Commercial weighs 23 pounds.
What is the Champion Juicer Warranty?
The Champion Juicer 2000 Commercial model is promoted on Amazon.com as having a 10 year warranty.
According to the Champion website and user manual, the warranty is as follows:
General defects and workmanship = 5 years
Normal wear of the grinding auger = 1 year
Motor shaft seal failure = 3 years
We have written to Champion Juicers (May 2020) to clarify their warranty and will update this post when known.
How Do I Buy Champion Juicer Spare Parts?
Consumer feedback suggests that Champion Juicer spare parts are rarely needed, however, they are available to purchase for the following models:
Champion 2000 – replacement body hub, screen holder, cutter, sensor, sieve, funnel, tamper, seal, on/off switch, screens and blanks, bottom feet, power cord, o-ring and brush. You name it, it's replaceable.
Champion 3000 – body hub, screen holder, o-ring, bottom feet, screens and blanks, sieve, tamper and funnel.
Champion 4000 – You will notice we have not featured the Champion 4000 in this review. This Champion juicer is no longer available for sale. You can still purchase replacement parts however. Please see the Champion website for details.
Champion 5000 – replacement restrictors, deflector, tamper, brush, o-ring, funnel, bowl/jug, both augers available to purchase individually, body hub, screen insert, blank insert and sieve.
To purchase replacement parts on Amazon.com click here
. Alternatively, purchase directly through the Champion Juicer website.