Making fresh ginger juice at home is simple with the right juicer. Determining the best juicer for ginger however, isn't so simple!
A centrifugal juicer will efficiently shred the hard ginger root, but a masticating juicer is likely to extract more of the juice from the ginger. If you have a larger budget to spend, a triturating, or twin gear juicer is the ultimate choice. But if you want to start your day with a ginger shot, maybe a hand juicer is the easiest clean up? How do you decide?
Well, I've taken the guesswork out of choosing a ginger juicer machine, with great options below to cover all budgets and uses.
Sana 727 Supreme – Best Masticating Juicer for Ginger
If you're serious about juicing and want the best, consider the Sana brand. Make no mistake, this juicer is an investment, but you get a juicer with 4 different speeds, auto reverse function, 3 juicing screens, excellent customer service (if needed) and a beautiful handmade crystal glass to enjoy your ginger juice in.
Did I mention the included juicing recipe book and a 15 year manufacturer warranty on motor and parts? And… most masticating juicers will run for up to 20 minutes before needing a break – not the Sana 727. It offers continuous juicing. Sana will be giving the big names a run for their money with this juicer.
Users have described the pulp as dry as sand, rather than the apple-sauce-like-pulp with a centrifugal juicer. I really like the hopper design, which has two openings, your standard chute and a wider section for soft fruits, berries, frozen fruits for sorbets etc.
You can also buy a stainless steel oil press (sold separately) to make your own oils at home. Sana has been well established in Europe and the juicer itself is made in Korea. I'm excited to see this brand brought to more countries. Check it out further on Amazon:
Jocuu – Small Juicer for Ginger
Jocuu features on my list of best juicers under $200 for being a great priced masticating juicer, with two speeds, easy clean up and is backed by a 10 year motor warranty.
This juicer machine handles ginger well when used on the hard mode. Spinning between 100 and 110rpm you'll efficiently extract the juice from the ginger root leaving the pulp dry.
Go ahead and take a look – don't forget to check out the reviews from the many customers who've used this machine for ginger and sing its praises.
Breville Juice Fountain XL – Commercial Ginger Juicer
If you want to power through juice making or are looking for a commercially rated machine, consider the Breville Juice Fountain XL Pro. This is a new juicer machine to the market for 2023.
With a 3.5 inch chute you can throw in whole pieces of ginger, whole apples, peeled oranges, whole carrots and so much more for efficient juice making.
Backed by 1200 watts of power and weighing 16 pounds, this machine is solid and sturdy. Clean up is a breeze with dishwasher safe parts.
I really like the dial selection with popular fruit and vegetable choices so you can always choose the right speed for the produce you are juicing. Check it out further here:
Handy Pantry Manual Juicer – Best Juicer for Ginger Shots
What is a juicer for wheatgrass doing on the list of best juicers for ginger? Well, if you want to make a quick ginger shot, this manual juicer is a great choice.
Crafted from stainless steel, this manual juicer is built to last. It easily clamps on to the edge of your bench for stability and the stainless steel auger and screen produces smooth ginger juice, perfect for ginger shots. It's not the cheapest manual juicer, but you get what you pay for with this one.
The long handle makes it easy to crank, and many users love it for ginger, as well as other leafy greens, turmeric, parsley, and even lemons.
Just make sure your countertop is less than 2.25 inches thick and you have at least 1 inch of depth to secure it properly. Check it out on Amazon here:
Omega J8006HDS – Best Juicer for Carrots and Ginger
Omega are a top name in juicers and I have been a fan of the J8006 for years. It's small and compact, yet powerful, with a 2HP, 200 watt motor for getting the most out of carrots and ginger.
It runs at 80 RPM, has an adjustable end cap for pulp control, and on top of juicing you can make sorbets, nut butters, nut milks and mince garlic.
If you've got a bigger budget, there are larger and more expensive Omega juicers, but the J8006 has been around since 2018 and continues to stand the test of time.
Pure – Best Cold Press Juicer for Ginger
If you are after a true cold press juicer for ginger, and any other fruit or vegetable that takes your fancy, Pure Juicers have you covered.
This top of the line machine is so much more than a cold press juicer, you can make nut milk, dips, soups and sorbets. Using up to 2.5 tons of pressure, the juice yield from a true cold press juicer is unlike any other.
With that comes a rather hefty price tag however, but you get what you pay for. A machine that will yield more juice, can power through tough rinds and citrus skins, is entirely stainless steel (no plastic – except for the pusher) and a 12 year warranty.
Tribest GSE 5010 – Best for Turmeric and Ginger
If you're looking for a juicer that will get the most out of the really nutritious vegetables and herbs (think turmeric, garlic, parsley, celery and leafy greens), a twin gear juicer is your best bet.
It's not as expensive as a cold press juicer, but a little more than most of the auger style masticating juicers. Clean up can take a little longer than the auger style, with the smaller twin masticating gears. But it is really worth it for the juice yield from stringy, fibrous vegetables and plants.
This is an excellent juicer for ginger, which can also make nut butters, sorbets, sauces etc, just like most of the other high end juicers on the market. Made in Korea and backed by a 12 year warranty, this is a quality ginger juicing machine.
You can read my full Tribest Greenstar Elite review for a deeper dive into this brand.
Breville Juice Fountain Cold – Best Juice Extractor for Ginger
While I much prefer a masticating juicer for ginger, if you like the Breville brand or prefer to buy a centrifugal juicer, the Juice Fountain Cold is a good option.
Many users have successfully juiced ginger with this Breville machine, especially when combining with other fruits and vegetables. It's backed by an excellent brand with Italian made components that will likely last you for years, two juicing speeds and dishwasher friendly parts for a quick clean up.
The included 70 oz juicing jug seals for easy storage of leftover juice in the fridge.
Pure Ginger Juice Benefits
Ginger has long been used in traditional medicine for many different ailments.
Ginger has been shown to treat arthritis, muscular sprains and aches, sore throats and high blood pressure.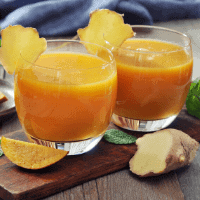 Ginger also offers gastroprotective effects, such as preventing gastric ulcers induced by NSAIDs such as aspirin, as well as gastric ulcers induced by ethanol, stress and bacterial infections.
In women, supplementation with ginger during the first 4 days of their menstrual cycle has shown to decrease pain associated with dysmenorrhea.
In males, ginger has been shown to increase testosterone production, reduce oxidative stress and increase blood flow to the testes, and recycle the testosterone receptors.
Drinking ginger juice may protect against periodontal disease such as gingivitis and tooth decay.
The University of Rochester list Ginger root as a medicinal herb to ease nausea, motion sickness and pregnancy related illness.
Read my post on what ginger juice is good for to learn more.
How Do You Make Ginger Juice?
Ginger is very potent when juiced on its own. Think spicy juice!
With any of the electric juicers we have featured in this post, you simply place the chopped up ginger into the chute of the juicer and let the juicer do the rest.
For the hand juicer, chop the ginger into small pieces, place into the chute and crank the handle. You will need a cup for the ginger pulp and a cup for the ginger juice.
You can also make ginger juice by using a blender to puree chopped ginger and a little water. Then pour out the puree into a cheesecloth and twist to strain the juice into a bowl.
Do You Need to Peel Ginger Before Juicing?
You do not have to peel your ginger before juicing. Ginger skin is safe to eat. You should wash your ginger thoroughly before juicing.
Depending on the age of your ginger the skin may appear different. Younger, fresher ginger has a thinner lighter skin. Older ginger may have a more wrinkled, thicker feeling skin.
If your ginger is older, you may want to peel this prior to juicing, which you should be able to effectively do with a vegetable peeler. You can also carefully chop the skin off with a knife.
What Ginger Juicer Will You Choose?
From hand juicers and budget juicers to top of the line juicers, I hope I've given you some excellent options to consider when buying a ginger juicer.
If you're new to making ginger juice, it is best mixed with other fruits and vegetables when you first get started. Check out my juice recipes for some ideas, and enjoy making fresh juice at home!