Making fresh ginger juice at home is simple with the right juicer. Determining the best juicer for ginger however, isn't so simple!
A centrifugal juicer will efficiently shred the hard ginger root, but a masticating juicer is likely to extract more of the juice from the ginger.
If you have a larger budget to spend, a triturating, or twin gear juicer is the ultimate choice.
How do you choose the best juicer for ginger? We break it down for you below:
The TEC Masticating juicer is one of our favorite ginger juicers for 2020. This machine has a small foot print and a super slow spin speed of 40 revolutions per minute (RPM) to extract as many nutrients out of the ginger and into your ginger juice as possible.
Don't be put off by the small design of this juicer however, this juicer for ginger is powered by a 150 watt motor, yet operates quietly.
One of the impressive features of this juicer for ginger is the running time. Most masticating juicers can be used for up to 20 minutes continuously before the motor needs to cool.
The TEC Masticating juicer can be used for up to 45 minutes without needing a break. Not only can you make your ginger juice shot in the mornings, you can juice for your entire family with this powerful little juicer!
Best of all TEC back this up with a 2 year warranty – and it is priced under $130.
This inexpensive juicer tops our list for juicing ginger root. I'm sure you can see why!
If daily ginger shots are your go to, consider a manual ginger juicer. Not only will you burn some extra calories manually grinding your ginger, but why bother with the set up and clean up of an electric juicer for a shot?
This manual ginger juicer is crafted from 304 grade stainless steel, that will not corrode or rust. Essentially, if you take care of this manual juicer, it should last you a lifetime.
Yes, the picture shows juicing wheatgrass, but it works for a stringy root vegetable like ginger too.
The small size makes it portable and a great option to make juice on the go if you travel regularly. It takes up next to no bench space and requires no electricity.
If you're not a fan of manual labor, stick with an electric juicer for your ginger shots, but for a simple set up, simple clean up and making a ginger shot, we think this stainless steel hand juicer is a great choice. It works well with wheatgrass too.
The Omega NC900HDC is one of the best multi function juicers. It is not only a fantastic ginger juicer, the Omega juicer also makes nut butters, minces herbs, grinds your coffee beans and turns frozen fruit into delicious desserts.
With an industry leading 15 year warranty, the Omega juicer is an investment you could make if you are serious about juicing for the long term.
The 2 HP motor operates at 150 watts, so it packs a punch when juicing ginger and other hard vegetables such as carrots.
The operating speed is a slow 80 RPM minimizes heat build up and oxidation of your juice.
6 nozzles and two juicing screens are included with the the Omega juicer, which is why it makes this list of the best juicers for ginger. Whether ginger juicing is your sole purpose, or a combination of juicers including ginger, the Omega juicer can handle it all.
Amazon have also upgraded their nutrition center (NC) juicers for 2020.
The latest model for 2020 is the Omega NC1000HDS.
There are two differences between the NC900HDS and NC1000HDS:
The NC1000HDS has been upgraded to a 200 watt motor, compared to 150 watts for the NC900HDS.
The NC1000HDS is more expensive. With an upgraded motor, comes an updated price.
Meomy Juicers are featuring on a lot of our lists for 2020, simply because this is a really good juicer.
Priced under $130, operating at 70 revolutions per minute and featuring a longer length 9 segment ceramic auger, this is a top choice for one of the best juicers for ginger.
The ceramic auger is the biggest selling point of this juicer for us. Why? A ceramic auger is 79 times the hardness of ordinary plastic.
When juicing a hard vegetable such as ginger root, a ceramic auger is less likely to chip or break. The 9 segment spiral system of this juicer ensure your ginger will be crushed and ground for maximum extraction and drier pulp.
Ceramic is also less likely to discolor from the pigments in fruits and vegetables. Ceramic is acid resistant and wear resistant and likely to last far longer than plastic augers.
Another great feature of the Meomy juicer is the copper motor and quiet operation.
The only feature we can see that may let this juicer down, is it doesn't have a stainless steel filter.
The many great features of the Meomy juicer are backed up by an extended warranty up to 3 years when you register the Meomy juicer online.
Overall, for a juicer under $130, we are super impressed.
If you have a larger budget to spend, the absolute best of the best juicer for ginger is a twin gear, or triturating juicer.
There aren't a lot of twin gear juicers on the market. Angel Juicers, or Super Angel as they are known in the USA make quality twin gear juicers, but the price tag is hefty. You could buy a lot of organic ginger juice pre-made with the cost of this juicer alone.
Omega also make a twin gear juicer, but it isn't as good as their masticating juicers, and currently out of stock.
Green Power is another option for twin gear juicers, however, the operating speed is 160 revolutions per minute, which is 50 RPM faster than the Tribest Green Star Elite juicer. If you are concerned about reducing oxidation and juicing at a slower rate, this may be important to you.
The Green Power juicer is less expensive than the Green Star Elite however. Clean up wise, they are both on par – not the easiest to clean and takes a good 5 minutes. But that is what you get with a twin gear juicer, regardless of the brand.
With a 10 year warranty on the motor and 5 year warranty on parts, the Green Power juicer will also make pasta, nut butters, frozen fruit desserts, grind herbs and seeds and your coffee beans.
Consumer feedback for the Green Power juicer when used exclusively for juicing ginger, that the pulp was very dry and the ginger juice was incredibly strong.
Operating at 60 decibels, this triturating juicer is as quiet as the masticating juicers. This brand has been around for over 10 years. The Green Power juicer is also more compact than the Tribest Juicer, if space saving is a consideration.
Overall, we are giving the Green Power juicer the Number 2 spot for the best juicer for ginger.
Moving on to our top choice for a triturating juicer for ginger, we have once again landed with the Tribest Green Star Elite.
To be honest, the Green Star Elite may be a little overkill if you are only juicing ginger. To get the full potential out of the Green Star Elite, you also should be using this machine to make nut butters, sorbets, pasta and grind coffee, some of its many capabilities.
The juice extraction from twin gear juicers is exemplary, making the Green Star Elite an excellent choice for juicing ginger.
Backed by a 12 year warranty, the Green Star Elite is far less expensive than Super Angel juicers, operates at a lower speed than Green Power, and features a 3 stage mastication system which mimics how we eat food, with grinding and crushing for maximum nutrient extraction.
Pure Ginger Juice Benefits
Ginger has long been used in traditional medicine for many different ailments.
Ginger has been shown to treat arthritis, muscular sprains and aches, sore throats and high blood pressure.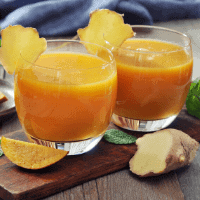 Ginger also offers gastroprotective effects, such as preventing gastric ulcers induced by NSAIDs such as aspirin, as well as gastric ulcers induced by ethanol, stress and bacterial infections.
In women, supplementation with ginger during the first 4 days of their menstrual cycle has shown to decrease pain associated with dysmenorrhea.
In males, ginger has been shown to increase testosterone production, reduce oxidative stress and increase blood flow to the testes, and recycle the testosterone receptors.
Drinking ginger juice may protect against periodontal disease such as gingivitis and tooth decay.
The University of Rochester list Ginger root as a medicinal herb to ease nausea, motion sickness and pregnancy related illness.
How Do You Make Ginger Juice?
Ginger is very potent when juiced on its own. Think spicy juice!
With any of the electric juicers we have featured in this post, you simply place the chopped up ginger into the chute of the juicer and let the juicer do the rest.
For the hand juicer, chop the ginger into small pieces, place into the chute and crank the handle. You will need a cup for the ginger pulp and a cup for the ginger juice.
You can also make ginger juice by using a blender to puree chopped ginger and a little water. Then pour out the puree into a cheesecloth and twist to strain the juice into a bowl.
Do You Need to Peel Ginger Before Juicing?
You do not have to peel your ginger before juicing. Ginger skin is safe to eat.
You should wash your ginger thoroughly before juicing.
Depending on the age of your ginger the skin may appear different. Younger, fresher ginger has a thinner lighter skin. Older ginger may have a more wrinkled, thicker feeling skin.
If your ginger is older, you may want to peel this prior to juicing, which you should be able to effectively do with a potato peeler. You can also carefully chop the skin off with a knife.
Where to Buy Ginger Shots & Ginger Juice
Take the 7 Day Juice Cleanse – 100% Raw, Cold Press Fruit and Vegetable Juices with Ginger Shots: