Koios Juicers have a 10 year warranty on the motor, 3 year warranty on parts and are priced under $150. We're very impressed by this, but have to ask the questions…
Is this too good to be true?
Does Koios stand behind their warranty?
What is Koios customer service like?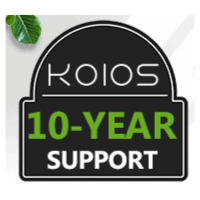 We take a deep dive into the Koios Juicers, both the Koios B5100 masticating juicer and the Koios centrifugal juicer (JE-70) to bring you all the information you need before you purchase a Koios juicer.
KOIOS B5100 Masticating Juicer
It is important to know that there are 3 versions of the Koios masticating juicer.
The juicers are all very similar and all are the same Koios B5100 model. You can differentiate the juicers by the color.
The latest model of the Koios B5100 juicer is the black and white version pictured above. Koios tell us that the auger has had an upgrade for 2020.
Here is a comparison of the 2020 Koios juicer auger and the previous models:
There definitely appears to be a metal rod in the auger of the Koios juicer for 2020, in comparison to the plastic rod of the previous auger.
There is also a slight change to the auger design to incorporate more grooves in the auger.
Koios describe this as their 7 level spiral system – to cut, break, squeeze, mill, separate, grind and extract.
This is where the differences end with the Koios masticating juicers. All three Koios B5100 models have the same key operating features:
Spin Speed of 80 rotations per minute
Quiet Operation – 60 decibels
2 Functions for Hard and Soft Fruits and Vegetables
Reverse Function
Plastic Parts are BPA Free
Operating Time of 20 Minutes
10 Year Motor Warranty
3 Year Parts Warranty
How Do I Know Which Koios B5100 Model to Buy?
*We are waiting on a response from Koios Customer Service to confirm which juicers have the upgraded augers.
Are Consumers Happy with the Koios Juicer?
Most consumers are extraordinarily happy with the Koios juicer. Here are some of the pros and cons from the consumer feedback received on the Koios juicer:
Sleek Design, Compact Juicer
Easy to Clean, Easy to Assemble
Quiet Operation
Good Juicer for Beginners
Wetter pulp with softer fruits
Wheatgrass and celery may wrap around the auger
Difficulty fully breaking down carrots
Filter shows signs of wear and tear quickly
Hand Wash Only
How to Alleviate Some of the Negatives
If the pulp isn't dry enough, put it through the juicer again for additional juice extraction.
To avoid thin and stringy vegetables getting wrapped around the auger, cut all ingredients into maximum 3 inch pieces (including wheatgrass). Smaller pieces are much better, generally 1 to 1.5 inches.
Alternate between hard and soft fruits and vegetables to help push them through.
Before you base your buying decision solely on other people's feedback, take a look at this you tube video of the Koios B5100 in action. We were certainly impressed:
Contacting Koios Juicer Customer Service
There are mixed opinions on Koios customer service. Some consumers have had a fantastic experience, received replacement parts quickly and have overall been impressed.
Other consumers have said they tried to contact by phone and could not get through or leave a message.
Rather than phoning Koios, we recommend emailing. That way there is always a record of your contact with Koios customer service, and it's generally more convenient that holding on the phone.
There are multiple email addresses for Koios. Here are the options to contact Koios customer service to ask any questions, or if something goes wrong with your juicer:
Email Option 1: support@mykoios.com
Email Option 2: wecare@mykoios.com
Telephone: 1-855-558-8777
Facebook: www.facebook.com/mykoios

Buy the Koios Juicer B5100 (2020 Model) on Amazon

The Koios Juicer JE-70 is a centrifugal juicer. This juicer runs at higher speeds than the masticating juicer and uses small blades to shred the fruits and vegetables.
The Koios centrifugal juicer makes juice fast. It is powered by a 1200 watt motor with European engineering and crafted from pure copper.
The Koios JE-70 has two spin speeds for slower and faster juicing. Slower is not all comparable to a masticating juicer – the slow spin speed is 12,000 to 15,000 revolutions per minute.
In contrast the faster spin speed is 15,000 to 18,000 revolutions per minute, which will juice harder fruits and vegetables such as carrots, beetroots and apples in seconds.
As with the Koios masticating juicer, all plastic parts are BPA free. The centrifugal juicer is also covered by the 10 year motor warranty and 3 year parts warranty. Koios also offer customer service and technical consultations for the life of the juicer.
We really like the titanium plated stainless steel filter with the Koios JE-70. This is comparable to the filters in the Breville Juice Fountain juicers
, which are priced much higher than the Koios juicers.
The pulp will be much wetter in this centrifugal juicer than the masticating juicer. That is simply the difference between efficient juicing and cold press juicing. The trade off here is the efficiency of the machine to create juice quickly.
Koios Centrifugal Juicer – What's in the Box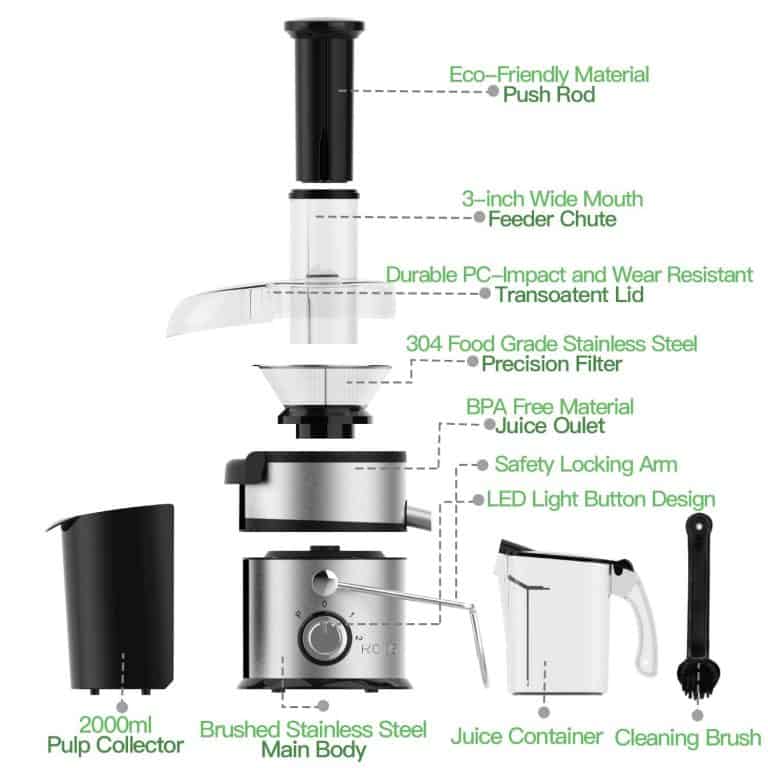 Check the Latest Price on Amazon

How Do You Clean a Koios Juicer?
Koios Juicers can be cleaned by washing in warm soapy water with a mild detergent.
You should not use any ammonia based products on your Koios Juicer.
Both the Koios Juicers (centrifugal and masticating) come with specially designed cleaning brushes to help with clean up.
Make sure you rinse and clean your Koios Juicer straight after use. Dried fruit and vegetable pulp is more difficult to remove from juicer parts and may cause clogging in the future, particularly in the strainers.
If you have difficulty removing pulp, soak the affected piece of the juicer in warm soapy water for a few minutes, then use the brush to gently scrub.
Make sure you dry all pieces of your juicer thoroughly before storing.
You can wipe over the motor of the juicer with a damp cloth. Do not ever immerse the motor of either the centrifugal or masticating juicer in water.
The Final Verdict – Are Koios Juicers Worth Buying?
In our opinion, Koios are a leading choice in affordable juicers, with quality parts and warranties to match.
We would love to see the masticating juicer upgraded with a ceramic auger to be really competitive with other juicers coming onto the market in 2020, a suggestion which we've made to Koios.
We are looking forward to seeing what lies in store with future Koios juicer updates!