When it comes to investing in a high-quality blender, two brands that likely come to mind are Omega and Vitamix. Both brands have made a name for themselves in the world of kitchen appliances, offering versatile and reliable blenders to suit various needs.
In this article, I'll explore the key differences and similarities between the 3HP Omega blender vs Vitamix to help determine which one is best for your kitchen.
Overview of Omega Blender and Vitamix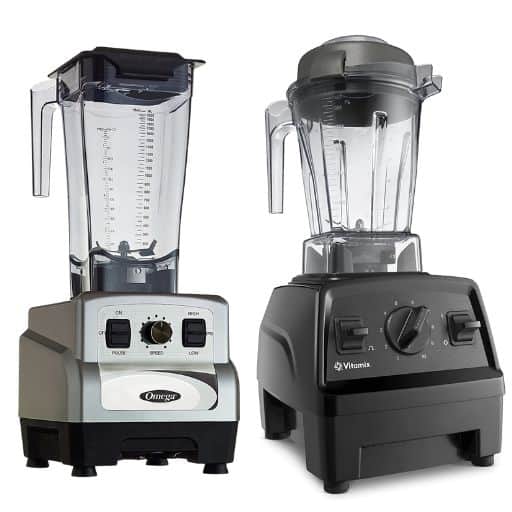 Both Omega and Vitamix offer professional-grade and beginner-level blenders, with advanced technology, high-quality blades, and the ability to break down fruits and vegetables into fiber-rich smoothies.
While Vitamix is known for its durable and powerful models like the Vitamix 5200, Omega, such as the Omega BL630, has also established a strong presence in the market with its powerful motor and unbreakable Tritan Copolyester Container.
Before making a decision on which brand to choose, it is essential to consider the specific features and capabilities of the blenders you're evaluating. Key aspects to look at include motor power, blade quality, container capacity, usability, and warranty. By comparing these factors, you'll be better equipped to make an informed decision on the ultimate blender for your needs.
I am specifically looking at the 3HP motor Omega blenders so I can compare apples with apples (so to speak).
Brief History of Both Brands
Omega has been a leading name in the appliance industry since 1985, focusing mainly on juicers, blenders, and other kitchen appliances. Their commitment to quality, innovation, and durability has solidified their presence among professionals and home chefs alike.
Vitamix dates back to 1921, and it's known for its professional-grade blenders and numerous innovations in blending technology over the years. The brand's reputation is built on blending performance, versatility, and durability.
Product Line Overview
Here's an overview of Omega and Vitamix's blender product lines:
Omega Blenders:
The BL630 model is a versatile and powerful blender with a 1,400-watt motor (3HP) and 64-ounce Tritan Copolyester Container. This model offers variable speed control, durable stainless steel blades, and is ideal for all your blending needs.
Other models include the BL660S and BL480, which vary in terms of motor power and container size.
Vitamix Blenders:
Vitamix offers a range of blender models across three main series: Explorian, Legacy, and Ascent. The motor power for these blenders varies from 2 to 2.2 HP, with the Ascent series having the most powerful motors.
The Explorian Series features a 2 HP motor, suitable for occasional use or those on a budget and are cheaper than Omega.
The Legacy Series has been a staple for many years, with a 2.2 HP motor and 3-to-4-inch stainless steel blades for optimal performance.
The advanced Ascent Series boasts a 2.2 HP motor, along with modern features like self-detect containers and a variety of preprogrammed settings for specific blending tasks.
In 2023, there is a new Propel Series on offer with built in settings for smoothies, soups, spreads and desserts and a self cleaning mode.
Performance and Features Comparison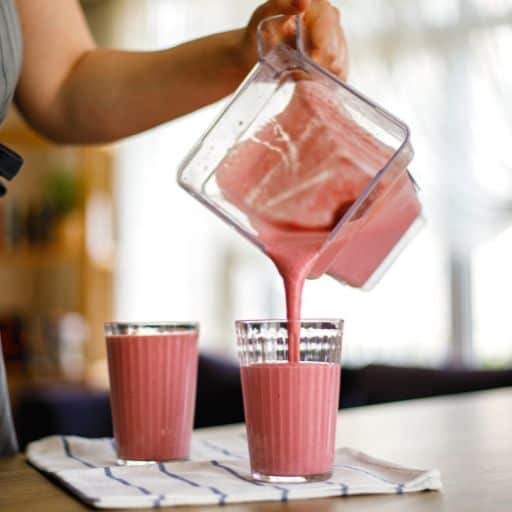 Blending Power
When comparing the Omega vs Vitamix blenders, you'll notice a difference in blending power. Vitamix is known for its powerful motor and high-quality stainless steel blades. This allows the Vitamix to handle harder spices, nuts and ice cubes effortlessly. You can also use a Vitamix to juice.
On the other hand, Omega blenders also offer adequate blending power but may not be as powerful as the Vitamix.
Speed and Controls
Both Omega and Vitamix blenders come with variable speed controls, allowing you to adjust the blending speed according to your preference. This is an essential feature, especially when working with various textures and ingredients.
The Vitamix blender boasts an RPM range of 2000 – 15000, while Omega blenders come in both a 1HP and 3HP machines with blend speeds up to 25000 RPM. One user complained the high speed of the Omega blender turned her onion into sauce.
Vitamix:

RPM range: 2000 – 15000
Variable speed dial up to 10 speeds

Omega:

1HP and 3HP machines available
10 speeds and pulse function
Durability and Reliability
Durability is an essential factor in selecting a blender. Vitamix blenders are often regarded as high-quality and built to last, offering an impressive performance over an extended period. Vitamix blenders are made in the USA and offer up to a 10 year warranty for US and Canadian residents.
The exact warranty differs between blenders, with some Explorian models offering a 7 year warranty vs 10 years on the Ascent models.
Omega blenders are made in China. Some Omega blenders have a 10 year warranty, however, customer service and warranty claims are often ignored or left unanswered for long time periods. The overall durability may not be on par with Vitamix, especially when dealing with tougher ingredients.
Noise Level
Blenders in general are noisy. Though both Omega and Vitamix blenders produce noise during operation, Vitamix blenders are often louder due to their powerful motor.
Omega offer a rubber covered motor for noise reduction. For individuals who prefer a lower noise level, an Omega blender may be a more suitable option.
Functionality and Versatility
Types of Recipes
With both the Omega Blender and Vitamix, you can create a wide variety of tasty and nutritious recipes. They excel at making smoothies, soups, and purees, giving you the versatility to incorporate various fruits, vegetables, and other whole foods into your diet. Besides that, both blenders are great for creating frozen desserts and whipping up soup.
The friction of the 3 inch blades in the Vitamix will heat your soup to serving temperature as you make it. This is far superior than the Omega blender.
Ice Crushing and Heating Ability
When it comes to ice crushing, the Omega Blender and Vitamix both have powerful motors and high-quality stainless steel blades. These features allow them to efficiently pulverize ice into a smooth and consistent texture. The Vitamix performs better over the Omega blender with ice and frozen fruit blending, with ice crushing being described "like snow".
Heating soups or liquids is more of Vitamix's domain as well. Thanks to its high RPM, ranging between 2000-15000, the friction generated from blending can heat your soup or liquid to a suitable temperature for consumption.
Smoothness of Blends
The smoothness of blends you achieve in your Omega Blender vs Vitamix largely depends on the power of the motor and the sharpness of the blades. While both blenders have powerful motors, Vitamix's RPM range and sharp (aircraft grade) stainless steel blades provide it with an edge for creating smoother blends with a thicker consistency that is rich in fibers and vitamins.
Vitamix state you never need to sharpen their blades.
To summarize, both the Omega Blender and Vitamix offer excellent functionality and versatility for the types of recipes you can create, including smoothies, soups, purees, and frozen desserts. They also perform well in ice crushing.
However, the Vitamix has an advantage when it comes to the smoothness of blends and its ability to heat liquids.
Design and Capacity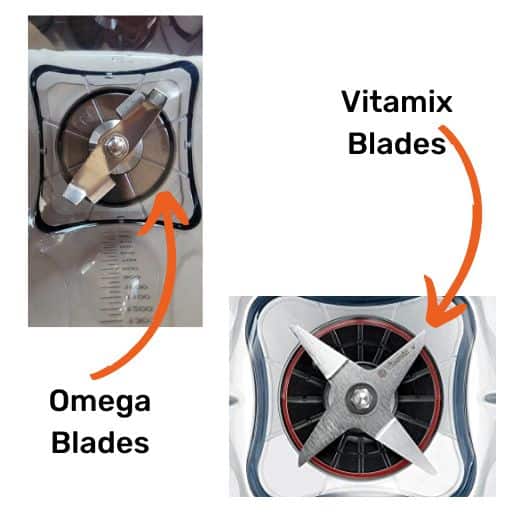 Jar and Blades Design
In the Omega blender, you'll find a 64-ounce Tritan Copolyester Container that is said to be unbreakable. The strength of this container enables it to withstand intensive blending tasks.
Vitamix blenders also come with a Tritan container, but they don't push this as much in their marketing as Omega do.
Both Omega and Vitamix blenders are equipped with stainless steel blades. You can see in the image above the Omega blades are thick and chunky, with a two blade design. The Vitamix blades are sharp and pointed, with a 4 blade design, which allows them to easily blend even the toughest of ingredients.
Size and Portability
Vitamix sizes are all similar across their models, but what makes this brand stand out are the extra containers you can buy for the Ascent or Venturist models. You can turn your blender into a complete food processing system for a fraction of the price of buying a whole other machine, simply by buying the food processor attachment.
Vitamix also offer a range of smaller blending cups and bowls, perfect for travel or lunch boxes. You can blend cold foods straight into these containers, saving you using the larger blending jug. Take a look at the cup and bowl starter set as an optional extra.
This table breaks down the model numbers and sizes of different Vitamix blenders:
| Model | Size | Weight |
| --- | --- | --- |
| A2300 | 8 x 11 x 17 inches | 11.86 pounds |
| A2500 | 8 x 11 x 17 inches | 11.86 pounds |
| A3300 | 8 x 11 x 17 inches | 13 pounds |
| A3500 | 8 x 11 x 17 inches | 14.92 pounds |
| E310 | 8 x 11 x 17 inches | 10.5 pounds |
| E320 | 8 x 11 x 18 inches | 13 pounds |
| VM0197 | 8 x 11 x 17 inches | 11.5 pounds |
| 1957 – Legacy Series | 8.5 x 8.5 x 17.25 inches | 13 pounds |
| Propel Series – 750 | 9 x 7.5 x 18 inches | 10 pounds |
Most Omega blenders are taller than Vitamix and some users had trouble fitting them on kitchen benches with overhead cupboards.
This table breaks down the model numbers and sizes of different Omega blenders:
| Model | Size | Weight |
| --- | --- | --- |
| OM7560S – 3HP | 8.27 x 8.27 x 18.9 inches | 11.68 pounds |
| OM6560S – 3HP | 9.17 x 8.27 x 19.7 inches | 12.13 pounds |
| BL360S – 1HP – 32oz | 6.7 x 6.7 x 15.75 inches | 6.75 pounds |
| BL330S – 1HP – 48oz | 8.25 x 6.7 x 15.75 inches | 7 pounds |
When it comes to portability, both Omega and Vitamix blenders are relatively easy to move and store. However, keep in mind that larger and more powerful models may be heavier, requiring more effort to transport.
Both machines offer a self cleaning function, where you half fill the container with warm water, add a drop of dish soap, and blend. Rinse and repeat with clean water.
Vitamix are clear winners in terms of blade design and extra functionability from their blenders.
Ease of Use and Cleaning
Cleaning Methods
Omega blenders: After using your Omega blender, remove the jar and lids from the base. Fill the jar with some water and a few drops of dish soap, then place it back on the base for a quick blend. This will help clean the blades and interior of the jar. Afterward, rinse the jar, lids, and any other detachable parts thoroughly under running water. Ensure that all parts are completely dry before reassembling and storing your blender.
Vitamix blenders: As with Omega blenders, the cleaning process for Vitamix models is quite straightforward. After use, detach the jar, lids, and tamper from the base. Fill the jar halfway with warm water and add a few drops of dish soap. Attach the lid and insert the tamper through the lid's opening, then run the blender on low for 30 seconds to one minute. This will create a soapy vortex inside the jar, which should clean the blades and jar interior. Finally, rinse all components well and allow them to dry before reassembling your Vitamix blender. The Vitamix can also be sanitized with a bleach solution, with directions included in the instruction manual.
Neither blender jug or base should be placed in the dishwasher. For best results, clean the blender jugs straight after use.
Safety Features
Both Omega blenders and Vitamix offer a safety feature where the machine will shut down if it overheats. There is a reset switch on the Omega blender (on the bottom of the unit) and it should be left for 30 minutes to cool.
Vitamix does not have any reset buttons and simply needs to be rested for 20-45 minutes to cool down.
Price and Warranty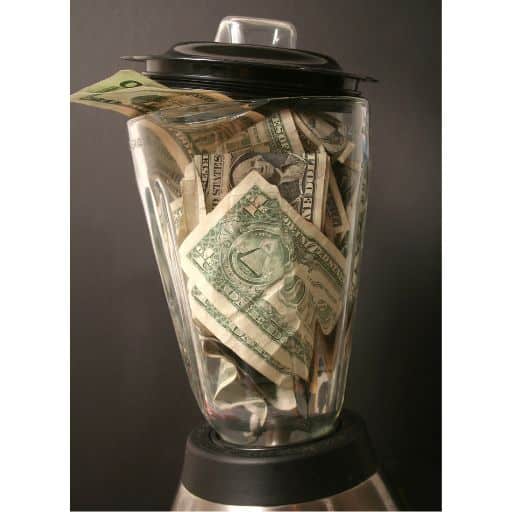 Cost Comparison
Most Vitamix blenders are more expensive then Omega blenders, however, I am a firm believer that you get what you pay for. Don't forget that Vitamix are made in the USA whereas Omega are made in China. Here is a breakdown of recommended retail pricing (US Dollars) at the time of writing:
One thing that is missing from Vitamix that should be included as standard is the scraper accessory. This costs under $15 and gets down underneath the blades to effectively empty out the container jug.
Warranty Coverage
Omega offer a 10 year warranty on both parts and performance (motor) on thier 3HP blenders. There have been numerous customers give feedback about how difficult it has been to contact Omega for warranty claims, with some customers stating warranty claims have been ignored. The only option to reach out to Omega is via an online ticket submission which you can find here.
Vitamix offer a 7 year warranty on their Explorian models, a 10 year warranty on their Ascent models and the new Propel Series. It is easier to get hold of Vitamix through a dedicated customer service number for the US and Canada, which is 1-800-848-2649. You can also email [email protected].
Vitamix is sold worldwide, so if you are located outside of the US or Canada, shop locally for the correct voltage requirements, warranty and service for your country.
Competitors and Alternatives
The biggest blender competitors are Blendtec and Ninja Blenders. Many people also consider a cold press juicer over a blender.
Blendtec Blenders
Blendtec is a well-known brand offering powerful and versatile blenders. A popular model, such as the Blendtec Professional, is often compared to the Vitamix 5200. With a sleek design and powerful motor, it's ideal for creating fiber-rich smoothies and more. Some notable features of Blendtec blenders include:
High-power motors, up to 3HP, for efficient blending
User-friendly touchscreen controls and pre-programmed cycles
Patented blade design for improved blending and easy cleaning
Large, BPA-free jars with comfortable grips
Some complaints about Blendtec include:
Customer service hard to deal with
Motors burning out
Rubber gasket melting
Leaking jugs
Very noisy
Ninja Blenders
Ninja is another major competitor in the blender market, with models like the Ninja BL660 being a top seller. While not as powerful as Omega or Vitamix, it still offers great value for its price. These blenders are perfect for personal blending or catering to smaller servings. Attributes of Ninja blenders include:
Removable blade systems for easy cleaning
Multiple blending options, such as single serve cups or larger jars
Various pre-programmed settings for convenience
Budget-friendly options that deliver good blending performance
Some complaints about Ninja include:
Blades blunten quickly
Doesn't crush ice as well as a Vitamix, leaving the ice a little crunchy
Doesn't shred leafy greens well
Lackluster power
Doesn't blend seeds well in smoothies
Masticating Juicers
If you're interested in juicing rather than blending, masticating juicers are an alternative worth considering. Also known as slow juicers, they provide the benefit of extracting more nutrients and enzymes from fruits and vegetables. This is because they use a slower, more gentle extraction method which keeps heat-sensitive nutrients intact. Some advantages of juicers are:
Higher juice yield and better nutrient retention compared to centrifugal juicers
Ability to process leafy greens, wheatgrass, and other fibrous produce more efficiently
Quieter operation due to slower, masticating process
Typically more expensive, but can be a worthy investment if juicing is your main goal
Learn more in my juicing vs blending article.
Pros and Cons
Advantages of Omega Blenders
Powerful Motor: Omega blenders are equipped with strong motors that are capable of handling a variety of blending tasks. With up to 1,400 watts and 3HP, they can efficiently blend hard spices, beans, and more.
High-quality Blades: The blades in Omega blenders are made from high-quality stainless steel, which allows them to stay sharp for an extended period of time. This ultimately results in better blending performance.
Durable Construction: Omega blenders are built to last, and according to Omega, their 64-ounce Tritan Copolyester Container is virtually "unbreakable."
Advantages of Vitamix Blenders
Versatility: Vitamix blenders, like the Vitamix 5200, can perform a range of tasks, such as chopping, heating, grinding, and blending. This makes them suitable for preparing a wide variety of recipes.
Easy Speed Regulation: You can easily adjust the speed of Vitamix blenders to suit your needs, giving you complete control over the blending process.
Ease of Cleaning: With detachable parts, Vitamix blenders are easier to clean. Simply drop them in water with some dish soap, rinse, and you're done.
Drawbacks of Omega Blenders
Less Versatility: Omega blenders may not offer the same level of versatility as the Vitamix, particularly in terms of heating capabilities. This might limit the types of recipes you can make with it.
Limited Speed Control: Some Omega blenders have fewer speed options when compared to Vitamix blenders, which can make it more challenging for you to fine-tune your blending. Other Omega blenders offer up to 10 speeds.
Drawbacks of Vitamix Blenders
Price: Vitamix blenders are typically more expensive than Omega blenders, and while this may be a drawback for some, the higher cost does come with increased durability and performance.
Conclusion
Vitamix is primarily known for its powerful blending capabilities, with models like the 5200 equipped with high-quality stainless steel blades and robust motor. This allows you to effortlessly create fiber-rich juices and smoothies and blend harder ingredients like ice with ease.
I'm a huge fan of Omega juicers, but on this occasion Vitamix is the better blender. Not only for the powerful capabilities of the blender itself, but for the extra attachments, customer service, excellent warranty and the ability to service and repair machines.
If you are in the market for a blender, or want to use a blender as a juicer, consider a Vitamix. Vitamix blenders are an investment, a worthwhile one if you value buying a blender to last.