Aloe Vera is a plant with a sticky gel like substance inside and commonly used topically on the skin. It is most commonly used in Ayurvedic (Indian) medicine to treat disorders of the liver and digestive system.
In traditional Ayurvedic preparation, 20ml (approx 0.7 fluid ounces) is mixed with water. This is about 1 tablespoon. Aloe vera juice is also mixed with bitter gourd, Indian gooseberry, holy basil and heart-leaved moonseed.
Aloe Vera is not something you want to grab from the garden and juice yourself. The Journal of Toxicology reports that the aloe vera plant contains a liquid between the outer skin and the gel inside called aloin A. This is referred to as 'aloe latex'. When consumed, aloe latex is associated with diarrhea, lymphoma mutations in mice, gall bladder lesions, weight loss and other effects on the renal system.
This is one occasion where I would recommend purchasing a commercially produced pure aloe vera juice if you want to give it a try.
Commercially produced juices are either made from the gel of the aloe vera plant, or treated with activated charcoal which removes the aloin A from the plant.
What Are the Benefits of Aloe Vera Juice?
Aloe vera plants contains 20 of the 22 amino acids required by humans, and 7 out of 8 essential amino acids.
The aloe-vera plant has anti-inflammatory and antibacterial properties from the contained salicylic acid. There are also fatty acids from the plant steroids which contribute to antiseptic, analgesic and anti-inflammatory properties.
Antioxidants, Vitamins A, C and E are all present, as well as Vitamin B12, choline and folic acid. Antioxidants help to neutralize free radicals within the body.
There are various minerals found in aloe vera leaves which are all beneficial to the body. They are:
Calcium
Chromium
Copper
Selenium
Magnesium
Manganese
Potassium
Sodium
Zinc
Some properties of the aloe vera plant assist in wound healing, collagen composition and immune system strengthening.
Can You Drink Aloe Vera Juice Everyday?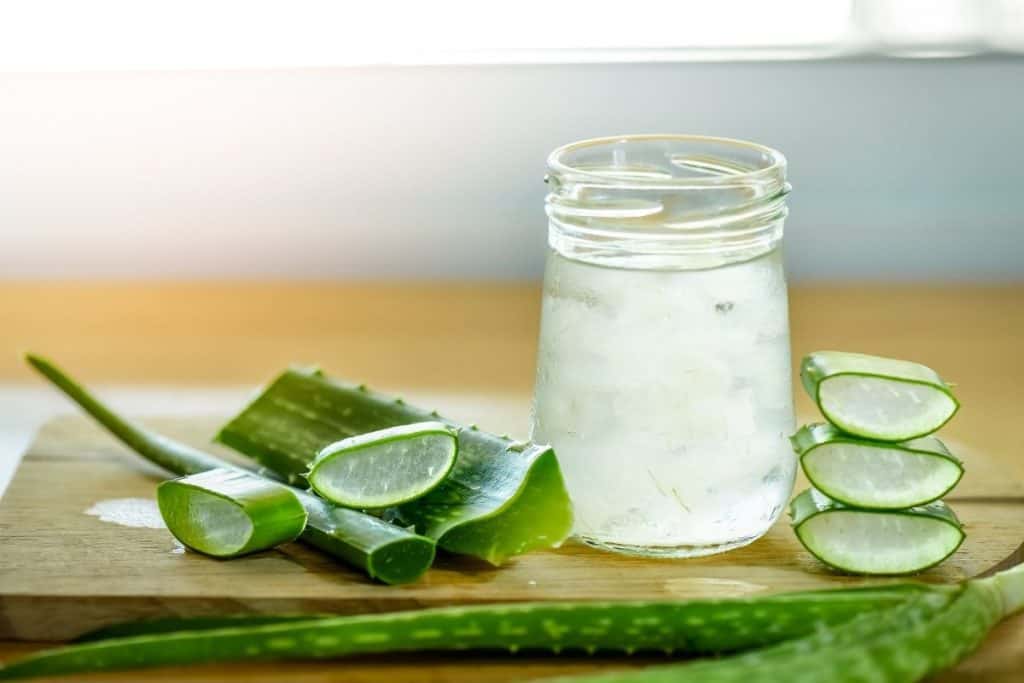 You can consume aloe vera juice everyday, just do so in small proportions.
Lily of the Desert recommend no more than 8oz of their Whole Leaf Aloe Vera Juice per day.
Lily of the Desert Filtered Whole Leaf Juice with Aloesorb was part of the 2013 study published in the Journal of Toxicology.
How Much Aloe Vera Juice Should You Drink Per Day?
A normal healthy person should drink no more than 8 ounces of aloe vera juice per day. Ideally, this should be broken down into smaller, one to two ounce servings.
These smaller servings of liquid can be taken on their own, or mixed in with water or other fruits and vegetable drinks.
The World Journal of Hepatology reports that aloe vera has detoxifying potential for the body and can provide some protection to the liver. The same study also showed that too much aloe vera can have detrimental effects on the liver. This is why it is important not to consume too much aloe vera juice.
Is Aloe Vera Juice Good for Weight Loss?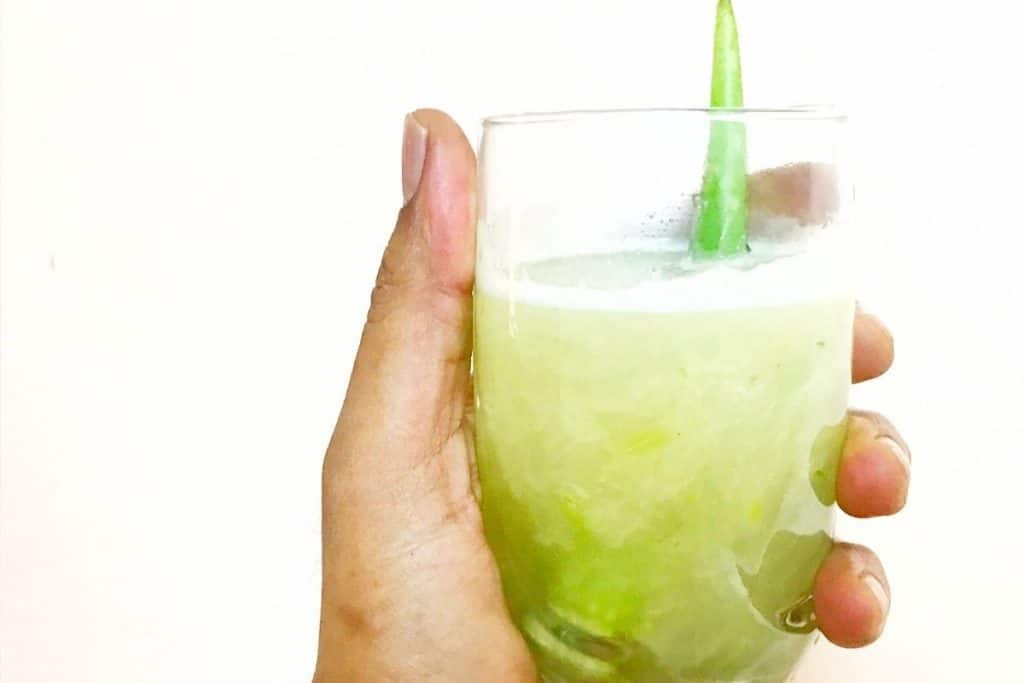 Scientists are looking at many ways to combat the growing obesity epidemic. In the United States, non-alcoholic fatty liver disease is the number one reason for liver transplants in women.
One study in 2020 published in the World Journal of Hepatology, fed rats who had non-alcoholic steatohepatitis (NASH), a subset of non-alcoholic fatty liver disease, daily aloe vera juice to drink.
In this study, 3 groups of rats were fed either a standard chow diet, a high fat high fructose diet, and a high fat high fructose diet supplemented with aloe vera juice daily for an 8 week period.
The rats fed the high fat high fructose diet and aloe vera juice did not lose as much weight as the rats fed only the high fat high fructose diet.
The upside of the aloe vera juice was a significant benefit to the liver pathology of non-alcoholic steatohepatitis.
In short, you may not necessarily lose weight drinking a small portion of aloe vera juice, but it may increase anti-oxidants in the body, reduce oxidative stress and reduce inflammation in the liver.
Can You Drink Aloe Vera Juice When Pregnant or Breastfeeding?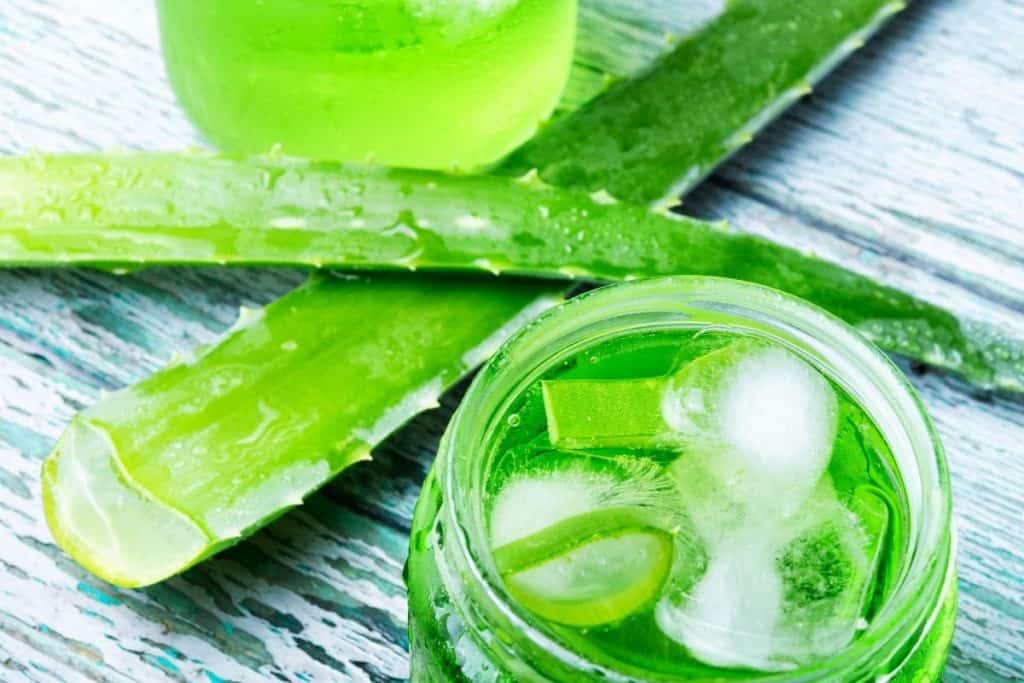 The Indian Journal of Dermatology states oral aloe is not suggested during pregnancy and breastfeeding. It could cause gastrointestinal upset in both the mother and baby.
In pregnant women, it is possible aloe vera consumed orally could stimulate uterine contractions. Please consult your health practitioner if you are pregnant, or thinking of becoming pregnant in the near future, before adding this drink to your health regime.
Can You Drink Aloe Vera Juice Straight From The Plant?
It is not recommended to drink aloe vera juice straight from the plant – do not eat or suck on the plant leaves or gel.
When you cut the aloe vera plant you will notice a yellowish coloured sticky substance. This is the aloin A and is a toxic substance.
The gel inner of the plant needs to be properly extracted ensuring the removal of the aloin A so the flesh can be used. Only a very small amount of aloe vera is used in the making of aloe vera juice. The largest component is actually water!
What are the Side Effects of Aloe Vera Juice?
The Indian Journal of Dermatology reports the following side effects from oral consumption of aloe vera drinks:
Abdominal Cramps
Diarrhea
Urine that is red in color (not necessarily hematuria – ie blood in your urine)
Dependency or worsening of constipation
Electrolyte imbalances including low potassium levels due to the laxative effects
An increased risk in colorectal cancer with prolonged use
If you have diabetes, please talk to your health practitioner before consuming aloe vera juice. One side effect of aloe vera juice is it may lower your blood sugar levels.
If you take any other medications or supplements, please check with your Doctor before consuming aloe vera juice, either commercially prepared or home made.
How to Make Aloe Vera Juice
Whilst I'm not an advocate for making aloe vera juice at home, due to the potential dangers of aloin A and the aloe latex, below is a video which demonstrates how to make aloe vera juice.
You will need a blender rather than a juicer. Please make sure you don't skip washing the aloe vera once you have peeled it!
It is also recommended to soak the aloe vera leaves in clean water for approximately 30 minutes before cutting off the front and back sides of the green skin. This is to remove the aloin A from the aloe vera leaf.
You will notice the water turns a yellow colour after you have soaked the leaves. Before soaking the leaves, cut off the top, bottom and spikey sides.
Aloe Vera Juice Recipes
You can add aloe vera juice to any other drink that takes your fancy. If you have made a green juice or smoothie for breakfast, pop 1 ounce of aloe vera juice in with this and mix.
Aloe vera juice is most commonly mixed with:
Water
Lemon or lime juice
Honey
Watermelon juice
Pineapple Juice
Be vary wary of commercially prepared aloe vera "drinks", including aloe water! These often contain added sugar, colors and flavors and should be avoided.
My recommended option as the safest way to consume aloe vera juice is to buy a purified product. Here are some options on Amazon:
Prices pulled from the Amazon Product Advertising API on:
Product prices and availability are accurate as of the date/time indicated and are subject to change. Any price and availability information displayed on [relevant Amazon Site(s), as applicable] at the time of purchase will apply to the purchase of this product.