To juice sugar cane, you are going to need a quality juicer than can press and squeeze the tough fibers to extract the juice. Does that mean you need to buy a sugar cane juicer?
Not necessarily. You can either use a specific sugar cane juicer, or use a twin gear juicer to extract the juice. Some masticating juicers may also be suitable, but not all.
I'll cover every option in the post below. Before I dive into the best juicers for sugarcane, have you read about the health benefits of raw sugarcane juice? If you haven't, I would recommend reading this post:
10 Surprising Facts About Raw Sugarcane Juice
Let's get started…
Best Commercial Sugar Cane Juicer
Overall, the best commercial sugarcane juicer is the PIO Sugarcane Juice Machine.
PIO Sugarcane Juice Machine (3 Roller, Single Phase 110V/220V Stainless Steel 304)
Full Body & all contact parts made of Food Grade Stainless Steel 304

Capacity = 350 glasses per hour, Full extraction by single crushing, 120 Kg Sugarcane Crushing,

3 Rollers efficient machine, Net Weight 41 Kg, Gross Weight 46 Kg, Easy to carry.

Electricity consumption = 1 USD for 4500 glasses, Detachable 3 Meter Cable provided.

Some countries have 110V and some countries have 220V. We have both the machines. We will supply the machine which will support your countrys electric specifications.
Prices pulled from the Amazon Product Advertising API on:
Product prices and availability are accurate as of the date/time indicated and are subject to change. Any price and availability information displayed on [relevant Amazon Site(s), as applicable] at the time of purchase will apply to the purchase of this product.
Crafted from 304 Grade stainless steel (food grade quality) this is a serious sugar cane juicer that can make up to 350 glasses of juice per hour, yet it is small enough to sit on a benchtop or have in your home.
The PIO Sugarcane juicer offers easy operation – simply feed the sugar cane into the machine and watch the delicious juice come back out.
No second pressing is required when using the PIO sugar cane juicer. One press extracts approximately 65% of the sugarcane juice. Check it out in the short video below, it's pretty impressive!
Included with the machine are two strainers (to remove any extra fibers that may have made it into the juice), a sugar cane cutter, a cleaning brush and scrubbing pad.
To clean the juicer, you simply run water through it. If needed, the top of the juicer also opens to scrub the rollers.
There is also a reverse function just in case anything gets stuck.
There are no special power requirements to run the juicer, it can be run anywhere on single phase power. The motor is 0.5 horse power, which is quiet and energy efficient.
The dimensions of the juicer are 19 inches x 8 inches x 15 inches.
Available in both 110V and 220V machines to support different countries, simply choose your country on checkout to arrange the correct voltage machine to be shipped.
Unfortunately PIO doesn't offer free shipping, probably because the juicer ships from India – and weighs approximately 90 pounds.
Best Budget Sugarcane Juicer
If you don't want to spend a lot of money on a sugar cane juicer, and are willing to put in a little manual labor, this cast iron and stainless steel sugar cane juicer is a good option.
This is a manual sugarcane juicer, where you crank the handle to turn the rollers of the sugar cane extractor.
This unit weighs about 76 pounds, and is best mounted on a sturdy surface out of the weather.
There are a few different elements that make up this sugar cane juicer – the base and hand wheel are cast iron, the rollers are 304 grade stainless steel and the housing is apparently also stainless steel.
The biggest complaint about the machine so far is not its ability to juice, it is the metal housing has been crushed during transit.
In terms of juicing, this manual juicer will juice up to 2 inch thick sugarcane, either peeled or unpeeled. The extraction rate of the sugarcane juice is between 60 and 80 percent.
It is also fairly compact, measuring 16.93 inches wide x 11.81 inches deep x 14.17 inches tall.
As a manual machine, it is far more cost effective than the PIO Sugar Cane Juice Machine above, if you are willing to put in a little effort.
Twin Gear Juicers for Sugar Cane
If you have a twin gear juicer at home, you should be able to use it to juice sugarcane.
One of the twin gear juicers that will work with sugarcane is the Tribest brand, in particular, the Tribest Greenstar Pro with all stainless steel twin gears.
The essential thing to understand when using a twin gear juicer to juice sugar cane is you will need to peel the hard outer layer from the sugarcane. You will also need to chop the sugarcane into smaller pieces.
It cannot be fed into the machine in one large piece, as you see with the specific sugarcane juicers. When prepared for juicing, your sugarcane should look like this:
The benefit however, of having a twin gear juicer is you can juice so many other fruits and vegetables effectively!
Tribest is one of my favorites of the twin gear juicers for how dry the pulp is left. If you are a fan of juicing celery also, this is an awesome machine and you won't be disappointed.
It is more expensive than the manual sugar cane juicer, but not as expensive as the PIO juicer.
What I like about the Green Star Pro is the all stainless steel twin gears, especially if you are juicing fibrous foods such as sugar cane.
Some of the other models of Tribest juicers have plastic components to their gears, and it is for this reason I am not recommending them for sugarcane juice.
The spin speed is also 110 rpm, not as slow as masticating juicers, but also not as fast as other twin gear juicers (some which spin at 160+rpm).
The Green Star Pro is also quite a large juicer – measuring 18.25 inches x 12.5 inches x 6.88 inches. Make sure you have room in your kitchen for this beauty.
The motor is a powerful 200 watts – the most powerful of all Tribest Juicers, with jumbo twin gears to really crush that sugar cane.
Wrapping up my love for Tribest Juicers is their amazing warranty. The Greenstar Pro offers a 15 year warranty for home use and is also commercially certified.
I also really appreciate that the Tribest juicers are manufactured in South Korea.
There is often some complaint regarding the time it takes to clean up twin gear juicers, but once you get the hang of it, cleaning up should take less than 10 minutes.
A complete review of Tribest Juicers is coming soon – these juicers really deserve more attention, so check back soon!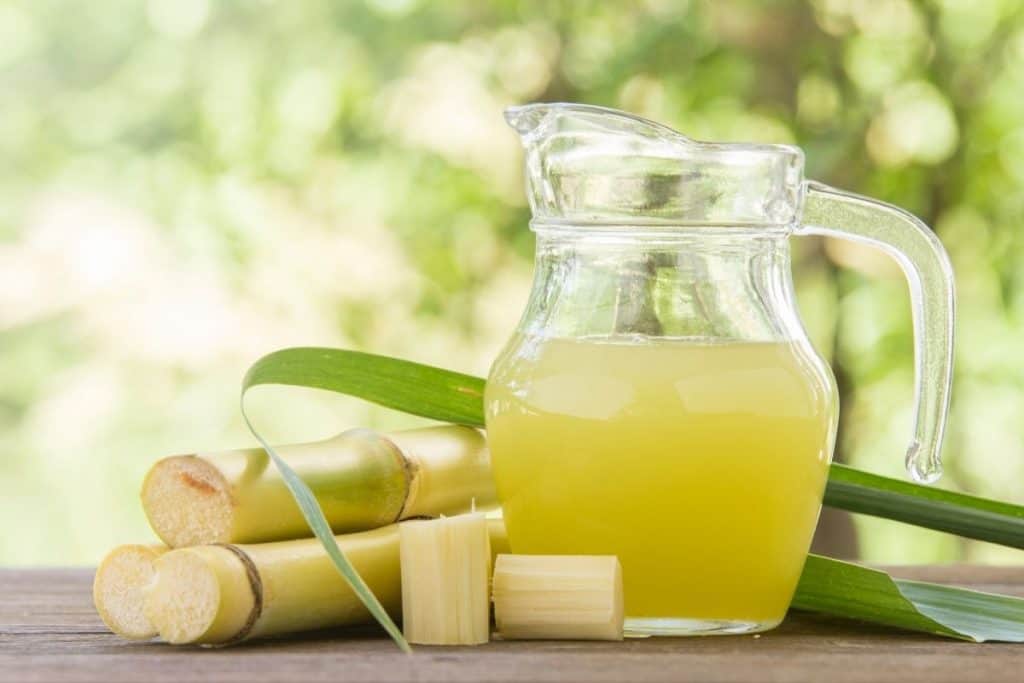 Using a Masticating Juicer to Make Sugarcane Juice
Sugar cane is a tough fibrous plant. If you have a good quality masticating juicer at home (such as an Omega Juicer) you will be fine to make an occasional glass of sugar cane juice.
Remember to make sure you completely peel the sugar cane, cut it into small pieces and don't push too much through at once.
The image of the small rectangle pieces of peeled and chopped sugarcane is what your sugar cane pieces should look like.
A good choice of Omega juicer for sugar cane is the NC1000HDS.
This is an Omega Nutrition Center, which also produces nut butters, frozen fruit sorbets, baby food, grinds coffee etc.
This is the newest generation Omega Juicer that has slightly higher juicing ability than previous models.
It operates at 200 watts, has a 15 year warranty in USA and Canada and spins at 80 revolutions per minute to keep oxidation as low as possible.
The Omega juicer is ever so slightly smaller than the Tribest juicer, but not by much – measuring 6.1 inches wide x 18.5 inches deep x 12.3 inches tall.
This is a great multipurpose machine. One of the downsides however is the durability of the plastic parts. Treat this juicer with care to get the best results and longevity of the parts.
This is especially important when juicing sugarcane.
The Roundup – What is the Best Juicer for Sugar Cane?
Having seen the PIO Sugar Cane Juicer in action, I am a firm believer that this is the absolute best choice as a juicer for sugarcane.
But… I'm all for practicality.
The reality is, having a commercial sugar cane juicer in your kitchen simply isn't practical for an occasional glass of sugarcane juice.
That really narrows the scope down to either a twin gear juicer or a masticating juicer.
When considering making sugar cane juice, the all stainless steel twin gears of the Tribest Greenstar Pro Juicer will be far more effective than the plastic components of the Omega Juicer.
The Tribest Juicer will cost you several hundred dollars less than a sugar cane juicer, has a top of the line 15 year warranty, juices celery, wheatgrass and other fibrous foods with ease.
The Tribest Greenstar Pro comes with multiple screens and attachments, and should anything go wrong outside of the 15 year warranty, there is an abundance of parts and accessories available.
The practical mom in me is all about multipurpose items, the Tribest Greenstar Pro really does fit the bill here with price and practicality in mind.