Designed to be proudly displayed as a statement piece on your counter top, Smeg Juicers are a high end brand with a price tag to match.
The retro style can be complemented with other Smeg retro appliances to complete matching sets.
Smeg are one of the leading brands in small and large appliances, but how do their juicers compare to the other big brands on the market?
We take a look at the Smeg Citrus Juicer and Smeg Slow Juicer below.
Smeg Citrus Juicer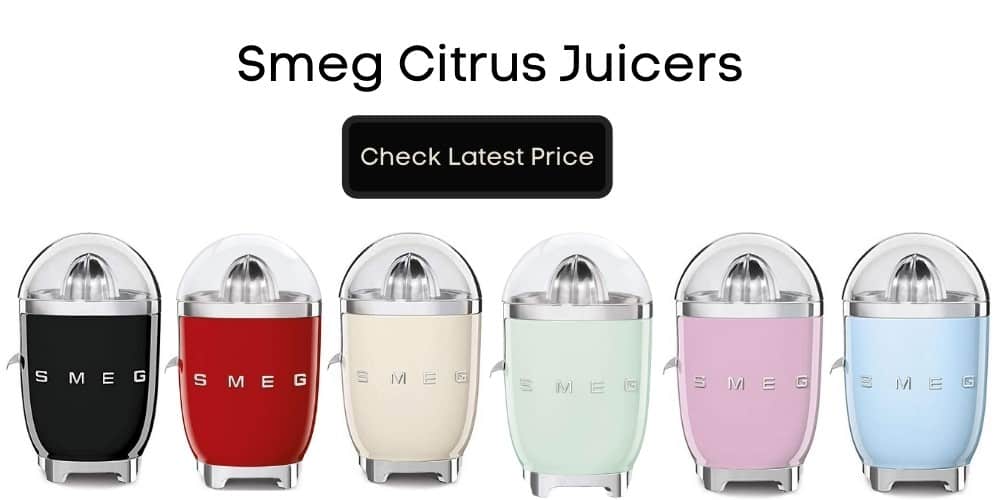 The Smeg Citrus Juicer is a gorgeous retro design, available in six vintage inspired colors – Green, Pink, Pastel Blue, Cream, Black and Red.
Designed specifically for citrus fruits, the Smeg citrus juicer makes orange juice, lemon juice, lime juice and grapefruit juice.
It operates by pushing down on the reamer, which spins anti-clockwise to extract the juice from your citrus fruit. When you lift the pressure off the reamer, the juicer ceases operation.
The Smeg CJF01 is a simple design, with quick and easy clean up and would make a great statement piece on your kitchen counter top.
If you prefer citrus juice over other types of juice the Smeg Citrus Juicer is a compact, no fuss design, made with quality materials at a far more affordable price point than the SJF01 Retro Style Slow Juicer.
Smeg offers a 1 year warranty on their citrus juicer.
Smeg Citrus Juicer Cons
The only drawback with the Smeg Citrus Juicer is the one size reamer, which is better suited to oranges, lemons and grapefruit rather than small limes.
Whilst not impossible, it may be more practical to juice smaller limes by hand than with the larger reamer of the Smeg Citrus Juicer. Alternatively, take a look at the Vinci Hands Free Citrus Juicer, which in our opinion, is a much better buy and a much cheaper price.
The Smeg Citrus Juicer is also comparable to the Breville Citrus Press Pro. Whilst not as stylish as the Smeg juicer, the citrus press pro would be a better choice if you're a regular juicer of limes.
If you do want to check out the Smeg Citrus Juicer further, click on the button below to view on Amazon.
Smeg Slow Juicer – SJF01 Retro Juicer
The Smeg SJF01 is available in Black, Red, Pastel Blue and Cream for an authentic retro feel.
The SJF01 is a slow juicer, otherwise known as a masticating juicer, which rotates with a screw pump instead of blades to prevent oxidation of the juice.
The juicer spins at a slow 43 rotations per minute, an identical spin speed to the Hurom HP Slow Juicer.
A manual reverse switch is a feature of this juicer, to switch the auger into reverse mode in case of any blockages.
The Smeg juicer also has an option to use either a fine or coarse strainer – for thinner juice with less pulp, or thicker juice including more pulp.
You can collect up to 500mls of juice in the included jug with lid for juice storage.
The Smeg slow juicer can be used to juice fruits and vegetables, as well as crush walnuts and almonds.
This is not widely promoted by Smeg and we needed to dig deep into the instruction manual to find this information.
There is no mention of the Smeg juicer's ability to make nut butters or almond milk.
The Smeg juicer is not suitable for grinding coffee beans or other seeds such as sesame seeds or peppercorns.
If you're an occasional juicer, or like to proudly display great looking appliances on your counter top, the Smeg slow juicer could be a good choice for you.
The slow spin speed of 43rpm is appealing, as is the retro design.
Aside from that, there is really not much that stands out with this juicer that would convince us to purchase this over other leading slow juicer brands.
Unless you're a lover of the Smeg brand, or prefer this as a statement piece in your kitchen, the Smeg slow juicer wouldn't be our first choice.
As a vertical slow juicer, consider the Omega VSJ843 which offers an amazing 15 year warranty and also has the same 43rpm spin speed.
The Hurom HP Slow Juicer is another alternate choice offering a 43rpm spin speed also, and retro colors such as pink and mint green.
Other Appealing Retro Style Juicers
Orfeld make a horizontal masticating juicer in a retro green that is a new release for 2020.
The Orfeld juicer retails for around $110, making it a much more cost effective buy than the Smeg juicer.
Click here to read a full review of the Orfeld Juicer, or check it out on Amazon here.
Smeg Sicily is My Love
Smeg has teamed up with Dolce and Gabbana to bring us their Sicily is My Love Collection.
Inspired by traditional Sicilian handicraft the Smeg Citrus Juicer and Smeg Slow Juicer are adoringly designed with golden lemons, prickly pears and floral motifs.
These are a true statement piece that would take pride of place on your kitchen countertop.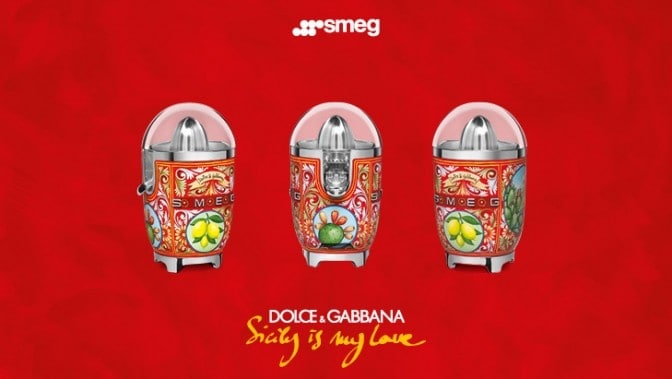 The features of the Sicily is My Love citrus juicer and dolce and gabbana smeg juicer are exactly the same as the smeg slow juicer and retro citrus juicer, it is simply the artwork that sets them apart.
Both juicers come with a one year warranty, which we find a little disappointing, given the price point of these designer juicers.
The artwork however, is amazing. If you have the budget, the Sicily is My Love Collection would be the envy of your friends and the talking point of your kitchen.