The Black and Decker juicer is a sleek looking centrifugal juicer that was first launched in 2016.
It is a stylish looking juicer, from a well known brand, at a budget price. At first glance the Black and Decker juicer looks like a good buy.
On closer inspection, we're not so sure. Let's discuss the pros and cons of the Black and Decker juicer, so you can make an informed choice before you buy.
Black and Decker JE2400BD
Black and Decker Motor Lacks Power
The Black and Decker juicer has a 400 watt motor. This isn't a very powerful motor when it comes to a centrifugal juicer.
In comparison, the Hamilton Beach Juicer (also a centrifugal juicer in a similar price range as the Black and Decker) has an 800 watt motor. Double the power than what Black and Decker offer.
Compact Design – But Has Shortcomings
The compact design of the Black and Decker juicer looks great a first glance. It's not a huge juicer and would be a suitable choice for smaller kitchens, or those needing to save space. It is 12.2 inches high and 6.8 inches deep.
But with that compact juicer, comes some limitations. The spout comes out the side at an almost 90 degree angle. It's quite short, and you'll need to have a glass handy to catch the juice straight away. The JE2400BD model juicer does not come with a jug to catch the juice.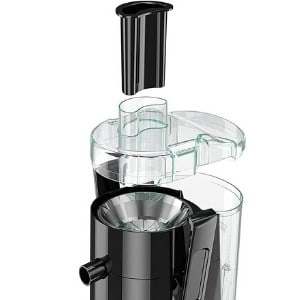 The feed chute in the top of the juicer is also short. Most feed chutes of centrifugal juicers are round. But not the black and decker juicer.
Take a look at the image, the feed chute looks like a kidney shape. This design makes it difficult to feed fruits and vegetables into the juicer without chopping them into very small pieces.
You can also see the short, near horizontal spout. The juicer is also round, which makes a glass sitting flush against the juicer difficult.
Dishwasher Safe Parts
We do like that all removable parts of the Black and Decker juicer are dishwasher safe. A common complaint is that the stainless steel cutter is very difficult to remove from the juicer when you have finished juicing.
Best For Juicing High Yield Fruits and Vegetables
There has been many questions asked about how well this juicer works for ginger and wheatgrass. As a centrifugal juicer, it is better suited to oranges, apples, carrots and fruits and vegetables with higher yield.
There have also been many complaints about the juice extraction, or lack thereof, with wet pulp and wasted food. Does anyone really make muffins with the left over pulp?
Plastic Parts are Not BPA Free
Unfortunately, the plastic parts of the Black and Decker juicer are not BPA free. There are many more juicers on the market today that offer BPA free plastic. If you are concerned about the dangers of BPA plastics, this is not the juicer for you.
Not The Best Value for Money
On Amazon, the JE2400BD is priced between $46 and $68. There are far better juicers in this same price range. We'll discuss our recommendations further down in this post, but if you want to check out a couple now, take a look at:
Black and Decker JE2200BD
The JE2200BD is the earlier model Black and Decker juicer and in all honesty, Black and Decker should have stuck with this design.
This is by no means a recommendation to buy, however.
But if you did want to purchase a black and decker juicer and were trying to decide between the two models, this one comes with a jug to collect the juice.
That is really the only difference between the two juicers.
This juicer is also 400 watts, quite inferior to centrifugal juicers on the market today. The kidney shape design of the feed chute is the same, requiring you to chop your fruits and vegetables into very small pieces to fit through the chute.
If you are going to go this much effort for preparation, you would be better off with a masticating juicer that would at least yield so much more juice from your foods.
Like the newer model, the parts are dishwasher safe. Unfortunately the plastic parts are not BPA free.
The price is really the only selling point with this juicer. At the time of writing the JE2200BD was priced under $40.
Comparatively, the Aicook GS336 Juicer is also under $40, has two speeds and is BPA free.
Black and Decker Juicer Warranty
Both models of the centrifugal juicers come with a two year limited warranty within the USA. If you are outside the USA, please check your local Black and Decker website, or the store you purchased your appliance from for specific warranty details.
You can contact Black and Decker via their website, which supports countries worldwide. Here is the link: https://www.blackanddecker.com/support/contact-us
Black and Decker Juicer Parts
There are no replacement parts available to purchase on Amazon.
You can however, purchase replacement parts through Black and Decker. The green text is a link which will take you directly to the product page.
There only appears to be parts available for the JE2200 model, not the JE2400 model.
We also found replacement parts on ereplacementparts.com, however, they were far more expensive than direct from Black and Decker.
For example, a new stainless steel cutter, at ereplacementparts.com is around $27. Direct from Black and Decker, this is around $15. Black and Decker also support Canada as well as the USA.
If you are considering purchasing a Black and Decker juicer, take a look at the cost of replacement parts before you buy. Your money may be better spent, buying a better quality juicer.
How to Contact Black and Decker Customer Support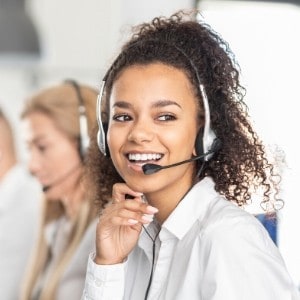 Black and Decker customer support is based in Ohio, USA.
The phone number is 1-800-465-6070.
You can reach Black and Decker customer support between 7:30am and 6pm weekdays. There is no support on available on weekends.
What is the Best Juicer Machine to Buy?
If you are looking for a budget centrifugal juicer (we consider juicers under $100 in the budget range), take a look at the following juicers as an alternative to the Black and Decker juicer:
Azeus Centrifugal Juicer – Whopping 15 Year Warranty!
Can you believe that a centrifugal juicer that costs under $60 comes with a 15 year warranty?
The Azeus juicer would have to be the most outstanding budget juicer we have seen to date. Here's a run down of the top features:
German made dual layer micro mesh filter with 163 chopping blades
Two spin speeds
BPA free
Anti drip spout
Auto shut off feature
Titanium reinforced cutting disc
Runs for 2 minutes continuously (double the running time of the Breville juicer below)
Mueller 1100 Watt Two Speed Juicer – Amazon Best Seller
Dual speed, European engineering and a 2 year warranty make the Mueller Austria Juicer an excellent choice in centrifugal juicers. Here's what we like the most about the Mueller juicer:
1100 watts of power
2 spin speeds for harder and softer fruits and vegetables
2 year warranty
BPA free material
Quiet – operates below 60 decibels
Auto shut off feature
You can read our full review of the Mueller 1100 watt juicer here.
Breville BJE200XL Compact Juice Fountain – Big Brand
This is a compact juicer machine from the well known Breville brand. Here's what we like the best about this juicer:
700 watt, 14000 rpm spin speed
Titanium reinforced cutting disc
Froth separator on the juice jug
3 inch wide chute to fit whole fruits and larger fruit pieces
Premium brand and quality parts
Dishwasher Safe parts (top shelf)
Replacement parts available
Here's what we like the least about the Breville Compact Juicer:
1 year warranty
Recommended operating time is 1 minute or less
The heavy grade polymer body is NOT BPA free
Despite what a reviewer on Amazon says, please be assured, this juicer has a California Proposition 65 warning. The user manual clearly states "This product contains chemicals known to the State of California to cause cancer, birth defects or other reproductive harm."
We've included this juicer as Breville is a great brand and built to last. But if I had to pick for myself and my family, I'd choose BPA free every time.