Centrifugal juicers aren't getting as much love in 2020 as masticating juicers are. As technology improves, so does the ability of centrifugal juicers to extract more juice from fruits and vegetables.
Learn more about centrifugal juicers, in particular the Mueller brand, in this Mueller Juicer Ultra 1100W Power review.
Mueller Juicer Technical Specifications
Centrifugal Juicer
Model Number: SD80A
1100 watt motor
Two Speed Settings
– Low Speed 12,000 to 14,000 RPM
– High Speed 16,000 to 18,000 RPM
Dimensions: 16.3 x 13.6 x 9.3 inches
Chute Width: 3 inches
Juice Jug Capacity: 1 liter
Pulp Jug Capacity: 2 liters
Juicer Weight: 2.2 pounds
Warranty: 2 years
About the Mueller Austria Ultra Juicer Machine Extractor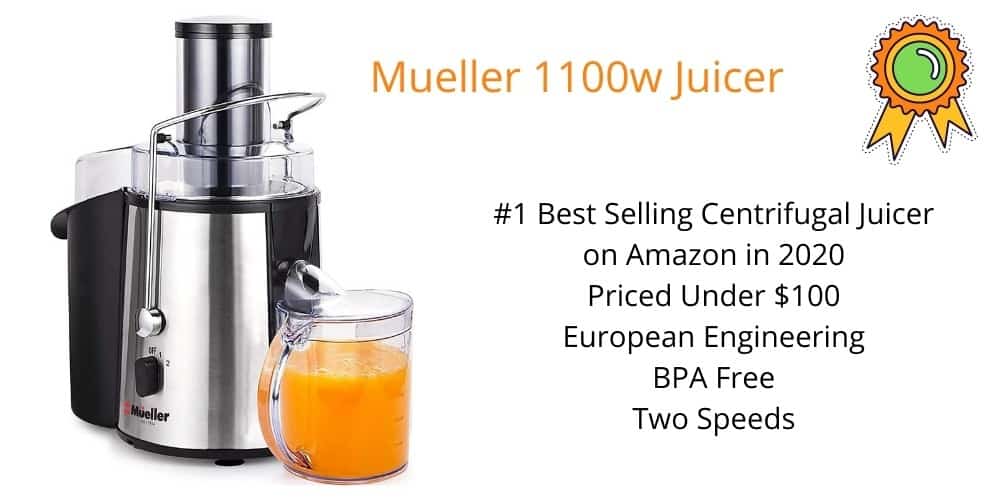 As the Mueller juicer name suggests, it is a centrifugal juicer. This means, the juicer has tiny blades which spin at high speeds to shred the fruits or vegetables to produce juice.
The workings are similar to that of a blender, except that unlike a blender, the Mueller juicer separates the juice from the pulp.
The problem with centrifugal juicers is to put it bluntly, the juice quality isn't as good as masticating juicers. This is because of the high rotations of the blade leads to oxidation which in turn causes the breakdown of minerals and vitamins.
The shelf life of juice produced from centrifugal juicers is best consumed within 24 hours but, if you consume it within the first 5 minutes, it would still be very nutritional.
The Mueller juicer is a top of the line centrifugal juicer as it not just produces relatively high-quality juice, but it can also produce juice in 4 seconds making it one of the fastest centrifugal juicer available on the market in 2020.
It would be fair to say that you get your money's worth when purchasing this juicer. The Mueller Juicer is actually quite moderately priced in comparison to other juicers with similar specifications. Unlike higher end centrifugal juicers (like Breville) the Mueller juicer costs less than $100.
It is perfect for producing juices from citrus fruits or dense vegetables such as apples, carrots or beetroots.
The speed settings of the Mueller juicer are designed to be used for slightly different purposes, for example the low speed setting can be used for softer fruits such as oranges and the high-speed setting can be used for harder fruits such as apples.
The Mueller juicer is not ideal for leafy greens which is usually the case with any centrifugal juicer.
Unlike masticating juicers that grind the produce, the centrifugal juicers have blades which spin at a high RPM and shred fruits and vegetables which is not ideal to extract the juice out of produce such as leafy greens.
If you are searching for a juicer for leafy greens or celery juice, view our post here.
How to Use the Mueller Juicer
The Mueller juicer is very easy to use. Like most centrifugal juicers, the assembly is easy and takes a few seconds.
There has been a lot of attention paid to the safety measures, one of which is a locking arm that ensures while the juicer is on, the lid cover stays on tight. If this locking arm is not secured, the juicer will not operate.
There is a thermal cut off, which cuts off power when the motor gets overheated or jammed, ensuring the motor doesn't have any lasting damage.
It also has a silicon foot, the purpose being the container does not slip while it is in operation. So, as far as safety goes, you are very much covered with the Mueller juicer.
How to Clean the Mueller Juicer
Cleaning the Mueller juicer is very easy as well. There are only 6 parts to clean.
The parts can be disassembled and washed either by hand in warm soapy water, or placed in the top rack of a dishwasher.
A compost bag can be placed in the pulp bin to collect the pulp for easy disposal and clean up. Don't forget though, you can use the pulp in soups, muffins or homemade stock or broth.
In addition, a brush is provided to clean up the blades to remove the pulp sticking to them. Since the chute is 3 inches wide, most fruits and vegetables can be added in without having to pre cut them.
Mueller Juicer Reviews
So far, the Mueller juicer has received over 11,000 ratings on Amazon, and in 2020 is the number one best selling centrifugal juicer.
The overall star rating of the Mueller juicer is 4.4 out of 5 stars, with 72% of users giving this juicer a 5 star rating.
This juicer is advertised as having a noise rating of 60 decibels. This is uncommon for a centrifugal juicer which are usually much noisier than this. Masticating juicers tend to operate at this noise level, which is around speaking volume.
Some of the consumer feedback is that the noise levels are higher than advertised. As mentioned above, this is common for a centrifugal juicer, if you do decide to purchase this juicer be prepared for it to be noisier than a masticating juicer.
The juicer will also stop working if the motor overheats. The motor runs at 60 revolutions per minute, which is also quite slow for a centrifugal juicer. Mueller Austria recommend using the juicer for 1 minute, then letting it rest.
This might not sound like a very long time, but with a fast centrifugal juicer, if you prepare your fruits and vegetables first, you can produce a significant amount of juice within 1 minute.
For anyone who had experienced a problem with the Mueller juicer, Mueller were fast to respond.
Mueller Juicer in Action
The short video below shows the Mueller juicer in action.
Mueller Juicer Warranty
The Mueller juicer has a 2 year warranty. Mueller state:
This product is warranted to be free from defects in material and workmanship under normal use and service for 2 years from the date of original purchase with receipt. The manufacturer's obligation shall be limited to repairing or replacing, FOB, NY, any part of the product that is defective. Such warranty shall not apply to damages resulting from accidents, abuse or misuse. This warranty is valid only for First quality goods purchased from an authorized selling agent.

Mueller Direct Juicers
Amazon.com is an authorized selling agent. Click here to view the Mueller Juicer on Amazon.
Contacting Mueller is easy, if you find you have any problems. Here are the contact details for Mueller USA:
Phone: 1-888-632-9981
Email: [email protected]
Mail: 515 Haram Ave, Opa Locka FL 33054
Mueller Juicer Website: www.muellerdirect.com

Conclusion – Is the Mueller Juicer a Good Buy?
In my opinion, I would buy the Mueller Juicer. This is an affordable and dependable centrifugal juicer which is perfect for home use.
You may also like: