Jocuu juicers have appeared a couple of times on our best buy lists, as affordable, compact juicers with fantastic warranties.
Today we are taking a look at the new release Jocuu slow juicer – which looks like the baby sister of Omega juicers, yet with a price tag under $100 and a 10 year warranty.
Is that a misprint? A masticating juicer under $100 with a 10 year warranty? Not at all. Let's take a look at the latest release Jocuu juicer – released in May 2020…
Jocuu Slow Juicer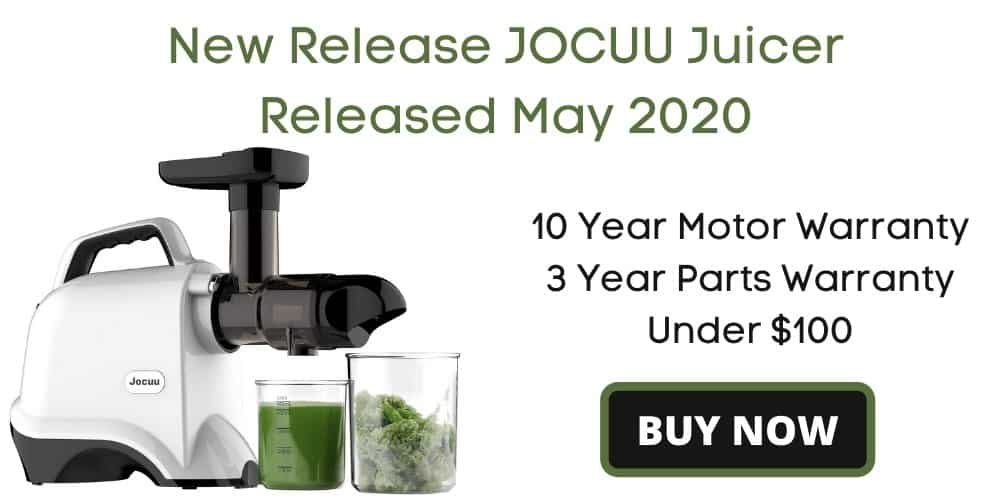 I must admit, I stopped in my tracks when I saw this Jocuu slow juicer on Amazon. It looks like a baby Omega juicer!
Having reviewed Jocuu juicers in other articles and been in touch with Jocuu myself (to confirm the 10 year warranty offered), I knew this had to be a new release juicer.
It is so new in fact, it is not even appearing yet on the Jocuu website! Here is what I have been able to determine about the new release Jocuu juicer (as at August 2020):
BPA Free plastic parts
450ml juicer cup
On/Off and Reverse function
Operates at 50 decibels
Motor protection chip – auto shut off after 20 minutes of use to protect the motor
One touch disassembly
Dishwasher safe parts
Handle for easy carrying
Weighs approx 10 pounds
3 year parts warranty
10 year motor warranty
I've written to Jocuu to obtain more information about this juicer and will update this post when known.
In the meantime, check it out on Amazon – so far it has one 5 star review, with the purchaser also comparing it to an Omega juicer, with juice output not being "not much inferior" and an easy to clean juicer.
Jocuu Slow Masticating Juicer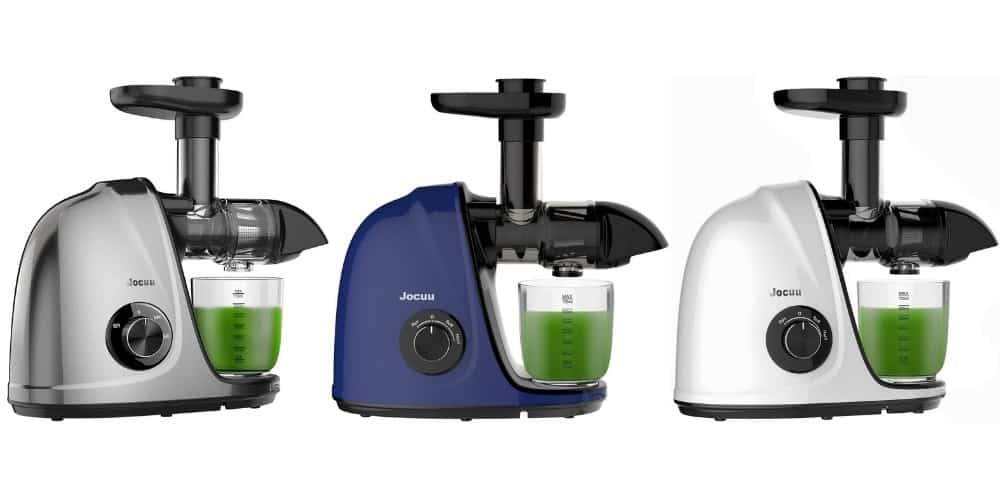 This is the original Jocuu juicer which we've featured on the following reviews:
What we liked about the juicer above was primarily the inexpensive price combined with the 3 year warranty on parts and 10 year warranty on motor. It also has 2 functions for soft and hard fruits.
Jocuu customer service have been great with sending replacement parts under warranty if needed, and one consumer juiced every day for 2 months before leaving a review, and the Jocuu juicer did not skip a beat.
As with most small appliances, the budget juicers are Chinese manufactured, in comparison to the higher end juicers such as Hurom and Kuvings, which are made in Korea.
Whilst some may argue you get what you pay for (and in some cases this may well be true), if you are a household on a budget who cannot afford a high end juicer, the Jocuu juicer is a fantastic alternative, especially when the alternative may be not juicing at all.
For now I'm continuing to sing praises of Jocuu, for creating a product that is affordable for most households and a decent warranty to back it up.
We'll be back to update this post as soon as we have more information from Jocuu regarding their new juicer. Until then, stay tuned!