Jocuu juicers have appeared a couple of times on my best juicers lists, as affordable, compact juicers with fantastic warranties.
Today we are taking a look at the new release Jocuu slow juicer – which looks like the baby sister of Omega juicers, yet with a price tag under $100 and a 10 year warranty.
Is that a misprint? A masticating juicer under $100 with a 10 year warranty? Not at all. Let's take a look at the latest release Jocuu juicer; released in May 2020.
Jocuu Slow Juicer
Jocuu Masticating Juicer
10 Year Motor Warranty

7 spiral segment auger

Intelligent protection chip - auto shut off after 20 minutes of use

Dishwasher safe removable parts

Single speed juicer with reverse function
Prices pulled from the Amazon Product Advertising API on:
Product prices and availability are accurate as of the date/time indicated and are subject to change. Any price and availability information displayed on [relevant Amazon Site(s), as applicable] at the time of purchase will apply to the purchase of this product.
I must admit, I stopped in my tracks when I saw this Jocuu slow juicer on Amazon. It looks like a baby Omega juicer!
Having reviewed Jocuu juicers in other articles and been in touch with Jocuu myself (to confirm the 10 year warranty offered), I knew this had to be a new release juicer. It was released Spring 2020, and looked to be promising as a budget juicer under $100.
Here are the specifications:
BPA Free plastic parts
450ml juicer cup
On/Off and Reverse function
Operates at 60 decibels
Motor protection chip – auto shut off after 20 minutes of use to protect the motor
One touch disassembly
Dishwasher safe parts
Handle for easy carrying
Weighs approx 10 pounds
2 year parts warranty
10 year motor warranty
When I first wrote this review (August 2020) there really wasn't much known about this Jocuu Juicer. It wasn't available here in Australia, so I couldn't test it for myself. I reached out to Jocuu who confirmed the 10 year warranty. They were also offering a 3 year parts warranty, which has now been reduced to 2 years (as of March 2021).
I had high hopes for this juicer, especially given the motor warranty. I thought (and hoped) this would be a comparable juicer to the likes of the big brands, such as Omega, Hurom and Kuvings.
The 10 year motor warranty is definitely a positive feature, and the auto shut off feature after 20 minutes ensures you can't burn out the motor prematurely by over using the juicer for longer periods of time. Jocuu recommend however, not using this juicer for any longer than 10 minutes before resting it, so that feels a little contradictory.
You can view the Jocuu Juicer in action in the video below. If you prefer not to watch the video, in short, it seems to do better with softer fruits that harder. Watermelon was impressive, as was kale
Jocuu Juicer Consumer Feedback
Some consumers have since complained that the plastic housing is starting to crack and that it isn't a particularly powerful juicer. The motor is 150 watts, which is pretty standard for budget juicers. Even the Omega J8006 juicer started off as a 150 watt juicer, but has since had an upgrade to 200 watts.
As with most masticating juicers, you will need to cut your produce into quite small pieces. This also helps to protect the juicer and make juicing more efficient in the long run.
Most consumer feedback has been quite positive with the Jocuu juicer. If you are juicing harder fruits and vegetables such as carrots or beetroots, ensure you chop into small pieces, as I've mentioned above.
One consumer has mentioned the juicer struggled a little with beets and another with carrots. We really don't know what preparation they did with the veggies, so it's hard to judge the juicer based on this feedback.
On the upside also, Jocuu have been very responsive whenever I have reached out to them regarding their juicers and how to get hold of one for testing here in Australia. I'll keep you all updated on this juicer if I can get my hands on it!
Jocuu Slow Masticating Juicer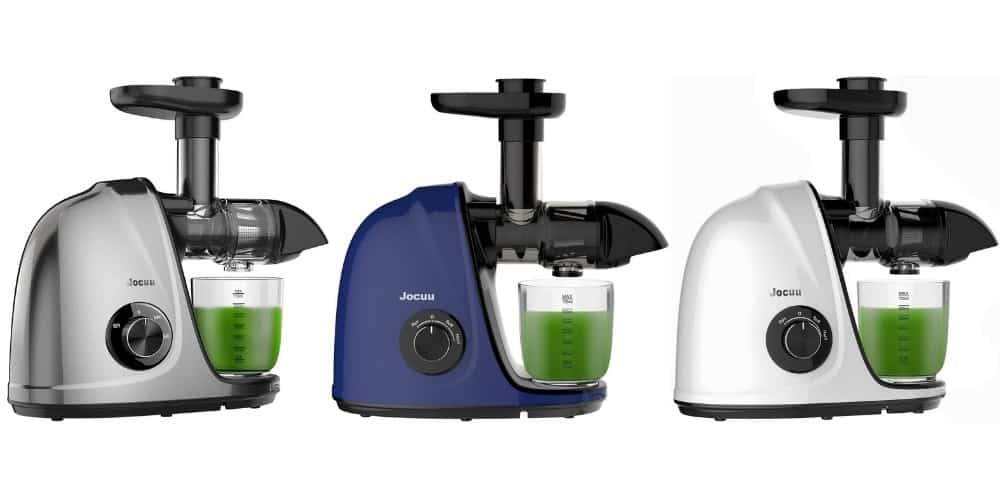 This is the original Jocuu juicer which I've featured on the following reviews:
What we liked about the juicer above was primarily the inexpensive price combined with the 3 year warranty on parts and 10 year warranty on motor. It also has 2 functions for soft and hard fruits. Fast forward to 2021 and Jocuu have changed their warranty terms for this juicer.
In 2021, this Jocuu juicer now has a 4 year warranty on the motor and 2 year warranty on the parts. The juicer has also had a price reduction and is now priced under $100. It is also available in a new color for 2021 – a gorgeous teal blue:
Jocuu Slow Juicer
150 watt motor

2 speed settings (soft fruits and hard fruits and veggies)

Quiet operation at 60 decibels

One click disassembly of removable parts

4 year motor warranty, 2 year parts warra
Prices pulled from the Amazon Product Advertising API on:
Product prices and availability are accurate as of the date/time indicated and are subject to change. Any price and availability information displayed on [relevant Amazon Site(s), as applicable] at the time of purchase will apply to the purchase of this product.
Jocuu customer service have been great with sending replacement parts under warranty if needed, and one consumer juiced every day for 2 months before leaving a review, and the Jocuu juicer did not skip a beat.
As with most small appliances, the budget juicers are Chinese manufactured, in comparison to the higher end juicers such as Hurom and Kuvings, which are made in Korea.
Whilst some may argue you get what you pay for (and in some cases this may well be true), if you are a household on a budget who cannot afford a high end juicer, the Jocuu juicer is a fantastic alternative, especially when the alternative may be not juicing at all.
At the time of writing, this compact masticating juicer has 4.5 out of 5 star reviews on Amazon. It has been rated by over 2,400 consumers. I own a very similar budget juicer to the Jocuu juicer, the BioChef compact juicer. I am pleased to report it juices well.
Like I mentioned above with harder veggies such as carrots you do need to chop them into smaller pieces. I tend to prep all of my fruits and veggies prior to juicing. If you start prepping with the notion that you must chop your fruits into small pieces you get used to this with time.
I must admit, that when I have been a little lazy on the prepping and tried to put larger pieces of fruits and veggies into the BioChef juicer, this is when I have encountered problems.
Generally, the problems are juicing efficiency and clogging of the filter and internal housing. The moral of the story is – if you overstuff your juicer, you'll be pulling it apart halfway through juicing to clean out the filter.
Despite the changes in warranty, I'm continuing to sing praises of Jocuu. A 4 year warranty is still far better than the usual 12 month warranty you get for low cost juicers. I'm pleased to see a product created that is affordable for most households and a decent warranty to back it up.
You can see the Jocuu juicer in action in this video (including using with whole small carrots and full celery stalks). Oh how I wish I could insert a rolling eyes emoji here, after my mini lecture on chopping up your veggies! The juice is a little frothy, definitely comparable to the BioChef juicer. Overall, I'm impressed with what I've seen:
Have You Bought the Jocuu Juicer? Here's How to Reach Customer Service if Needed:
If you've purchased the Jocuu juicer, I'd love to hear about it! Please leave a comment below to let everyone know your experience with Jocuu juicers.
If you need to contact Jocuu for customer service or issues under warranty, their email is the easiest way to get in touch:
Email Jocuu Juicers at: [email protected].
Their Facebook page hasn't been updated since 2019 and their instagram has 0 posts. I reached out to Jocuu via email and had a response within 48 hours.
I hope that you've enjoyed reading about Jocuu Juicers. If you have any questions, please don't hesitate to reach out!