There's no denying the health benefits of celery. According to Anthony William, the author of the best selling Medical Medium books, celery juice has anti-inflammatory and alkalizing properties and is beneficial for a vast range of medical issues and health restoration.
But how do you juice a stringy, chewy vegetable like celery? What is the juicer recommended by Medical Medium? We answer these questions and more below, as we explore the top juicers for celery.
Medical Medium Recommended Juicer
In the best selling book Medical Medium Celery Juice: The Most Powerful Medicine of Our Time Healing Millions Worldwide, author Anthony Williams recommends using a cold press or masticating juicer for juicing celery. If you haven't yet read this amazing book, you can pick up a copy here.
The specific juicer endorsed by Anthony Williams is the Omega MM900HDS.
The Omega MM900HDS is covered by a 15 year warranty, spins at 80 RPM and has a dual stage masticating process. This Omega juicer also includes an adjustable end cap specific for celery juicing as well as the standard end cap for other fruits and vegetables.
There are 3 adjustable pressure settings on each end cap for maximum juice extraction from your fruits and vegetables.
Whilst traditional centrifugal juicers make juice super fast, there's far more health benefits to drinking cold pressed (otherwise known as masticated) juice.
In this post, we will only discuss the best slow masticating juicers. You can rest assured any juicer recommended on this page will be suitable for juicing celery.
It all depends on your budget and space available to store a juicer. We'll cover both inexpensive juicers and compact juicers throughout this post.
Best Inexpensive Juicer for Celery – KOIOS Juicer
Whilst the AICOK Juicer is the current number one best seller on Amazon for masticating juicers, we've chosen the KOIOS Juicer as our first choice for the best affordable juicer for celery.
Not only is the KOIOS Juicer the same price as the AICOK Juicer, KOIOS offer a 10 year warranty on the motor of their masticating juicer.
The remaining parts are covered by a 3 year warranty. A 10 year warranty was unheard of when searching for an inexpensive juicer for celery, but in 2020 we have since found two juicers offering such a great warranty.
The other juicer is the Jocuu Slow Masticating Juicer. The Koios, Jocuu and Aicok juicers are all very similar in design, and are priced under $150.
Most celery juicer machines in this price range have a maximum of 3 years warranty including the motor. This includes the best selling AICOK Masticating Juicer.
We've compared the most affordable juicers for celery in our table below:
Best Inexpensive Juicer for Celery
Our quick comparison guide on the best inexpensive juicers. At the time of writing, all juicers were priced under $200.
Best Omega Juicer for Celery
Omega is a leading brand in masticating juicers, who now make a low speed slow pressed juicer that is not only suitable for juicing celery, it also makes nut milks, nut butters, frozen fruit sorbets, pasta, minced herbs, baby food and will grind your coffee beans for your morning brew (after you've had your celery juice of course!).
The Omega J8006HDS Ultimate Juicer and Nutrition System also offers an outstanding 15 year warranty on parts and performance. It is moderately priced, at around $300 at the time of writing. Click here to check the latest pricing.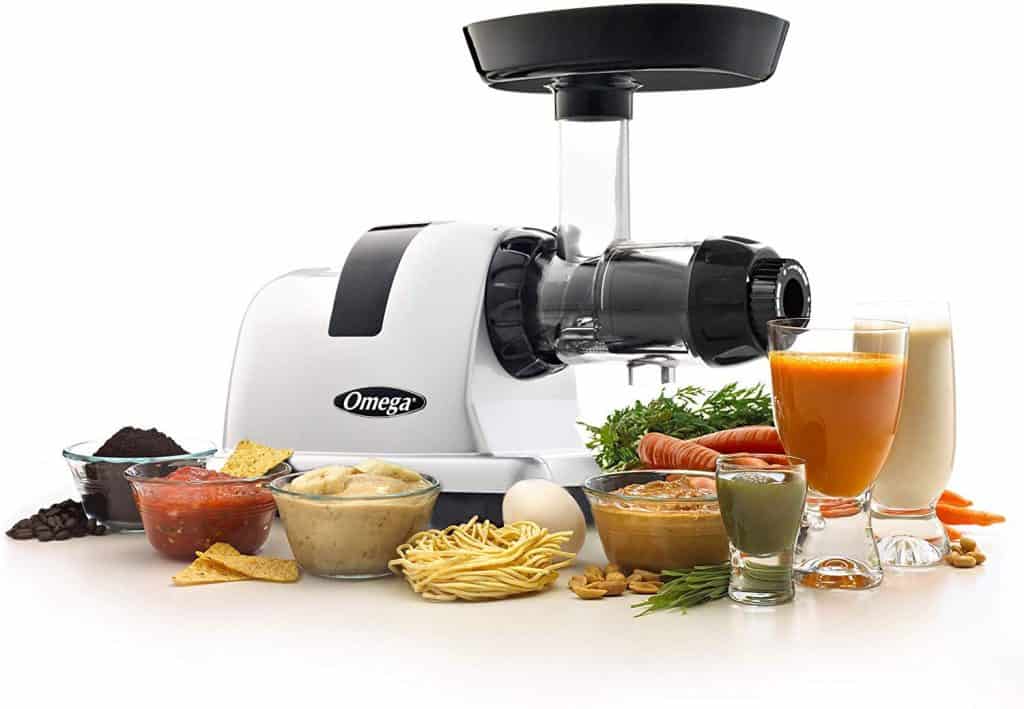 Key Features of the Omega J8006HDS Juicer
80 rpm single auger
3 adjustable pressure settings
Easy Cleaning
15 year warranty
The difference between the Omega J8006HDS and Omega MM900HDS is the nutrition system. The J8006HDS makes the nut butters, grinds coffee beans, herbs and spices etc that we discussed above.
If you won't use this feature and only plan on juicing fruits and vegetables, the MM900HDS is an excellent choice in a juicer, particularly with the adjustable end cap.
Compact Juicer for Celery
If you're short on space, a vertical masticating juicer is has a more compact design than other masticating juicers, whilst still offering many of the features of the larger models.
Our top pick for the best compact juicer for celery is the COMFEE Masticating Juicer Extractor.
The slim vertical design of this masticating juicer saves space on your kitchen bench. The feed chute is 3.4 inches wide to fit larger chunks of fruit or vegetables. For juicing celery, cut the celery stalks into 2 inch pieces first.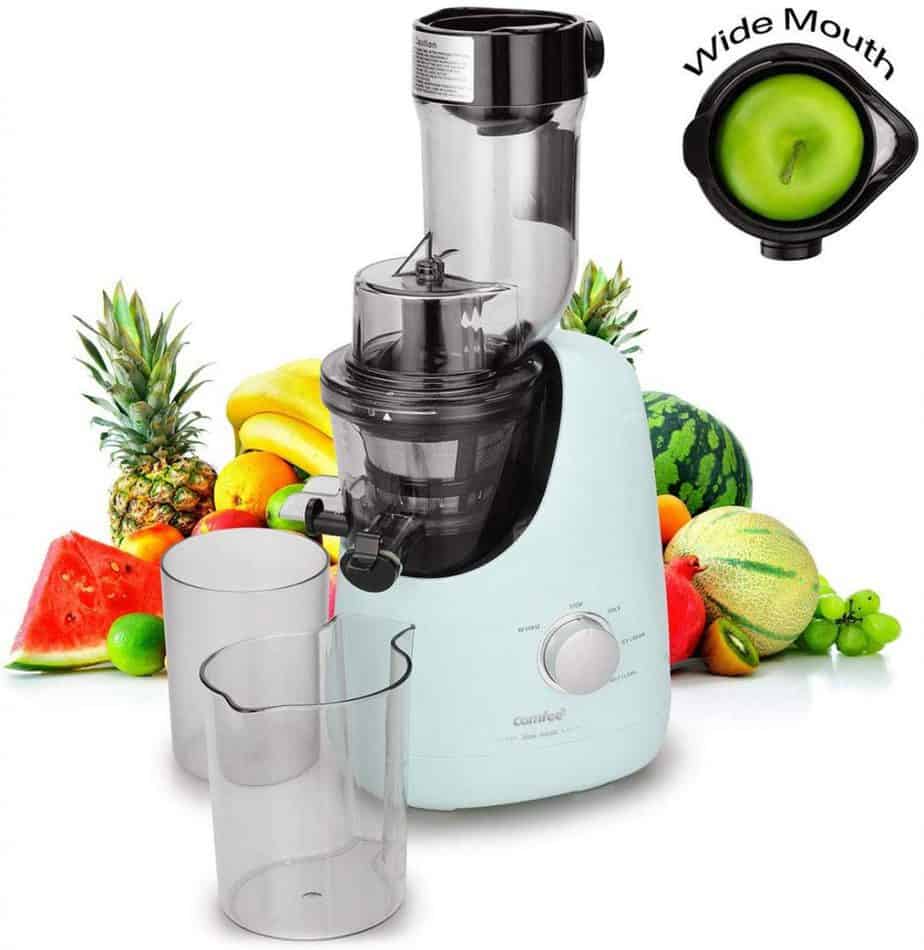 What sets the COMFEE juicer apart from other compact juicers is the ability to multi-function.
Not only does this juicer make slow squeeze cold pressed fruit and vegetable juice, it can also puree baby food and make sorbets and ice cream with frozen fruits. We also think the mint green color is super sweet.
The only downside with the COMFEE juicer is it has a 1 year warranty. At the time of writing, this juicer was around $100 on Amazon. Compact and affordable! Click here to check the latest price.
We compare the best compact juicers in the table below:
A Comparison of the Best Compact Juicers
Are the top of the line Juicers any better?
We looked at the Hurom H-AA Slow Juicer (priced over $450). This juicer seemed positive in the beginning, with a slow speed of 43rpm squeezing every drop of juice and leaving bone dry pulp. This versatile juicer is suitable for leafy greens, nuts, soybeans and ice cream making. However, upon digging a little deeper, we found three different consumer reviews regarding difficulties juicing celery.
Reports are that celery pulp builds up around the auger, celery needed to be cut into very short pieces before juicing and it was "horrible" for celery.
Hurom offer a 2 year warranty on parts and a 10 year warranty on the motor. This isn't as good as the Omega Juicer which offers a 15 year warranty and almost the same as the Koios Juicer, which is one third of the price. There are also numerous reports that Hurom customer service is very difficult to deal with.
Hurom are a well known and trusted brand in juicers. As this post is specifically related to juicers for celery, Hurom won't be one of our recommendations this time.
We also looked at the Tribest GSE-5050 Greenstar Elite Juicer. As a twin gear juicer we had high hopes for this one, and it has lived up to expectations for juicing celery. The twin gears can handle full stalks of celery fed through without being chopped up. The volume of juice output is fantastic.
Unfortunately, the Tribest GSE-5050 Greenstar Elite Juicer came up a little short when it comes to cleaning. Most reviewers much prefer the Omega Juicer for ease of cleaning and the time it takes to clean.
We were impressed that Tribest offer a 12 year warranty on their juicers. View the latest pricing for the Tribest Juicer here.
Overall – Our Choice for The Best Juicer for Celery
We've summarized all the juicers in the table below for efficient comparison.
Juicer
Speed
Warranty
Where to Buy
Omega J8006HDS
80rpm
15 years
Shop Now
Tribest GSE-5050
110rpm
12 years
Shop Now
Koios B5100
80rpm
Parts: 3 years
Motor: 10 years
Shop Now
Aicok Slow Juicer
80rpm
2 years
Shop Now
Comfee Compact Juicer
55rpm
1 year
Shop Now
Aicok Compact Slow Juicer
80rpm
2 years
Shop Now
Sagnart Slow Juicer
65rpm
Shop Now
Our overall pick is the Omega MM900HDS Juicer as the best juicer for celery 2020.
The Omega Juicer has a 15 year manufacturer warranty, moderate price point and easy clean up. The specific end cap for celery won us over for maximum juice extraction.
Second to the Omega MM900HDS is the Omega J8006HDS. Whilst there are newer models of Omega Juicers, and Omega Juicers at higher price points, we found the J8006 the best all round juicer that would not only juice celery effectively, but had many other uses.
Small changes to later models included slightly wider feeders for the fruit and vegetables. In our opinion, it wasn't worth the increased cost for small changes such as this, when the J8006 really does do it all.
What is your experience with juicing celery? Do you have any thoughts on our recommendations? Leave us a comment below and let us know!