Amzchef are makers of slow speed horizontal and vertical masticating juicers.
Affordable masticating juicers for the budget conscious, Amzchef slow juicers are available in 4 different models.
Read our Amzchef slow juicer review below, where we discuss the 4 different models and our choice for the best buy.
Amzchef Slow Masticating Juicer
Technical Specifications
Weight – 10.38 pounds
Size – 14.57 (length) x 7.32 (width) x 11.42 (height) inches
Wattage – 150 watt
Speed – 80 revolutions per minute
Sound – 60 decibels
Great Features of the Amzchef Slow Masticating Juicer
High Juice Yield
The Amzchef masticating juicers output is much higher than in traditional centrifugal juicers.
This is due to a longer auger with a 7 spiral system auger (similar to that of Koios juicers) that allows ingredients be grinded more and generate a larger amount of juice.
Another aspect boosting the juice yield is the slow mastication operation mode. With a spin speed of 80 revolutions per minute (RPM), it's not the slowest masticating juicer on the market, but is slow enough to reduce oxidation and produce fresh cold pressed juice.
The low speed is compensated by a powerful torque, added to each rotation helping squeeze the juice out with more vigour and deal with solid ingredients with less stress.
As a result of applying more pressure on fruits and vegetables, the amount of juice increases significantly.
Retained Nutrients and Enzymes
Juices produced with the Amzchef masticating juicer last for up to 72 hours.
Since Amzchef Juicer operates at low speed, the motor heats up very slow, which means that all vitamins are preserved.
Ideally, you will want to drink your juice immediately, as fresh is always best.
Upgraded Auger Spiral
The auger spiral is separated into 7 segments that push more juice out and allow perform a variety of procedures, including: cutting, grinding, mincing, squeezing and extracting.
Easy to Clean Juicer
If you think that cleaning the juicer up takes hours, you should leave your worries aside. The cleaning is as easy as ABC, requiring just to detach the parts, dip them in hot water, add soap, and rub gently with a cloth to remove the remnants of food. Dishwasher is also an option. If you are too busy to handwash the device, feel free to place the parts in the dishwasher, letting it perform a deep cleaning.
Quiet Juicing Operation
Since the motor operates at low speed, the noise emitted is around conversation level. This is 60 decibels. You would hear the noise of the juicer if you are in the same room, but won't wake your household making your morning juice with the Amzchef juicer.
Overheat Protection
As with most masticating juicers, you can run the Amzchef juicer for up to 20 minutes at a time.
The Amzchef juicer is fitted with an intelligent chip that will shut the juicer down after 20 minutes of use. This is for the protection of the juicer and to prolong the juicer life.
If you let the juicer rest for 30 minutes after this, it will restart again.
Here is a video of the Amzchef slow masticating juicer in action making celery juice.
Amzchef Dual Speed Masticating Juicer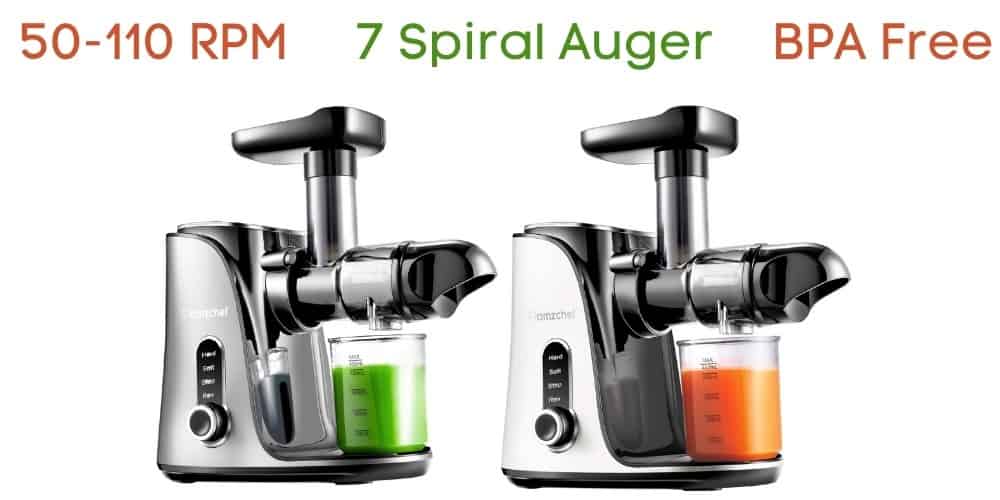 This stylish juicer from Amzchef features two spin speeds for harder and softer fruits and vegetables. This is a 110 volt juicer.
The soft fruits spin speed is 50 to 60 revolutions per minute (RPM) and is best for fruits like oranges, grapes, watermelon, strawberries, peaches etc.
The hard fruits spin speed is 100 to 110 RPM and best for carrots, celery, beetroot, apples, sweet potatoes and other firmer fruits and vegetables.
Here is a quick video of the Amzchef two speed masticating juicer making celery juice:
The Amzchef juicer is compact in size, measuring 13.7 inches x 5.9 inches x 11.6 inches.
Total weight is 7.7 pounds, fairly light to maneuver in and out of the cupboard. There is a one click button to disassemble the juicer and a reverse function is included if anything gets stuck.
The juice cup holds 450ml of juice, a good size if juicing for one. If you're making a larger batch of juice, you will need to empty the juice cup. Another alternative is to place a larger jug underneath the juicer, that will hold more juice.
The Amzchef juicer includes the same 7 spiral auger system as shown in the one speed Amzchef juicer above.
Amzchef Vertical Masticating Juicer
This vertical slow juicer by Amzchef spins at a low 55 revolutions per minute. It has a very similar interior juicing bowl cleaner design to Hurom juicers, the Omega Vert Juicer and Kuvings juicers at a fraction of the cost of these higher priced juicers.
The dimensions are 19.75 inches x 11.5 inches x 9 inches and the weight of the juicer is 10.53 pounds.
Crafted from BPA free materials, the juicer screen is 304 grade stainless steel. Unlike the horizontal masticating juicers, the Amzchef vertical juicer has a 2 year warranty.
This juicer is powered with a 150 watt motor. Consumer feedback indicates most people are really happy with this juicer, filtering almost all seeds from pomegranates, quiet operation and overall a solid juicer.
Some of the negative feedback was juice was left a little too pulpy, not great for leafy greens (honestly, I don't think any vertical masticating juicers are), and it is a little on the small side – both the chute and the juicing bowl, which doesn't quite hold 16 ounces of juice in total.
If you're in the market for a vertical masticating juicer and have a budget under $100, I'd buy this juicer. The negatives are few and far between, it's cheap and has a 2 year warranty.
Amzchef Wide Feed Chute Vertical Juicer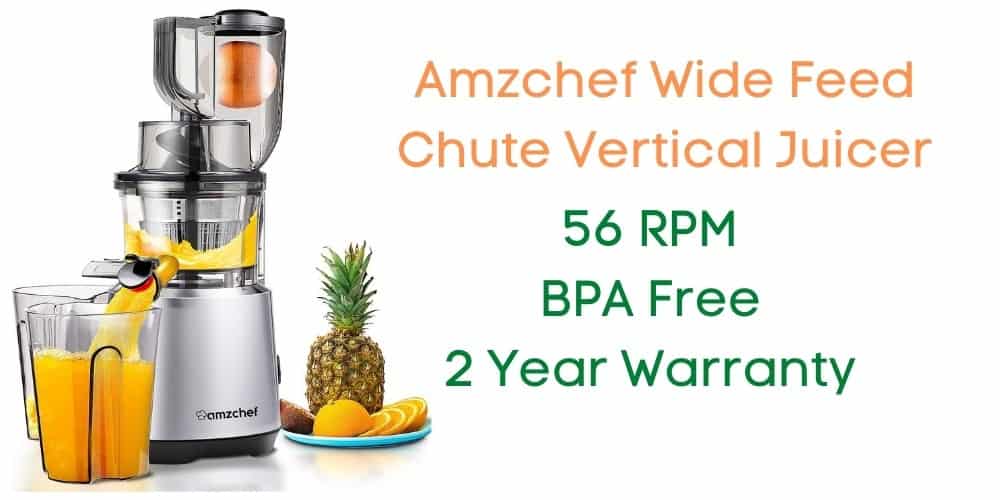 A wide feed chute juicer, this Amzchef vertical masticating juicer will take whole oranges and apples through the 3 inch feed chute. Make sure you peel citrus fruits and remove thick skins first.
This vertical juicer is fairly compact, but tall – measuring 16.5 inches in height.
Like the other Amzchef juicers, the screen is crafted from 304 grade stainless steel, and plastic components are BPA free.
The juicer is quiet, operating at 60 decibels and being a vertical juicer, has a slower spin speed than the horizontal juicers, spinning at 56 revolutions per minute.
Consumer feedback is a little mixed with this juicer, in short, it juices better than a centrifugal juicer, but not as well as a horizontal Amzchef masticating juicers.
If you want the convenience of being able to juice more efficiently than a horizontal masticating juicer, but with more output than a centrifugal juicer, this may be a good choice for you.
If you prefer to spend a little longer juicing but want the best yield out of your fruits and vegetables, I'd stick with the horizontal masticating juicers over this one.
How to Use an Amzchef Juicer
Using an Amzchef juicer implies no special skill or knowledge. There are some easy steps that you should follow to get an efficient juicing.
First of all, you have to assemble the juicer. There is a quick demonstration in both the video's above for the horizontal masticating juicers. The juicers will also come with an instruction manual with detailed instructions.
The juicer has two main buttons that you need to operate with during juicing. There is the "on" button that makes the spiral spin forwards, pressing the ingredients and forcing the juice out. The "rev" button stands for reverse spin which comes in handy when a piece of food gets stuck in the auger tunnel and slows down the torque.
There are some recommendations that you have to keep in mind when using the Amzchef juicer. First, cut the fruits and veggies in small pieces to squeeze the juice out faster and not overstress the auger.
Also, if juicing leafy greens such as kale and spinach, consider loading a bunch of greens in the feeder chute instead of single pieces. In this way, you ensure that the spiral squeezes more juice.
As well, after finishing juicing leafy vegetables, run some carrots or apples through the auger tunnel to remove the stuck leaves.
Amzchef Juicer Replacement Parts
Unfortunately, despite selling their juicers on Amazon, we were not able to find any Amzchef juicer replacement parts there. We did however, find replacement parts on eBay.
Amzchef Juicer Warranty and Customer Support
All Amzchef juicers featured in this review come with a 12 month warranty and lifetime technical support.
If you want to return the Amzchef juicer during the warranty period, you will need to pay shipping costs.
For any warranty claims, it is best to contact Amzchef directly via their website
.
You can also send Amzchef an email to xiaofudie@gmail.com.
The address on the Amzchef website for return products is:
41-12A MAIN ST. 2F D09 FLUSHING NY 11355, USA
*We highly recommend confirming this address via the contact form or email address before you post anything back. We also recommend using a trackable shipping service when posting back higher priced items such as juicers.
Amzchef Juicer Reviews – What Customers Had to Say
Scrolling through the customer reviews on Amazon, we can conclude that the overwhelming majority of customers are satisfied with Amzchef Juicer.
Many love because it is easy to assemble, is easy to use, gives a high yield of juice, is almost noiseless, is safe for children and has a hassle-free clean-up.
One user complained that the end cap is hard to untwist after juicing, as pulp residue may get stuck in here.
Another negative aspect mentioned was that the motor turns off automatically after 20 minutes of use. This is usual for masticating juicers. Even the higher end brands can only be used for 20 to 30 minutes at a time before needing a break.
Here is a summary of pros and cons collected from Amazon reviews:
Pros
1. Multi-purpose
2. Quiet operation
3. High output of juice
4. Effortless use
5. Hassle-free clean up
6. Narrow feeder chute for children's safety
Cons
1. Limited operation time (20min)
2. Narrow feed chute means you need to cut fruits and veggies into smaller pieces.
Would We Buy Amzchef Juicer?
If I was new to juicing and looking for an affordable juicer that would produce a good result, yes, I would buy an Amzchef juicer. My choice would be the dual speed horizontal masticating juicer
.
It has a plethora of positive reviews on Amazon where people praise its hassle-free use, easy clean-up, noise-free operation, and its immense squeezing power that helps get huge amounts of juice.
As any other appliance, this juicer has flaws that include limited operation time, which is actually aimed to protect the motor from overheating, as well as longer prep and juicing time caused by low-speed mastication.
Amzchef are Chinese made juicers. The 12 month warranty isn't the best warranty out there for horizontal juicers in this price range, which is a bit of a letdown.
Still, the upsides overweigh the downsides, and price is also affordable compared to other juicers alike, making it a perfect option for people that intend to buy a juicer on a budget.
Other Masticating Juicers to Consider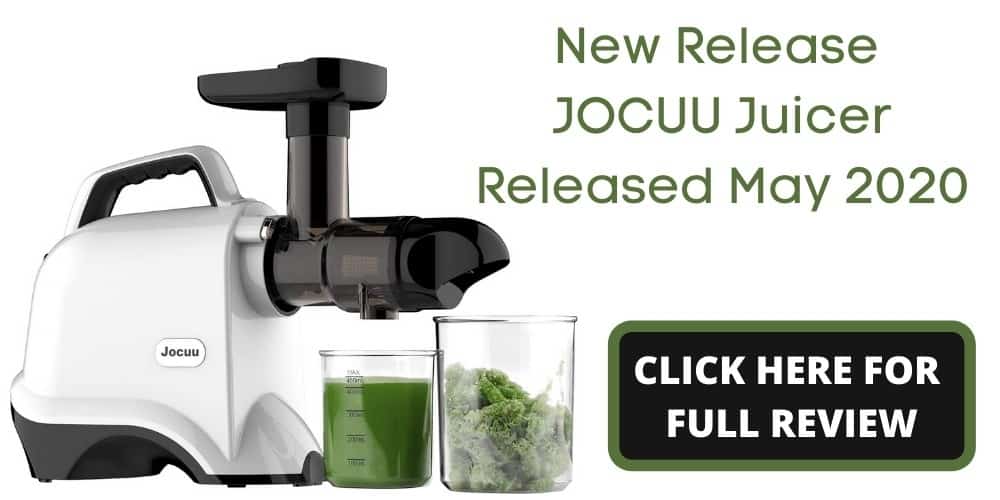 Recent Content
link to Orfeld Slow Masticating Juicer Review
Orfeld are makers of vacuums and home appliances and have recently expanded to add juicers into their product offering. The latest Orfeld juicer for 2020 is a horizontal masticating...
link to Can You Use a Blender as a Juicer?
Juicers have been specifically designed to extract juice from fruits and vegetables for maximum nutrients and smooth juice. Other home appliances such as blenders and food processors can be used...