It took Breville long enough, but they finally released a masticating juicer – the Breville Big Squeeze. As the saying goes, good things come to those who wait.
I've made no secret to the fact that I much prefer horizontal masticating juicers over vertical masticating juicers. Maybe it's because I had a lower end of the market vertical juicer, which simply cannot compare to the Breville Big Squeeze.
Either way, I've had the opportunity to try out the Breville and am mighty impressed. My last Breville was a centrifugal juicer. Once masticating juicers came on the market I switched over and never looked back. Needless to say, I'm pleased to see that Breville has released a masticating juicer.
Let's take a quick look at the Breville Big Squeeze juicer, then I'll dive into the nitty gritty and give you some more of the details:
Prices pulled from Amazon Product Advertising API on:
Product prices and availability are accurate as of the date/time indicated and are subject to change. Any price and availability information displayed on [relevant Amazon Site(s), as applicable] at the time of purchase will apply to the purchase of this product.
Slow Masticating Juicer
This Breville big squeeze juicer (model number BJS700SIL1BUS1) is a masticating juicer which is also quite popularly known as a slow juicer or a cold press juicer. This juicer operates at a slow speed. The main motor inside the juicing chamber of this juicer rotates the auger at speed ranging from 70-90 revolutions per minute.
As at April 2021, this is the only Breville Juicer that is a masticating juicer.
Due to this slow speed, this juicer can produce juice that has high nutritional value. You potentially lose a significant part of the nutrients in a centrifugal juicer as they rotate at a fast speed, due to which the integrity of the cell wall of the ingredients breaks and turns into waste.
You will get an excellent juice yield including enzymes and vitamins in your juice if you use the Breville Big Squeeze Juicer. The continuous run time is 30 minutes before needing a rest, so there's plenty of time to make a big batch of juice.
Due to the slow masticating juicing process, the fresh juice created will last for up to 72 hours if stored correctly.
Pros
Powerful motor yet quiet operation
Dual chute – a large chute feeder for whole fruits and a smaller chute for leafy greens, carrots, beetroot etc
Higher juice yield than other Breville juicers, producing dry pulp
10 year warranty – the first warranty of this kind for Breville
Similar in design to the Kuvings C7000 at a slightly cheaper cost
Also comparable to the Omega Mega Mouth Vertical Juicer and cheaper as well
Cons
Despite the 'self cleaning' function, pulp can get stuck in the exit spout – although this is common with all vertical masticating juicers
Removable parts are not dishwasher safe
Not suitable for sugarcane or coconut
No blank screen for sorbet making (unlike the Kuvings C7000)
High Yield
This Breville juicer also operates on the unique big squeeze technology. Due to this particular technology, this juicer produces a higher quantity of juice from the same amount of nutrients that you would use other Breville juicers. This slow juicer can accomplish this feat due to its slow rotating speed.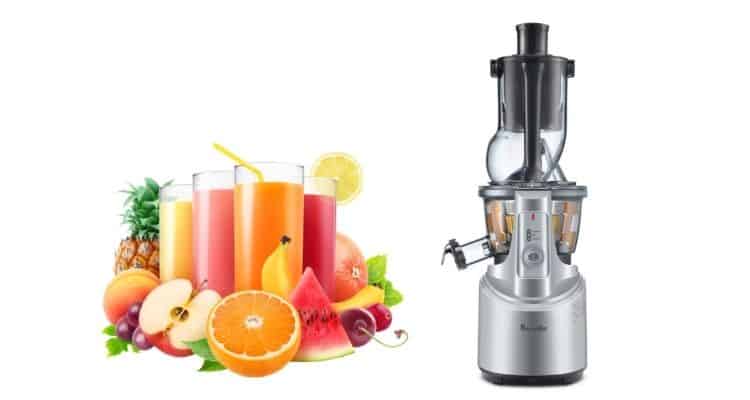 Dimensions
This slow masticating juicers current dimensions are 18.6 inches x 11.75 inches x 16.65 inches. It is sturdy, weighing in at 23 pounds. Despite the height, it is reassuringly compact to store, if needed.
It is best to use this juicer on an island bench, or a bench without overhead cupboards. At 18.6 inches high, it's fairly tall, plus you need room to put the produce in the top.
This slow juicer also has dual feeder chutes, that is, a large feed chute and a small feed chute.
The large feed chute is 3 inches wide and suitable for placing whole apples, peeled oranges, peeled grapefruit and other citrus fruits. Large chunks of watermelon or cantaloupe could also be placed in the larger chute.
The smaller chute is best for harder fruits and vegetables such as carrots, beetroot and ginger and leafy greens such as celery, kale and collard greens. For most effective juicing of greens, cut the stems into 2 inch pieces and bunch up the leaves together.
Follow with a harder fruit or vegetable to help push them through.
Powerful And Strong
This slow juicer has a 240 watts power motor rotating at a slow speed to squeeze the juice out of your ingredients efficiently. Although this slow juicer has a powerful engine, it creates next to no noise.
If you have small children or the elderly at home, then a masticating juicer is ideal for you as it will not disturb their sleep. This juicer is made from stainless steel for quality, durability and longevity.
Convenient Design
A red dot indicator will help you to identify where to match up the removable parts of the Big Squeeze juicer, keeping assembly quick and fairly simple. The instruction manual that comes with your new Breville juicer is quite comprehensive in showing you how the parts fit together if you run into trouble.
The cap on the spout of the juicer can be removed completely to let your freshly made juice flow out into the cup. Alternatively, keep the smart cap closed if you are making a mixed juice and the movement of the auger and rotation wiper will perfectly mix the juice together.
Just remember to keep an eye on the juice being created and don't overfill the juicing bowl!
Breville also recommend leaving the smart cap open when juicing fruits and vegetables that usually create more foam in the juice, such as apples and celery.
Easy To Clean
Included with the Breville Big Squeeze is a cleaning tool which helps to clean the filter of the juicer. This is also the same design cleaning tool that you will find with all Kuvings vertical juicers and the Omega vertical juicers.
Here's visual of how it helps to clean the juicing screen:
The good thing about the Breville Big Squeeze juicer is you don't need to take apart the juicer and wash it in between making juices. For example, if you have just made orange juice, then want to switch to making a green juice, you can run tap water through the juicer to rinse it in between.
Feedback on cleaning – like most juicing screens, getting off all the tiny pulp build up isn't an easy task. This seems to be no different with the Breville Big Squeeze juicer, however, most consumers said using the tools provided made clean up easy enough.
Warranty And Replacement
The Big Squeeze juicer has a ten-year limited warranty period. The warranty is not transferable if you sell the juicer during the 10 year period. The warranty also does not cover items which Breville consider 'consumables'. These include:
The rotation wiper
The strainer
The drum lid
The smart cap and plug
I'm pleased to see that the auger is not on this list, however, Breville are quite specific in their warranty guide that 'normal wear and tear' is not covered by warranty. In short, if your Breville Big Squeeze juicer has a major fault within 10 years (for example the motor) you'll be covered.
For a juicer of this price, this is a pretty impressive warranty. Like any quality juicer manufacturer, spare parts should be available (and are for other Breville models), but at the time of writing, no spare parts were listed on the Breville website.
Here is the link to purchase the Breville Big Squeeze Juicer on Amazon (without the juicing recipe book):
Prices pulled from Amazon Product Advertising API on:
Product prices and availability are accurate as of the date/time indicated and are subject to change. Any price and availability information displayed on [relevant Amazon Site(s), as applicable] at the time of purchase will apply to the purchase of this product.
Breville Customer Service
Once you have purchased your Breville Big Squeeze juicer, head over to the Breville website to register your juicer. You will need to upload your receipt at the time of registering.
If you need to reach Breville at any stage during the life of your juicer, here are the details:
Breville USA – Phone: 1-866-273-8455
Hours of Operation: 8am to 5pm Pacific Time Monday to Friday (excluding holidays)
Head Office: 19400 S. Western Ave, Torrance, CA 90501
Breville Canada – Phone: 1-855-683-3535
Hours of Operation: 8:30am to 5pm Eastern Standard Time Monday to Friday (excluding holidays)
Head Office: 3595 boulevard Côte-Vertu, Saint-Laurent, QC H4R 1R2
Breville Australia – Phone: 1300 139 798
Email: askus@breville.com.au
Hours of Operation: 8:30am to 5pm Eastern Standard Time Monday to Friday (excluding NSW public holidays)
Mail: Locked Bag 2000, Botany NSW 1455
In Australia the model number is BJS700SIL2JAN1 and the warranty is 5 years (however motor warranty is increased to 20 years)
Breville New Zealand – Phone: 0800 273 845
Email: askus@breville.co.nz
Mail: Private Bag 94411, Botany Manukau 2163 Auckland
Conclusion – Is The Breville Big Squeeze Slow Juicer a Good Buy?
Yes. Breville is a quality brand in juicing and the big squeeze juicer doesn't disappoint. There's nothing that stood out using this juicer that wasn't an issue with other vertical masticating juicers (such as cleaning the screen and the pulp dispenser clogging a little).
Speaking of pulp, it was bone dry. The juice extraction from the Breville Big Squeeze was truly excellent and far better than that of my cheaper vertical masticating juicer.
With price in mind, the Breville is less expensive than both the Omega and Kuvings vertical juicers, with a comparable 10 year warranty in the USA.